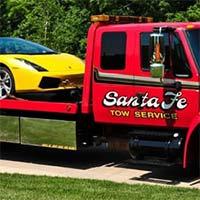 Towing
Accidents and breakdowns can happen anytime. You want to be prepared. That means having the number of a qualified local towing company on hand.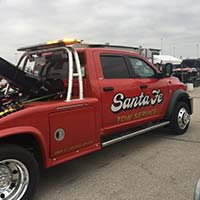 Commercial Towing
Many local tow truck companies only specialize in light-duty work.We are equipped and prepared to handle the needs of the commercial trucking industry.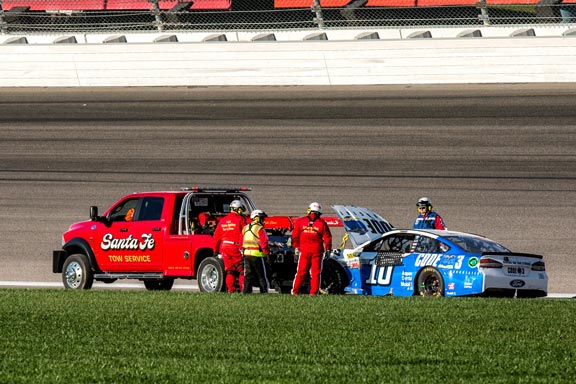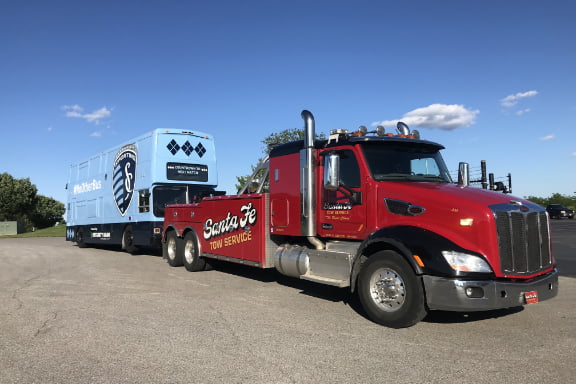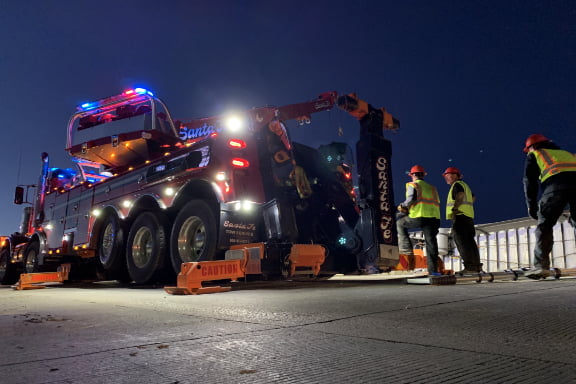 Towing Service Kansas City KS
Kansas City's Top Rated Tow Truck Service
Fast response times so you're not left waiting when time is short
Towing and Recovery Association of America certified drivers
Heavy-duty trucks capable of towing more than 100,000 lbs
---
From a basic service call to a large-scale recovery, we'll dispatch a certified driver with the experience, knowledge and proper tools to get the job done promptly and safely.
Santa Fe Tow Service prides itself in being able to perform any task that you may need to be done – regardless of size, position, or weight. Our state-of-the-art fleet of towing and recovery vehicles are capable of helping you out of any situation in a safe, prompt, and reliable manner. With more than 80 GPS equipped trucks in service, our dispatch center gets the right truck to you right away. Get help fast. Call us now.
We offer several different services from light duty towing of cars, trucks, vans, or even motorcycles. Our rollbacks are capable of transporting all-wheel drive SUVs or trucks, even low riders or custom vehicles, with complete safety. Our heavy duty tow trucks can transport anything from buses, semi trucks, tractors, motorhomes, etc. We even offer services for helping you out with jumpstarts, lockouts, or fuel deliveries.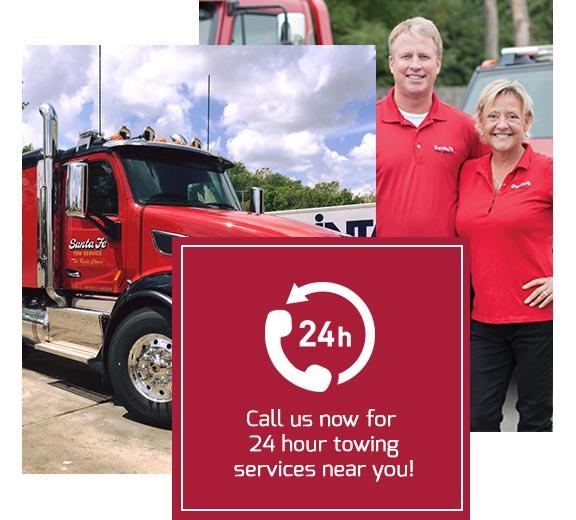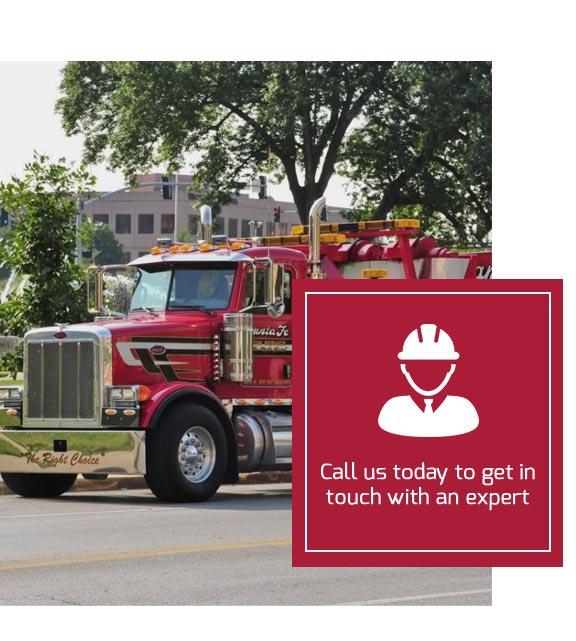 When you call Santa Fe Tow Service, you're connecting with the area's leading towing, recovery, and transportation specialist.
All of our drivers are professionally trained and have completed both the Towing and Recovery Association of America (TRAA) and Wreckmaster certification training programs. Many of our drivers have also completed the reputable Wes Wilburn training program. These certifications are continually updated to maintain the highest level of professional skill and safety awareness.
Our drivers are uniformed, trained, and will deliver the highest possible level of professional service. Your vehicle and cargo will get where you need them to go. We guarantee it.
24 hour towing
We provide towing services 24/7/365 and we have a tow truck operator in your area. Call us now to get help right away.
Excellent customer service
Superior customer service is our number one priority! Our drivers are courteous, friendly, and happy to answer all of your questions.
30 years of expertise
Our company has grown over the course of 30 years to become a local towing service leader in Kansas and Missouri.
Career opportunities
We offer employees great benefits as well as a friendly, clean, professional work environment with a company that cares.
Reviews
"
Excellent on everything.
"
I have never seen such professionals when it comes to a tow service. We had a 7,000 lb skidsteer stuck in a mud hole. Huge thanks to Rodger and driver Holland #116 for their help! They did not give up until they pulled us out! Awesome service with great experience!
"
Great service from all. Office staff very nice & helpful.
"
Driver arrived a little early was courteous took care of my automobile did an awesome job will definitely use you in the future
"
Very Very professional service
"
Great the driver was very professional Thank you
"
Always Awesome Service!!! Great communication from dispatchers
"
Husband swerved to miss a deer and went down a revean at about a 90 degree angle they got his truck out and never put a scratch on it very professional and good at there job.
Oct 4, 2021,
Kristin M. H.
"
I needed to relocate a 40' container on my property. From first call to them at 2:20 pm would 3:00 pm tomorrow work for you? At 2:45 pm the next day, the bright red truck arrived at my gate. Driver #103 knew his equipment and wasted no time completing the move. Couldn't ask for better service from all involved. 5 stars, thank you.
"
My driver was very polite and did a great job
"
Fantastically. Your drivers responded to my request quickly. They were very friendly and got down to business quickly. I should have called Santa Fe first. Unfortunately I waited more than 2 hours for another tow company that never showed. Definitely 5 ⭐️ service. Thank you for getting my vehicle & me on the road again.
"
Very fast. Alex was awesome- friendly, courteous and cafeful. Excellent service. Would highly recommend and/or use again if needed.
"
Great service! I had an accident and needed my car towed. The drivers were very courteous and they answered all my questions and were genuinely concerned with my well being. I would highly recommend Santa Fe towing.
"
Had a terrifying experience with firewood and the highway. Had a fantastic experience with Robert B. the tow driver. He was super kind and even tried changing my tire to see if that's all we needed. Ended up needing a tow but he went above and beyond to check my car out. Really appreciate it!
Feb 17, 2021,
Rafael-Driver
"
Me dieron un excelente servicio
"
Quick response and very easy to work with. I would definitely refer them to someone in need of town service, and I plan on using Santa fe in the future.
"
Good rates. Nice driver. Not too long of a wait. Thanks alot!
Dec 3, 2017,
Christina M.
"
Today they were speedy and that's what I needed.
"
Excellent service couldn't ask for anything better
"
technician was very professional and efficient. very pleased
"
Driver was very polite and courteous.
"
You responded within the hour to my truck.
"
Fast. Said they would be there in 15 minutes and they were. Friendly. Professional. And helpful. Oh, and it was 3:oclock in the morning too. Perfect service that late at night is amazing. Highly recommend.
"
Very courteous, personable and timely
"
Came quickly to my call. Service man was very nice and did his job well. Great service. I am completely satisfied.
"
I give you 5 Stars you were there for us in the time you said .We were stuck in the middle of rush hour and you saved us,we appreciated you help. Great service thanks again.
Powered by
Whiterail
Disclosure
The reviews displayed may or may not be a complete set. Reviews may be removed if they:
i. Are abusive. An abusive review or comment is one that makes personal attacks, threatens, or harasses others, or uses profanity.
ii. Violate privacy. Reviews that mention specific names of individuals or personal information in a manner that is inappropriate and/or unrelated to the performance of the service rendered are subject to removal.
iii. Are not from a current customer.
iv. Contain material falsehoods.
v. Are deemed inappropriate.
To encourage all feedback, positive or otherwise, an equal incentive for reviews, regardless of rating, may have been provided to the reviewer.