Commercial Towing

Blue Springs, MO
We meet your business needs head-on with commercial towing in Blue Springs.
Your business never stops moving. You need 24/7 commercial towing that does the same. That's why our dispatch center doesn't close. You have a direct line to a fleet of more than 80 tow trucks, 24 hours a day. As a commercial towing service, our skilled class A drivers use state of the art equipment for recoveries, towing, and transportation. Don't sacrifice your timeline when a problem arises. Call Santa Fe Tow Service Inc. and get the commercial towing services you need right now.
To learn more about our 24/7 Commercial Towing Service and to speak to a member of our team, call us at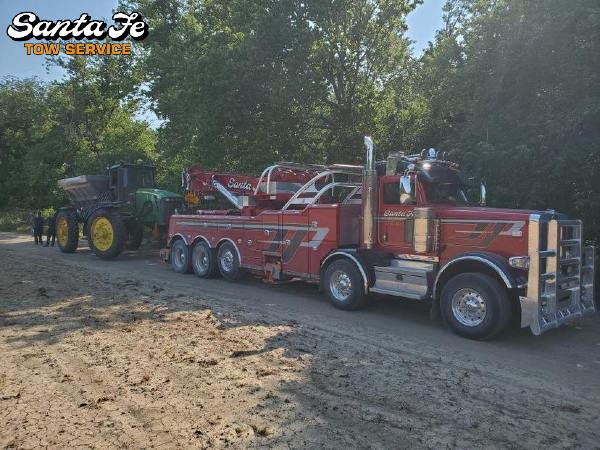 Full-service commercial towing starts here.
Our fleet is equipped with light to super heavy-duty vehicles. There isn't a job we can't accomplish and our network spans across Blue Springs and beyond. We deliver your shipment on time whether in-state or across the country. Our long distance towing means even a vehicle breakdown won't bring your business to a halt. We can provide partial towing that includes trailer and load shifts or independently complete the job. It's all up to you. Services include:
Tractor Towing
Earth Moving Equipment
Container Transport
Trailer Towing
Construction Vehicles
Construction Equipment
Motor Homes
Boats
Cranes
Wheel Lift Towing
Buses
Material Handling
Large or small; we meet the needs of your business.
Our fleet is comprehensive, varied, and seriously outfitted. Just one call to Santa Fe Tow Service and you'll have access to flatbed trucks, wreckers, lifts, landoll trailers, super heavy duty recovery trucks and more. Our drivers must have their certifications before they join our team. After that? We provide even more training. Our truck operators know their vehicle and its equipment. That's how we safely deliver delicate goods after precision recovery operations are complete. Leading the industry is what we do, and we do it better than anyone else.
Get commercial hauling in Blue Springs and across the country. You don't have time to wait for a Mack-truck to be repaired. Our long-distance hauling makes sure you won't have to. With intermodal transportation, load transfers, and switches, we keep your cargo moving. We can tow small loads all the way up to equipment weighing in excess of 100,000 lbs.
Plan your next step at our secure storage facility. You can't leave your valuable cargo on the side of the freeway. When you call us, you don't have to. We have four storage facilities throughout Missouri and Kansas. Closely monitored security systems and measures make sure your load is secured. We can help you organize logistics going forwards as well as provide equipment and manpower. Don't get stuck outdoors. Call us and you won't even have to risk it.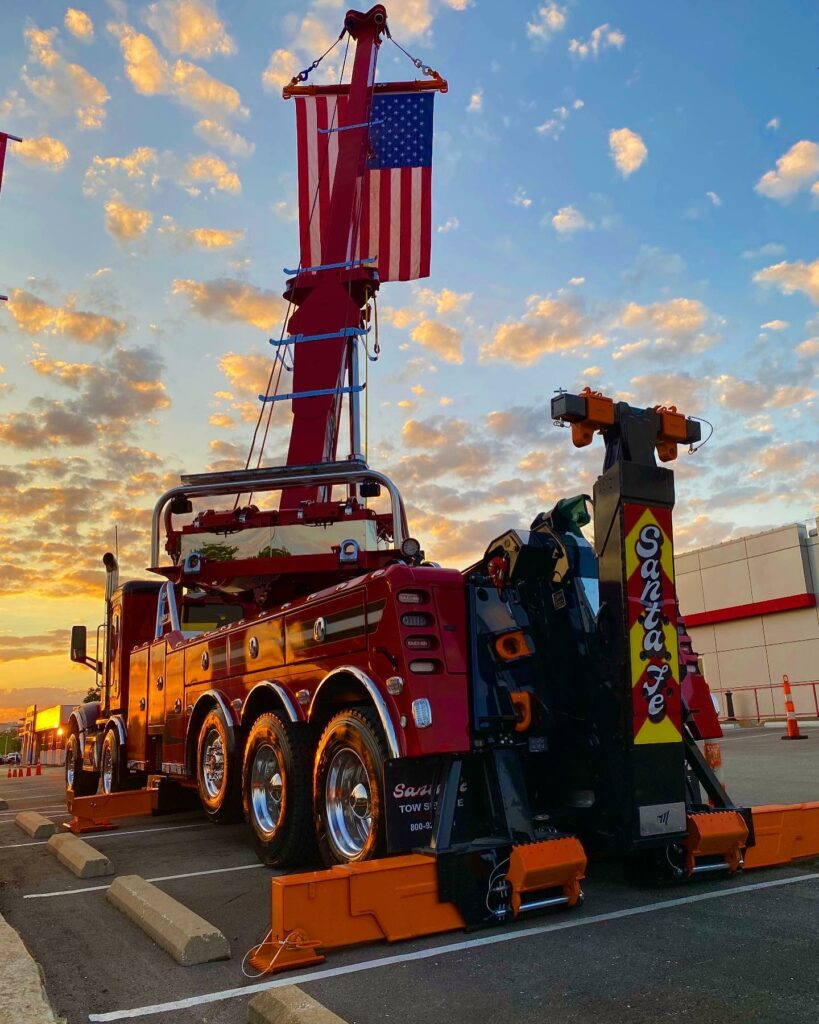 Get in touch for 24/7 towing service!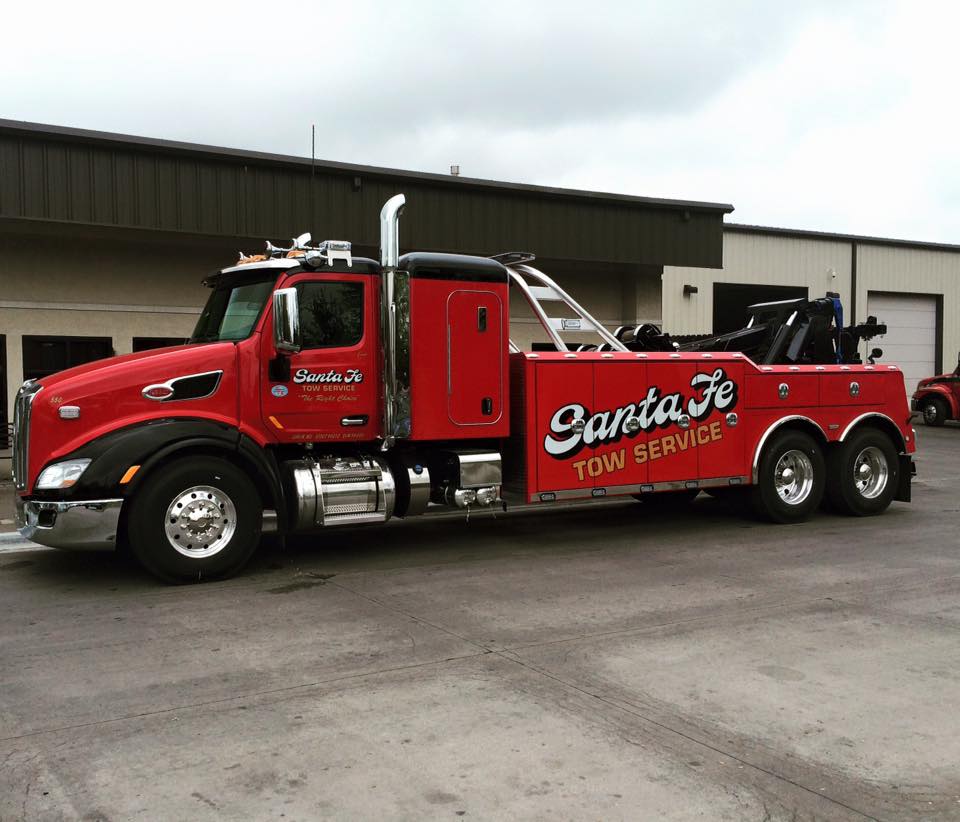 Our Semi Truck Towing and Recovery Services Protect your Assets
Supplies have to get to their destination. 24/7 towing in Blue Springs is the only service that can cut it. That's because breakdowns aren't the only issue facing truckers. Accidents and overturned trucks can damage trucks and cargo if they aren't recovered correctly. We exercise safe and effective best practices honed over decades in the industry. One of our greatest tools?
Contact us for commercial and semi-truck towing in Blue Springs today!
We are open for business 24/7, and even handle emergencies. Get help now. Our company is built around the customer. We listen, we respond, and we never move forward without your say so. You keep America running and we'll keep working harder to keep you running. Get where you need to go, call or contact us now.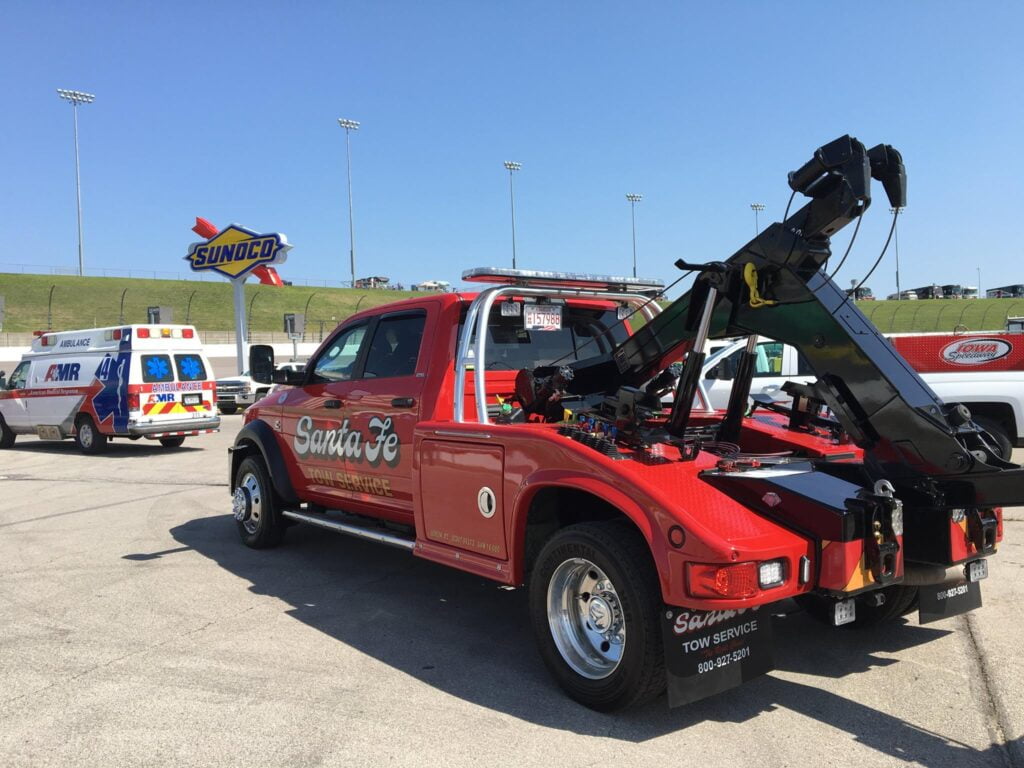 Jan 30, 2023,
Marshall W.
"
Really quick. Super friendly
"
Amazingly smooth service… everything from scheduling to pickup to hauling to drop off to payment! Amazingly great! Thank you for a great experience!
"
The driver was on time as expected, and very helpful with the situation.
"
Zach came in the middle of the night and saved me. True pleasure to work him and staff… First class operation and I would recommend Sante Fe for all my towing needs… REAL Professionalism
"
Fast and friendly, definitely recommend!
Powered by
Whiterail
Disclosure
The reviews displayed may or may not be a complete set. Reviews may be removed if they:
i. Are abusive. An abusive review or comment is one that makes personal attacks, threatens, or harasses others, or uses profanity.
ii. Violate privacy. Reviews that mention specific names of individuals or personal information in a manner that is inappropriate and/or unrelated to the performance of the service rendered are subject to removal.
iii. Are not from a current customer.
iv. Contain material falsehoods.
v. Are deemed inappropriate.
To encourage all feedback, positive or otherwise, an equal incentive for reviews, regardless of rating, may have been provided to the reviewer.
Google reviews provided via APIs https://www.google.com/+/policy/embedded-content.html