Recovery

and Towing Services
Lenexa Recovery and Towing Services
Santa Fe Tow Service offers 24/7 towing services to Kansas City and Lenexa, KS. With our incredible team of professional tow truck operators and impressive fleet of heavy duty towing trucks, we are the best tow truck company near you, guaranteed. If you're looking for professional staff members, knowledgeable dispatch teams, quick response times, and affordable rates, look no further than Santa Fe Tow Service for the best Lenexa heavy towing service.
Crane Services
Leaning Trailers
Sinking Trails
50 Ton Rotator Services
Rollovers
Off-Road Recovery
Cargo Load Shifts, Load Swaps and Transfers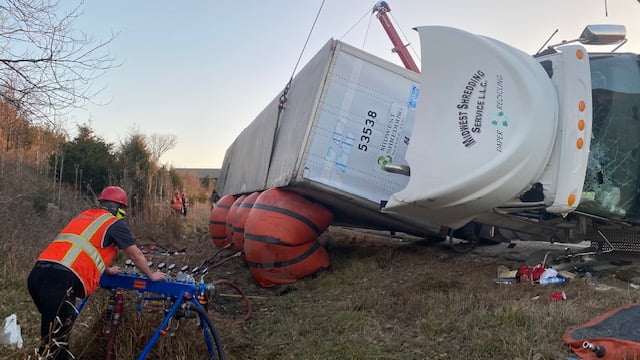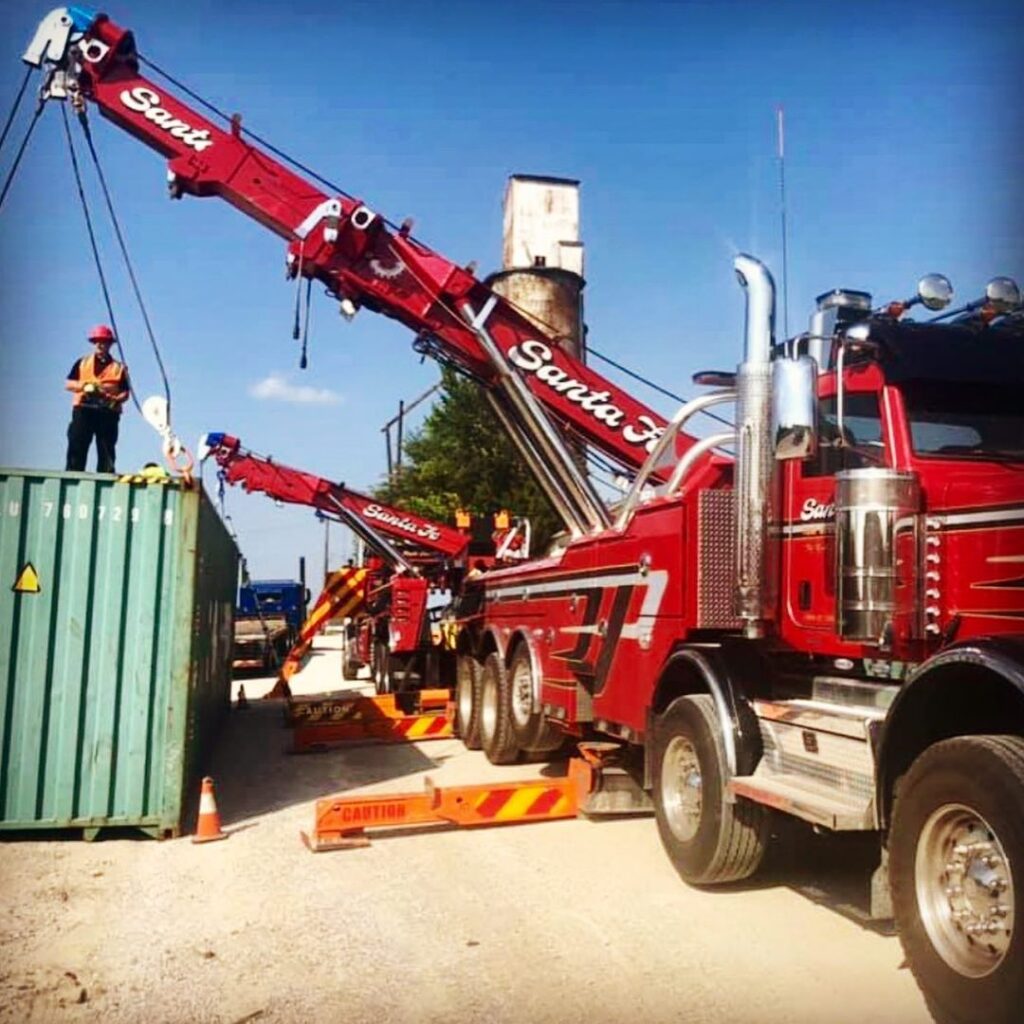 Cargo Load Shifts, Load Swaps and Transfers
Our Lenexa heavy duty towing services include cargo load shifts, load swaps, and transfers. Whether you need to swap loads from one trailer to another or pick up an extremely heavy load from the ground, we have all the equipment and expertise necessary to get the job done right. Let us help you get back on the road and back to your loved ones.
Learn more about our Cargo Load Shifts, Swaps, and Transfers.
Heavy Duty Towing Services in Kansas City
Expert heavy duty towing services near you, 24/7, 365 days a year. No job is too difficult for Santa Fe Tow Services. We complete the jobs that everyone else is too scared to take on!
Leaning Trailers
Forklift Service
Towing and Recovery
Mobile Loading Dock
Decking and Undecking
RV Towing
Mobile Home Towing
Bus Towing
Construction Equipment
Heavy Equipment Towing
Heavy Duty Towing Services
50 Ton Rotator Service
Big Rig Tows
Heavy Off Road Winching
Truck Roll Overs and Wrecks
Cargo Recovery and Cargo Transport
Cargo Transfers
Heavy Load Shifting
Road Tractor Swap-outs
Call our Heavy Duty Towing dispatch team now at (913) 894-5201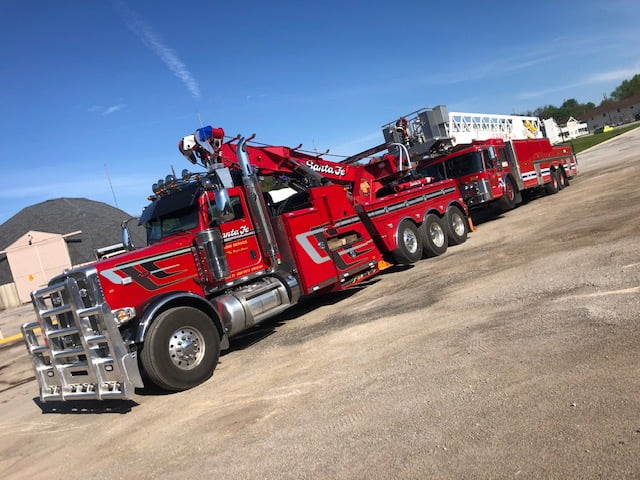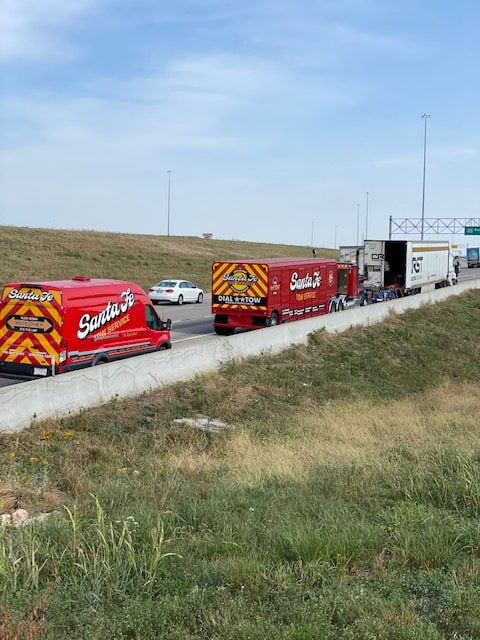 Leaning and Sinking Trailers
Is your trailer leaning or sinking? Are you looking for a Heavy Towing Company Providing 24 Emergency Towing and Recovery Services in Kansas City? Our teams are on standby throughout the greater Lenexa area and Kansas City in order to ensure fast response times. No matter the time of day, rain or shine, we will be by your side in minutes to get you road ready once again. Our fleet of over 80 trucks will be able to get the job done, no matter what.
Learn more about our 24/7 Heavy Duty Towing Services in Lenexa, KS.
Heavy Duty Winching Services
Looking for heavy duty winching services near Kansas City? Santa Fe has you covered. Regardless of the situation, we have the tools and expertise to get you back on the road and towards your destination. Trust us, there is nothing our experienced team of heavy duty towing professionals cannot handle! From excavators sinking in mud to overturned trucks in a ravine, we've seen it all! Do you have an "impossible" job? Call us now at (913) 894-5201 and let us take care of it for you.
Learn more about our Heavy Duty Winching & Recovery services in Lenexa, KS, and the Kansas City area.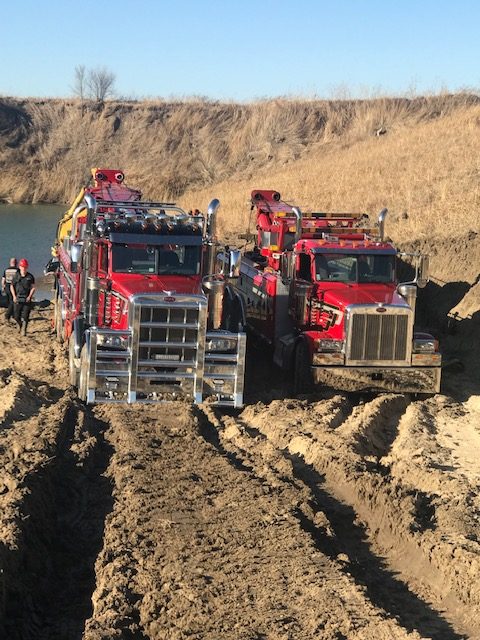 Heavy Equipment and Machine Recovery
We work hand-in-hand with local businesses and contractors throughout Lenexa and Kansas City to provide heavy equipment lifting services. We have all the equipment and technology to ensure that your machinery stays safe. Keep your construction project on time and give us a call. We will work around your schedule and get your equipment where it needs to be when it needs to be there. For punctual and affordable heavy lifting services, give us a call at (913) 894-5201.
50 ton lifting capacity
Boom Lifts
Trailers
Excavators
Flat Bed Trucks
Skidsteers
Fork Lifts
Bucket Trucks
Farming Equipment
Tractors
HVAC
Steel Coils
Heavy Duty Towing Service Area
Lenexa, KS, 66062
Lenexa, KS, 66210
Lenexa, KS, 66214
Lenexa, KS, 66215
Lenexa, KS, 66216
Lenexa, KS, 66217
Lenexa, KS, 66219
Lenexa, KS, 66220
Lenexa, KS, 66227
Lenexa, KS, 66250
Lenexa, KS, 66276
Lenexa, KS, 66285
Lenexa, KS, 66286
Kansas City, KS, 66102
Kansas City, KS, 66103
Kansas City, KS, 66104
Kansas City, KS, 66105
Kansas City, KS, 66106
Kansas City, KS, 66109
Kansas City, KS, 66110
Kansas City, KS, 66111
Kansas City, KS, 66112
Kansas City, KS, 66113
Kansas City, KS, 66115
Kansas City, KS, 66117
Kansas City, KS, 66118
Kansas City, KS, 66119
Kansas City, KS, 66160