Heavy
Equipment Hauling

Kansas City KS
Heavy Equipment Hauling in Kansas City KS you can depend on
Heavy equipment towing service is a different breed entirely. Not only does it involve safely moving multi-ton equipment where damage can cost tens of thousands of dollars, but it also requires both skilled truck drivers and experienced equipment operators. Our tow truck operators are both. The right equipment in the wrong hands is just as dangerous as underpowered lifts. That's why we train our drivers extensively on top of their certifications from the Towing and Recovery Association of America and Wrecker Certs. Get heavy equipment hauling in Kansas City, KS that considers every factor. At Santa Fe Tow Service Inc. it's the only kind of hauling we do.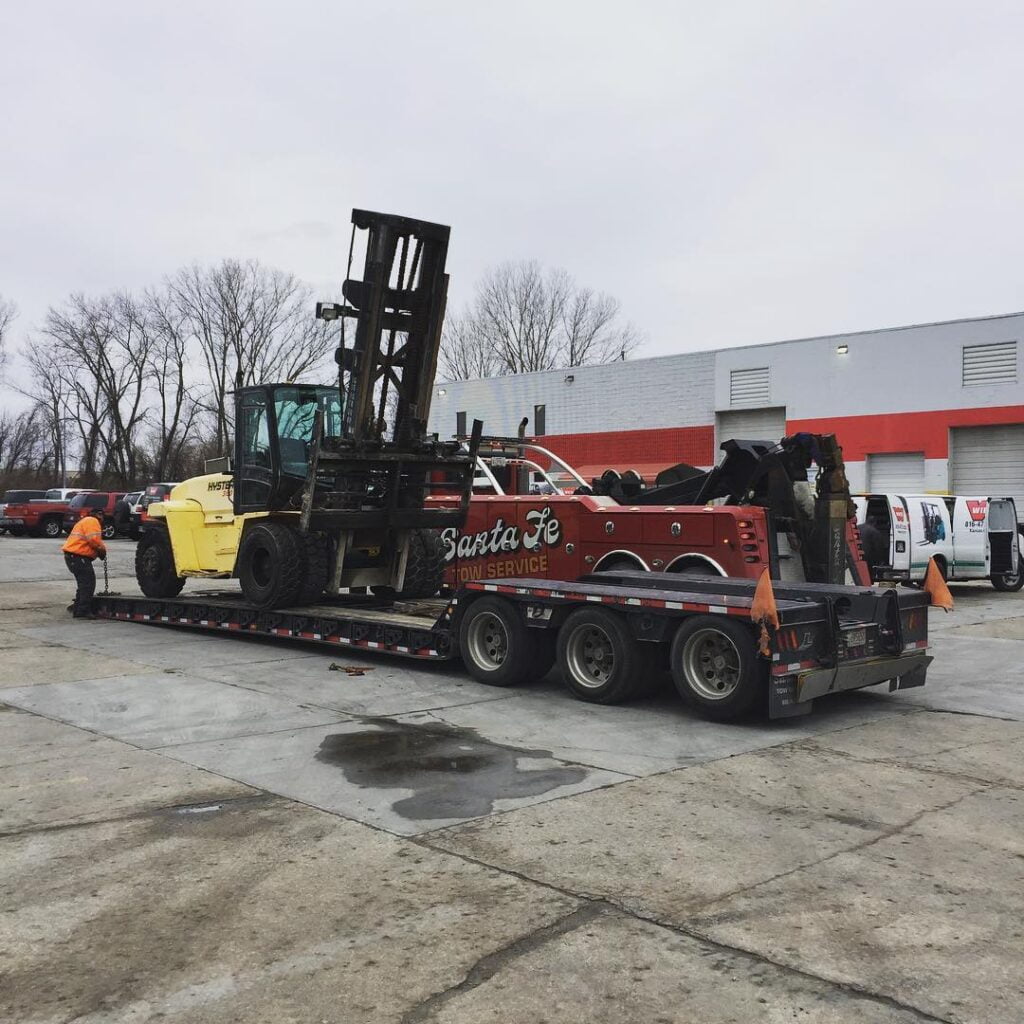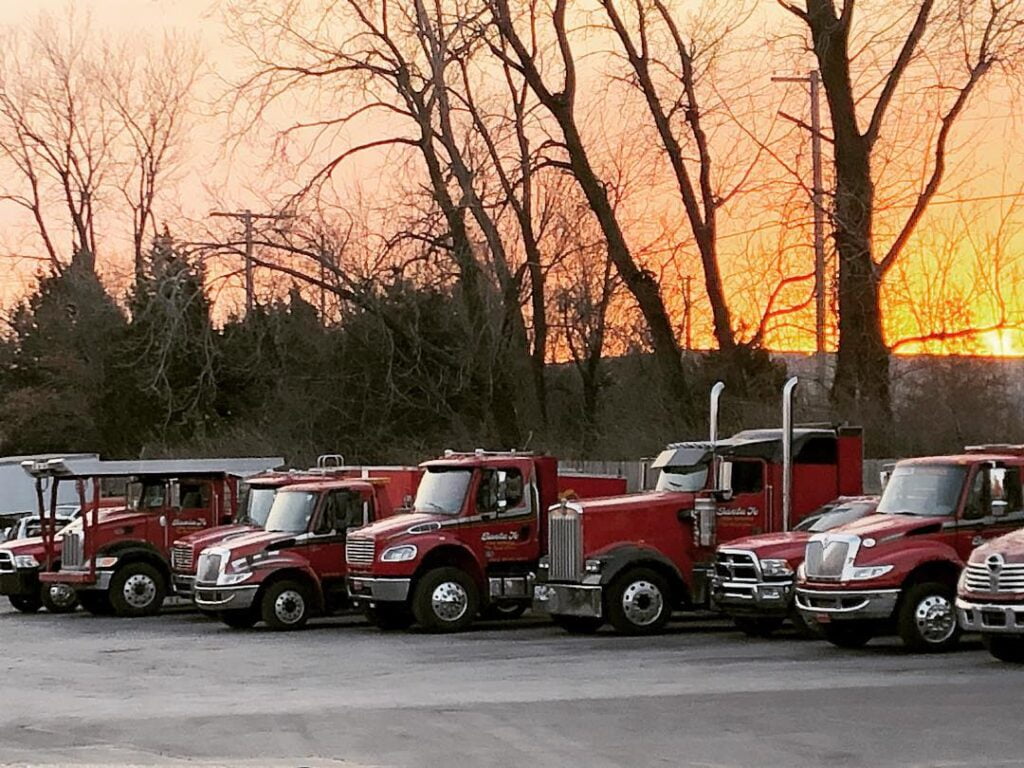 It starts with our fleet of over 80 tow trucks
To maintain the right equipment, first, you have to own it. We keep detailed maintenance logs for every single vehicle in our fleet. Reliability during heavy equipment hauling is critical. Our trucks are ready for in-state, interstate, and cross country heavy-duty hauling. Making sure your payload arrives on-time is critical, and we've got the right vehicles for whatever needs hauling.
Our fleet contains every type of heavy equipment hauling vehicle you could need including landolls, semi-tractors, wreckers, flatbeds, lowboys and more
Just some of the payloads, equipment, and items we most frequently haul include:
Tractor Trucks
Trailers
Cargo Containers
Cranes
Construction Equipment
Excavators
Hydraulic Equipment
Buses
Trailer Homes
Pre-Fab Homes
Earth Moving Equipment
Construction Materials
Steer/Track/Terrain Loaders
Why make us your heavy equipment towing company?
Our drivers are world-class. All of our truck operators are required to have Wrecker Certification and a Certification from the Towing and Recovery Association of America. Many of our drivers have also completed the prestigious Wes Wilburn training program.
We have the best equipment. Our fleet is home a wide range of trucks including heavy-duty Landoll trailers. These are capable of rising to dock height. They also tilt to ground level allowing for transportation of equipment on and off without additional assistance.
Every load is insured. We have comprehensive insurance that covers damages to every load we transport. That includes vehicles, equipment, containers, and anything else on the back of our trucks. To avoid damage, we always prepare each load properly.
Additional training and ongoing education. Our drivers complete continuing education in addition to their certifications. We ensure every driver has complete mastery of their vehicle and its equipment. Every load undergoes a thorough safety and security inspection before driving occurs.
One of the largest tow truck fleets in Kansas City, KS. We have more than 80 vehicles and vehicle operators on staff. Our network stretches across the country, and we can deliver your heavy-duty equipment wherever you need it to go.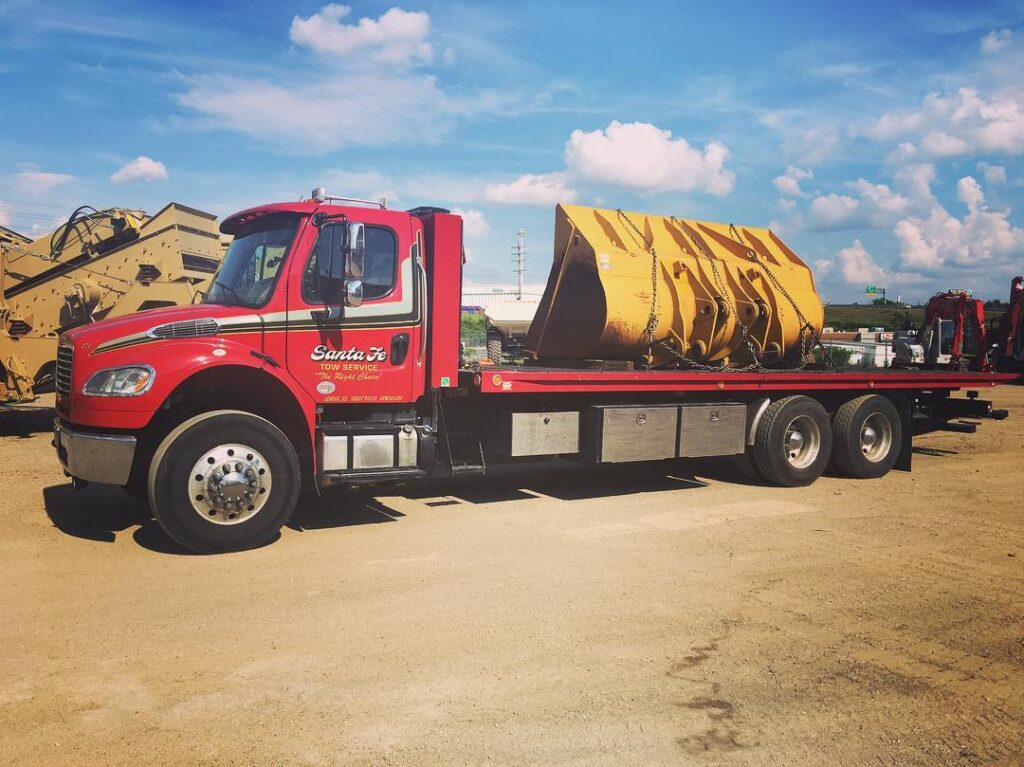 Contact us for heavy equipment hauling in Kansas City, KS
When you need heavy-duty hauling you want the best company for the job. We put safety, your equipment, and your timeline at the forefront of everything we do. Get safe delivery of your heavy-duty equipment. Call or contact us today. We provide our towing services to a variety of other locations including Gladstone, Odessa, Blue Springs, Olathe, Jackson County, and more!
"
It was excellent and the drivers were so courteous and professional
"
I had gotten a flat tire and didn't have any gloves in the car and knew my hands would freeze if I tried to change a tire in this weather. This tow service was very quick and the gentleman that helped me didn't talk down to me in any way (which I've come to expect as a woman when it comes to cars..) and it honestly took what could have been a horrible morning and made it not so awful 🥰
"
Whoever the fella was, he was nice. Good work, safe and fast.
"
Fast and Excellent Service. Driver was courteous and helpful. Highly Recommend
Powered by
Whiterail
Disclosure
The reviews displayed may or may not be a complete set. Reviews may be removed if they:
i. Are abusive. An abusive review or comment is one that makes personal attacks, threatens, or harasses others, or uses profanity.
ii. Violate privacy. Reviews that mention specific names of individuals or personal information in a manner that is inappropriate and/or unrelated to the performance of the service rendered are subject to removal.
iii. Are not from a current customer.
iv. Contain material falsehoods.
v. Are deemed inappropriate.
To encourage all feedback, positive or otherwise, an equal incentive for reviews, regardless of rating, may have been provided to the reviewer.
Google reviews provided via APIs https://www.google.com/+/policy/embedded-content.html