Heavy Equipment

Hauling Joplin, MO
Your Best Choice for Heavy Equipment Hauling in Joplin
Heavy equipment is a different beast entirely. It demands skill, care, and knowledge to safely load, secure, and transport. If you don't choose a towing service experienced in heavy equipment hauling, you'll pay more than you bargained for. Our drivers are masters of their craft. With multiple certifications, ongoing education, and experience both with the capabilities of their trucks and heavy equipment as a whole, you won't find a more dedicated and ready partner. At Santa Fe Tow Service Inc. we always do right by our customers so that you can do right by yours.
To learn more about our 24/7 Heavy Equipment Hauling Service and to speak to a member of our team, call us at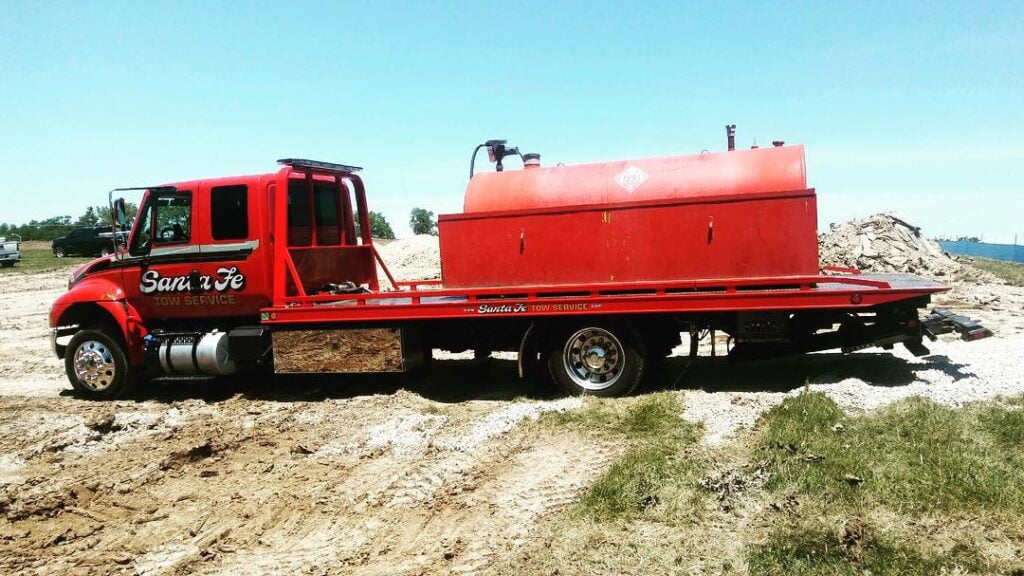 The trucks you want hauling your heavy equipment
Getting your equipment where it is needed starts with a fleet capable of doing it. That's why we carefully maintain all of our vehicles. Every glow plug change to the engine rebuild is logged. We make sure our vehicles run like fine-tuned machines fresh from the factory. When we know they can go the distance, we put them to work providing you with interstate, in-state, and cross-country heavy duty hauling. And trust us, our fleet is diverse enough to haul anything you need to move.
Just a handful of the tow trucks and haulers we have include semi-tractors, lowboys, wreckers, landolls, and flatbeds.
What makes us the most widely used heavy duty equipment towing company in Joplin?
A few of the payloads, items, and equipment we often transport include:
Construction Vehicles
Trailers
Cargo Containers
Tractor Trucks
Cranes
Hydraulic Equipment
Excavators
Construction Equipment
Buses
Pre-Fab Homes
Earth Moving Equipment
Trailer Homes
Steer/Track/Terrain Loaders
Construction Materials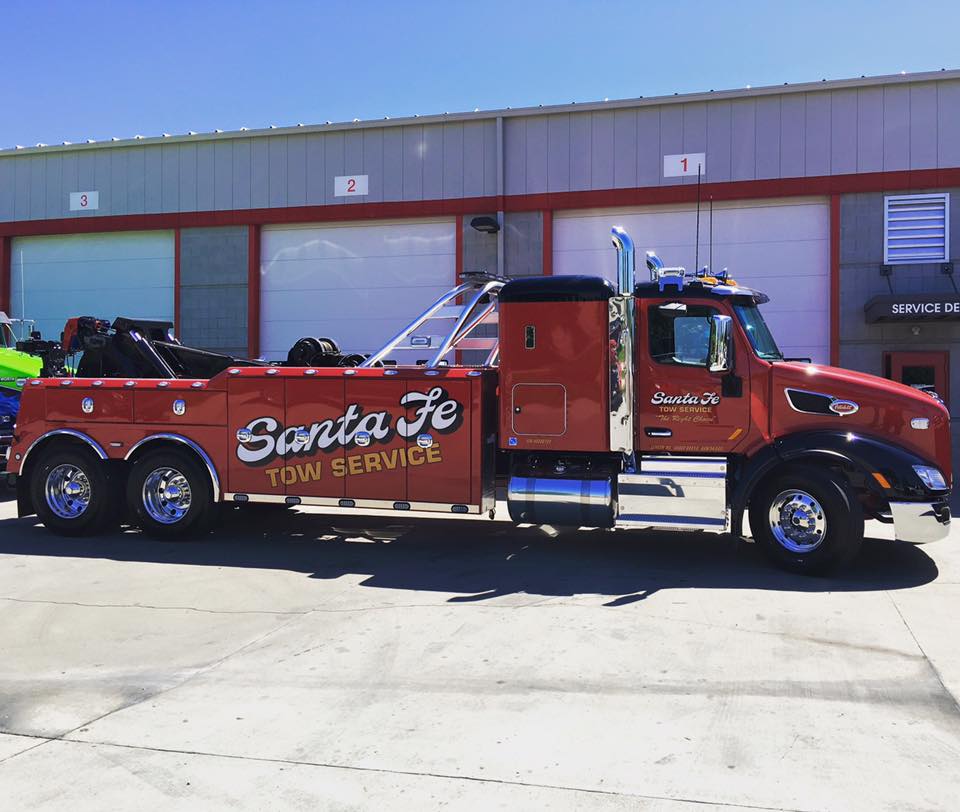 What makes us the most widely used heavy duty equipment towing company in Joplin?
We only hire certified truck operators. Each truck operator in our fleet is certified by the Towing and Recovery Association of America. They also have their Wrecker Certification. Many of our drivers have undergone additional training with Wes Wilburn of the American Towing and Recovery Institute.
Our equipment is built to handle any job. Our fleet contains nearly every type of recovery and towing vehicle. One of our most popular options for heavy duty hauling is the heavy duty landoll trailers. These can tilt to ground level for easy loading and unloading without a lift. They can also raise up to dock height.
Your equipment is covered by our insurance. In-depth inspections can ensure your load is safe, but our insurance guarantees it is protected. Your load is covered whether it's equipment, materials, or goods. Whether cross town or cross country, you don't want to be without this added safety net.
We provide extra training and require ongoing education. In order to be the best, our drivers do more. We require education on top of certifications. Additionally, drivers must master their trucks equipment and understand complex mathematics regarding weight distribution and its effect on the vehicle, handling, and safety.
Our company has one of the largest fleets in Joplin. With more than 80 trucks and a 24/7 dispatch center, you're always connected to the help you need. We can deliver heavy equipment if your vehicle breaks down. We also provide heavy equipment recovery, load transfers, and storage.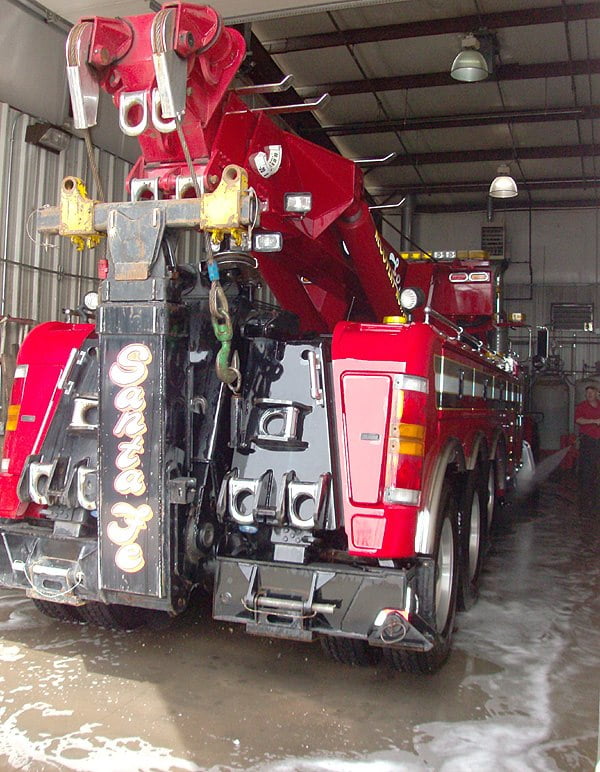 Get in touch for 24/7 towing service!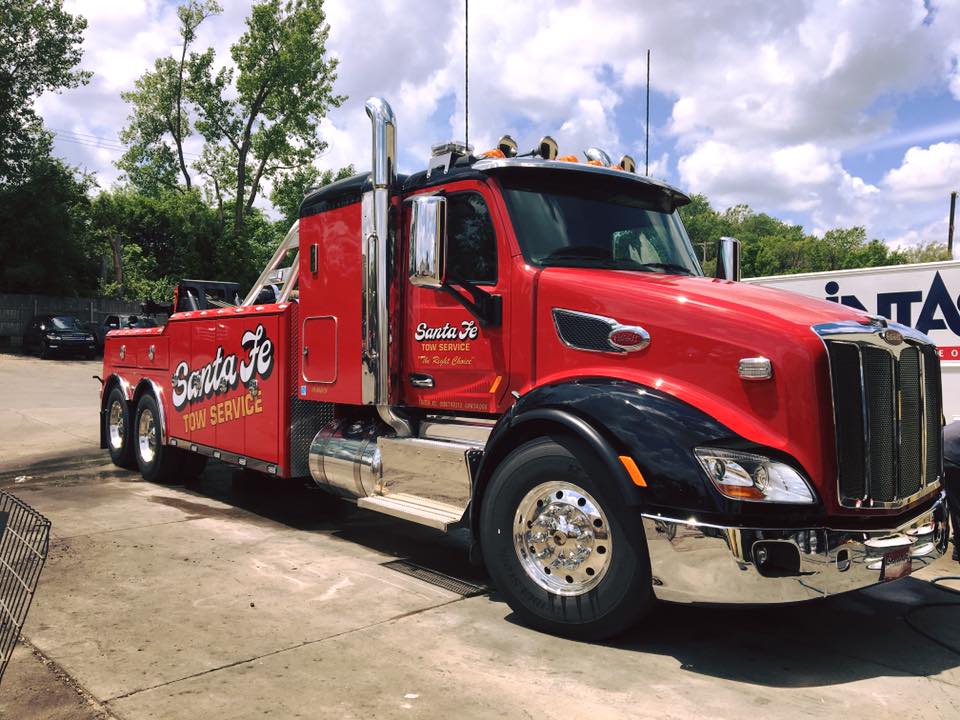 Contact us for heavy equipment hauling in Joplin
We always put you and your heavy equipment first. That means safe delivery on-time from one of the nation's best tow truck companies. Don't settle for an inexperienced company. We back our promises so you can too. Call us today. We provide our services to other areas in Kansas and Missouri. If you need a tow truck in Kansas City, KS, Lenexa, Olathe, Blue Springs, Odessa, or Oak Grove give us a call!
"
Amazing service. Good quality workers
"
The gentleman was very nice and explained everything to me very well. I'm very happy with my service. He also arrived quickly.
"
The driver showed up extremely quickly and had my semi truck hooked up and ready to go in less than an hour, he was polite and courteous. His knowledge and experience made it a painless and easy experience.
"
Always exceptional. Quick and friendly.
"
I always use Santa Fe tow for all my towing needs. The drivers are always extremely courteous and helpful and it's easy to book a tow with them. Communication and customer service is always top-notch. Whenever I need a tow company Santa Fe is always my first choice well really my only choice because they always show up.
Powered by
Whiterail
Disclosure
The reviews displayed may or may not be a complete set. Reviews may be removed if they:
i. Are abusive. An abusive review or comment is one that makes personal attacks, threatens, or harasses others, or uses profanity.
ii. Violate privacy. Reviews that mention specific names of individuals or personal information in a manner that is inappropriate and/or unrelated to the performance of the service rendered are subject to removal.
iii. Are not from a current customer.
iv. Contain material falsehoods.
v. Are deemed inappropriate.
To encourage all feedback, positive or otherwise, an equal incentive for reviews, regardless of rating, may have been provided to the reviewer.
Google reviews provided via APIs https://www.google.com/+/policy/embedded-content.html