Towing Services

Kansas City KS
Santa Fe Tow Service Inc. has been in operation for over thirty years. Providing tow, emergency recovery, and transportation services in Kansas City, Kansas and across the United States is our passion. We dispatch certified, reliable, efficient drivers to recover anything from small to large scale vehicles. Each driver is hired for their experience and knowledge to get the job done properly and safely. Need a tow after dark? No problem. We are on call all day and night.
Our equipment includes landolls that can support 2 20-foot containers, and our 75-ton boom lifts can recover extra-heavy cargo. Truck operators use our equipment daily and maintain ongoing training requirements. We provide 24 hour towing so you never have to wait for the best service in the area.
Santa Fe Tow Service has grown from a single-truck operation to a multi-state venture boasting a fleet of over 80 trucks. This growth can be attributed to a long-standing reputation for reliable, efficient service performed by expert personnel and first-rate equipment.
To learn more about our 24/7 Towing Service and to speak to a member of our team, call us at
Certified Tow Truck Operators
Our trained drivers are regularly called to respond to emergency situations where our team has earned a reputation for working seamlessly with on-scene crews. Certifications include TRAA (Towing and Recovery Association of America) and Wreckmaster training. Many of our drivers also trained in the Wes Wilburn Program. Wes Wilburn is the most active towing and recovery instructor in the industry. All drivers arrive in uniform and prepared to deliver professional service.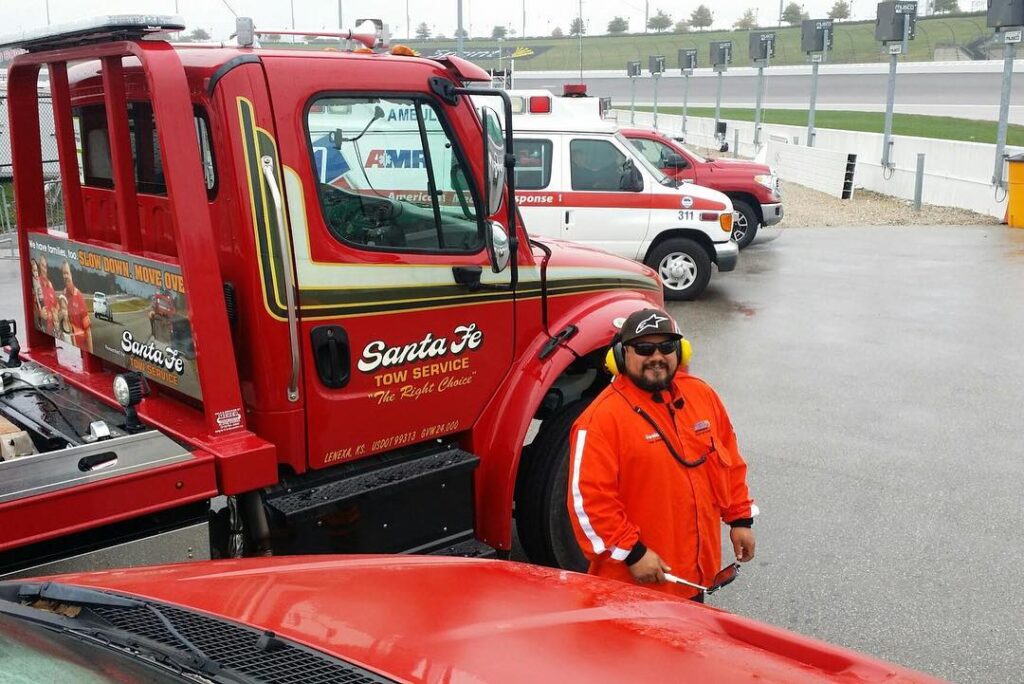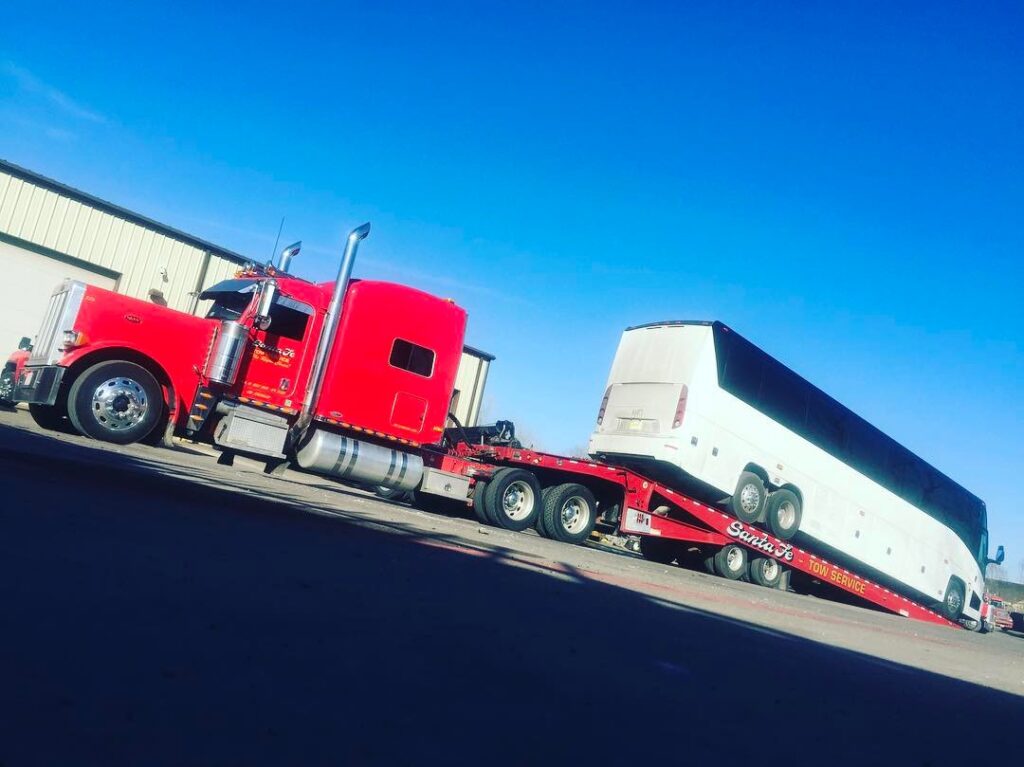 Towing Equipment Includes Flatbeds, Wreckers, Landolls, and Lo-boys
Our fleet contains vehicles designed for heavy duty towing and extreme recovery including a 75-ton boom lift. All of our trucks are equipped with underlifts. When additional measures are required, we can quickly deploy wheel lifts as well. Need to arrange for truck repairs, load shifts, pickups, delivery of your cargo? We have secure facilities in Olthane, Overland Park, and Lenexa. These are system secured, gated, and provide covered storage.
Services we offer include:
Load transfers/shifts
Interstate hauling
Semi-truck towing
Machinery hauling
Heavy truck towing
Tractor trailer towing
Tractor trailer storage
Emergency recovery
Tractor trailer pickup
Specialized Towing in Kansas City
We are happy to provide roadside assistance if you're stranded in a passenger car. Need a jump start? Ran out of gas? Or maybe you just need help with a flat tire. Our drivers can help with anything that renders your vehicle immobile. Just give us a call. We also have specialists trained for:
Our dispatchers are standing by. Get the help you need right now
We are always at the ready to provide tow service. Wherever you are in Kansas City, KS, our tow trucks are in your area.
Jan 30, 2023,
Marshall W.
"
Really quick. Super friendly
"
Amazingly smooth service… everything from scheduling to pickup to hauling to drop off to payment! Amazingly great! Thank you for a great experience!
"
The driver was on time as expected, and very helpful with the situation.
"
Zach came in the middle of the night and saved me. True pleasure to work him and staff… First class operation and I would recommend Sante Fe for all my towing needs… REAL Professionalism
"
Fast and friendly, definitely recommend!
Powered by
Whiterail
Disclosure
The reviews displayed may or may not be a complete set. Reviews may be removed if they:
i. Are abusive. An abusive review or comment is one that makes personal attacks, threatens, or harasses others, or uses profanity.
ii. Violate privacy. Reviews that mention specific names of individuals or personal information in a manner that is inappropriate and/or unrelated to the performance of the service rendered are subject to removal.
iii. Are not from a current customer.
iv. Contain material falsehoods.
v. Are deemed inappropriate.
To encourage all feedback, positive or otherwise, an equal incentive for reviews, regardless of rating, may have been provided to the reviewer.
Google reviews provided via APIs https://www.google.com/+/policy/embedded-content.html