Roadside Assistance

Blue Springs
Roadside Assistance in Blue Springs is on the way
A lot of times a stranded vehicle doesn't need towing at all. There are a lot of problems that can be solved with the right equipment. That's what makes road assistance from Santa Fe Tow Service Inc. so valuable. We can tow your vehicle, semi truck, or trailer if assistance services aren't enough. You never have to make two calls when you call us. Choose one tow truck company, and get two exceptional services. Call us now.
To learn more about our 24/7 Roadside Assistance Service and to speak to a member of our team, call us at
We are your 24/7 emergency roadside assistance provider. Call us first for gas and fluid delivery and minor on-site repairs.
Our dispatch center uses a state-of-the-art GPS system to send the right truck and operator directly to your location.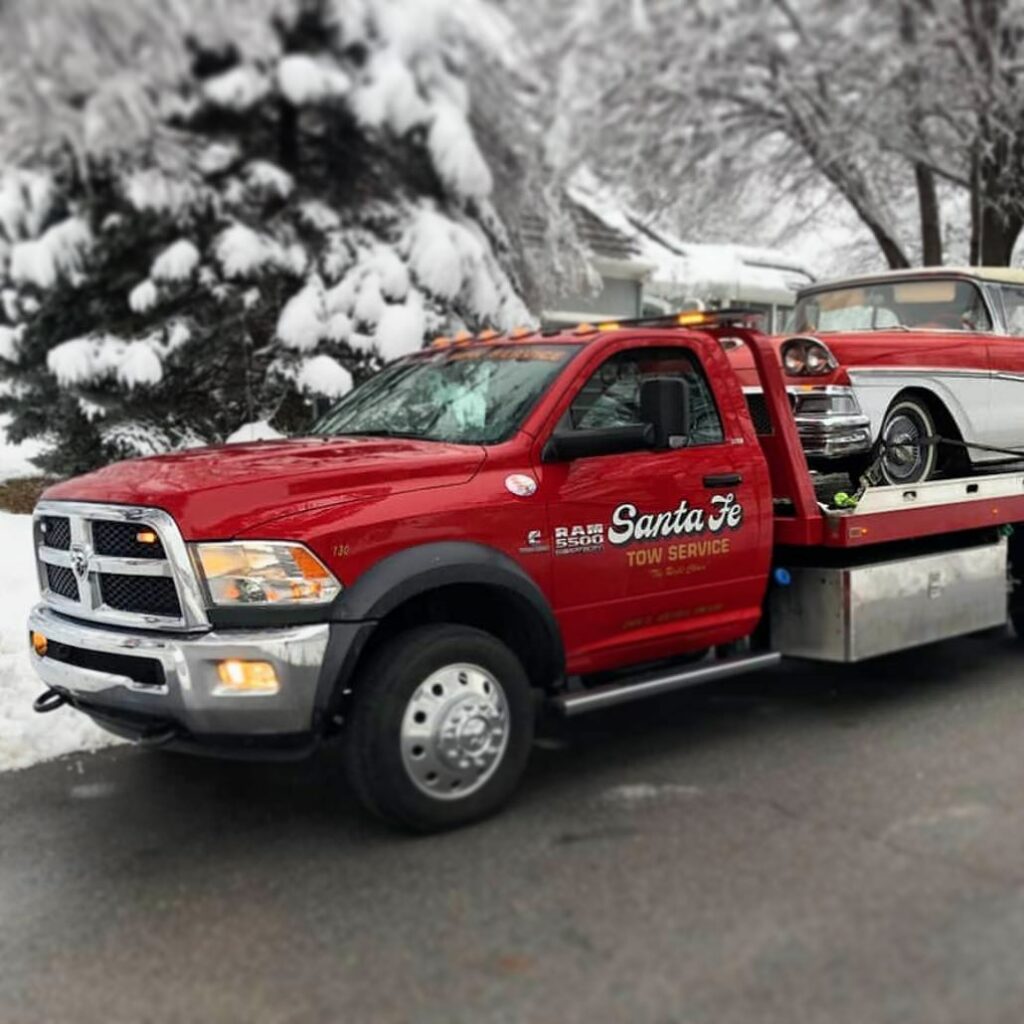 How can our tow truck drivers help you?
Don't get locked out with our roadside lockout service. The most common vehicle-related key issues are lost keys, lockouts, and broken keys. No matter what's happened to your keys, you aren't stuck. We'll get you back into your car in no time. Our tow truck drivers provide vehicle lockout service throughout Blue Springs.
Driving into a ditch doesn't have to end your trip. No matter how you ended up there, you aren't stuck. Our heavy-duty tow trucks are equipped with boom lifts. These can recover vehicles up to 65 tons. Our light-duty fleet is equipped to winch out smaller vehicles. We will recover your automobile from sand, mud, and other tire sucking areas.
Get your car battery charged. Batteries aren't as reliable as we wish they were. Old batteries can die. Other components can drain even a fresh battery. Our assistance vehicles charge your existing battery or provide a much-needed jump. Just let our dispatch center know if you'd like a fresh battery installed on-site!
We repair or replace tires. A flat isn't fun. If you don't carry a pump and repair kit, you might be stuck. We bring a spare tire right to you. Our drivers are trained to repair tire punctures and reinflate them. We can also attach your spare for you, or even completely replace your existing tire.
Your source for vehicle fluid delivery. Our trucks carry diesel, engine oil, water, gasoline, and more. If you need a critical fluid-like power steering, transmission, brake fluid, or coolant; tell us. Our 24-hour dispatchers will identify your make and model so we can get the right fluid for your ride.
Contact us today for road service in Blue Springs, MO
Jan 30, 2023,
Marshall W.
"
Really quick. Super friendly
"
Amazingly smooth service… everything from scheduling to pickup to hauling to drop off to payment! Amazingly great! Thank you for a great experience!
"
The driver was on time as expected, and very helpful with the situation.
"
Zach came in the middle of the night and saved me. True pleasure to work him and staff… First class operation and I would recommend Sante Fe for all my towing needs… REAL Professionalism
"
Fast and friendly, definitely recommend!
Powered by
Whiterail
Disclosure
The reviews displayed may or may not be a complete set. Reviews may be removed if they:
i. Are abusive. An abusive review or comment is one that makes personal attacks, threatens, or harasses others, or uses profanity.
ii. Violate privacy. Reviews that mention specific names of individuals or personal information in a manner that is inappropriate and/or unrelated to the performance of the service rendered are subject to removal.
iii. Are not from a current customer.
iv. Contain material falsehoods.
v. Are deemed inappropriate.
To encourage all feedback, positive or otherwise, an equal incentive for reviews, regardless of rating, may have been provided to the reviewer.
Google reviews provided via APIs https://www.google.com/+/policy/embedded-content.html