Emergency Tow Truck

Olathe KS
Need an Emergency Tow Truck in Olathe?
When it comes to business, old age is a good thing. With 30-years on the odometer, Santa Fe Tow Service Inc. has seen and done a lot on the roads in Kansas, Missouri, and beyond. That's how we've established our stellar reputation as an emergency towing service in places like Olathe, Kansas.
When drivers get stranded outside of a major city and need roadside assistance, it can be had to find reliable services, let alone on short notice. Our team of highly trained tow truck operators knows that the nature of emergencies is to occur at inconvenient times and locations. We are happy to minimize the inconvenience of breaking down by offering prompt, reliable service in Olathe any time of day or night.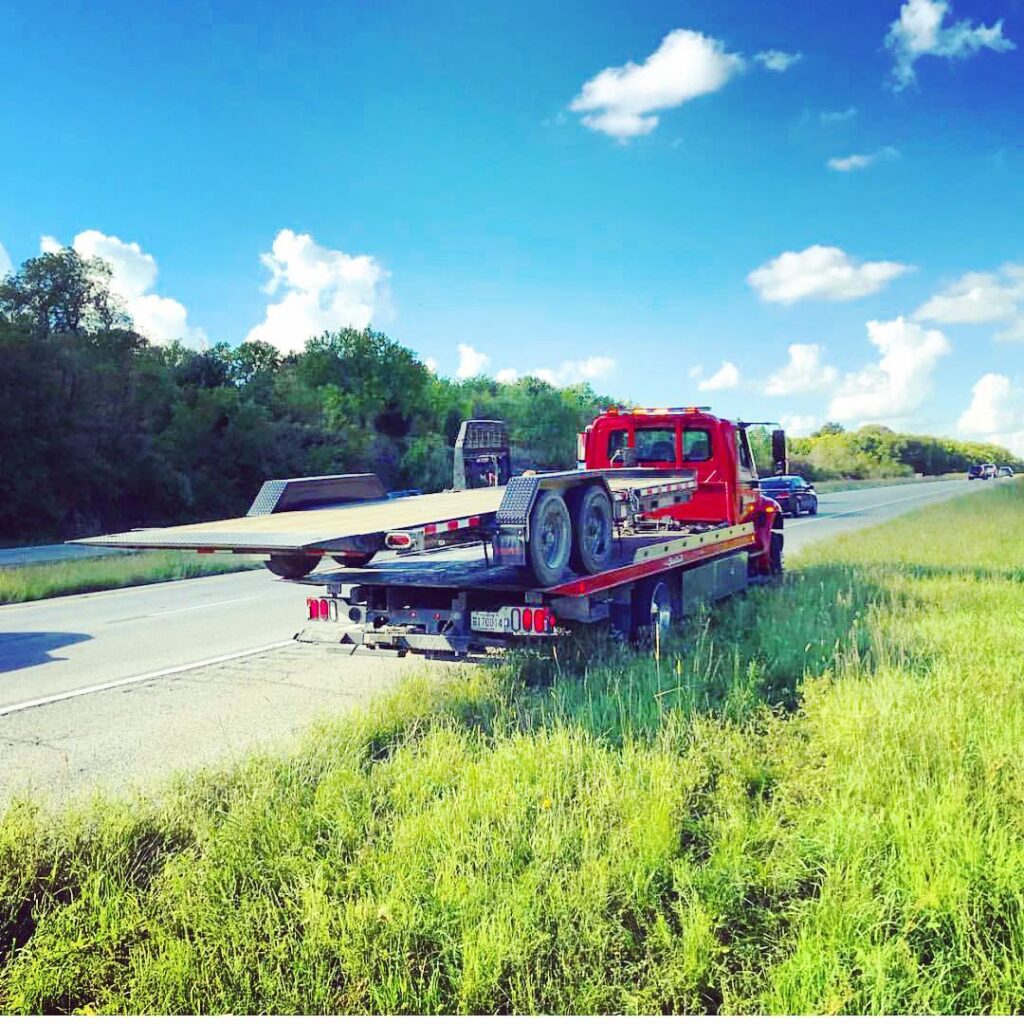 Our service area covers all of Olathe, KS, so there's never any reason to consider yourself stranded
From South Olathe to the long stretches along highway 10, our emergency tow truck operators are always available to help.
What 24-hour Towing Services We Offer?
Whether you just need lockout services in the parking lot at Northridge Plaza, or something more critical like help uprighting overturned cargo on Interstate 35 at 1 am, we have the skills and equipment to get you driving again. No matter the size of your vehicle, we can tow it. Our fleet includes: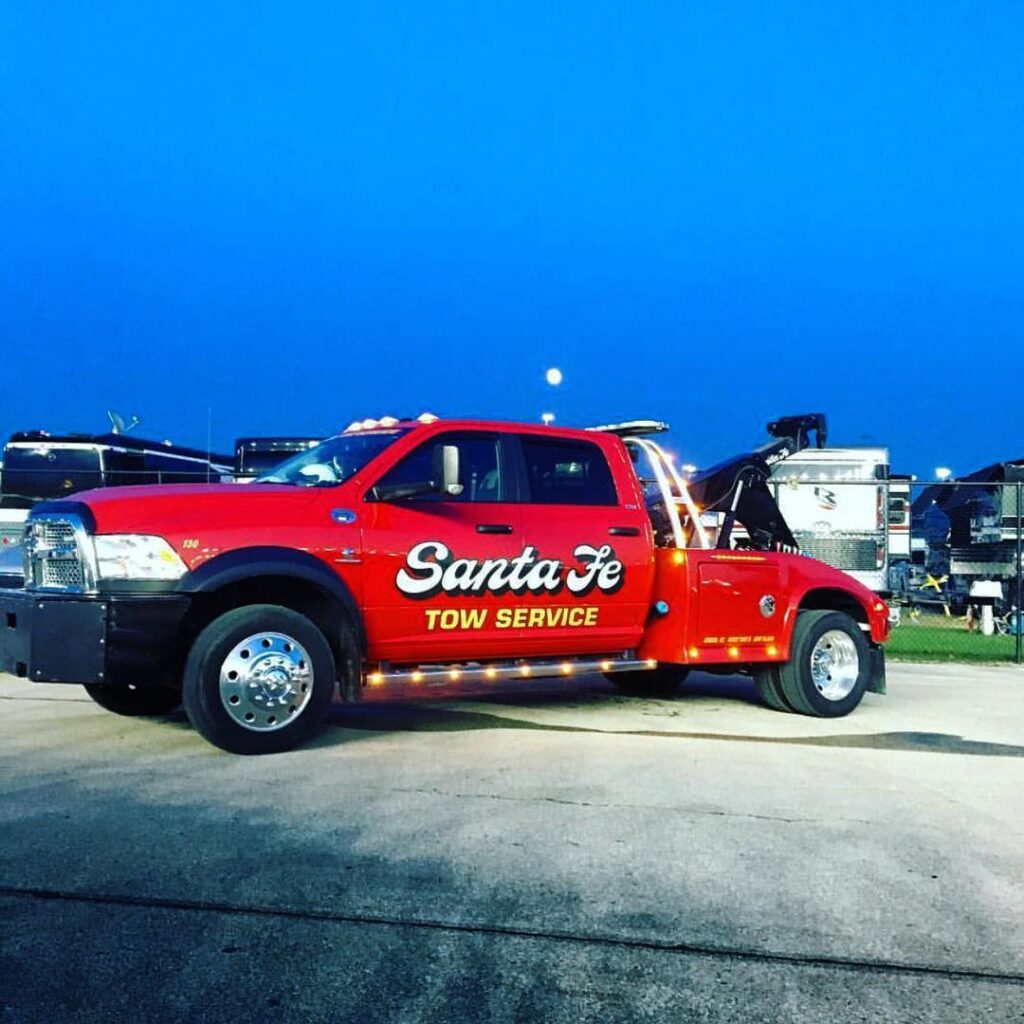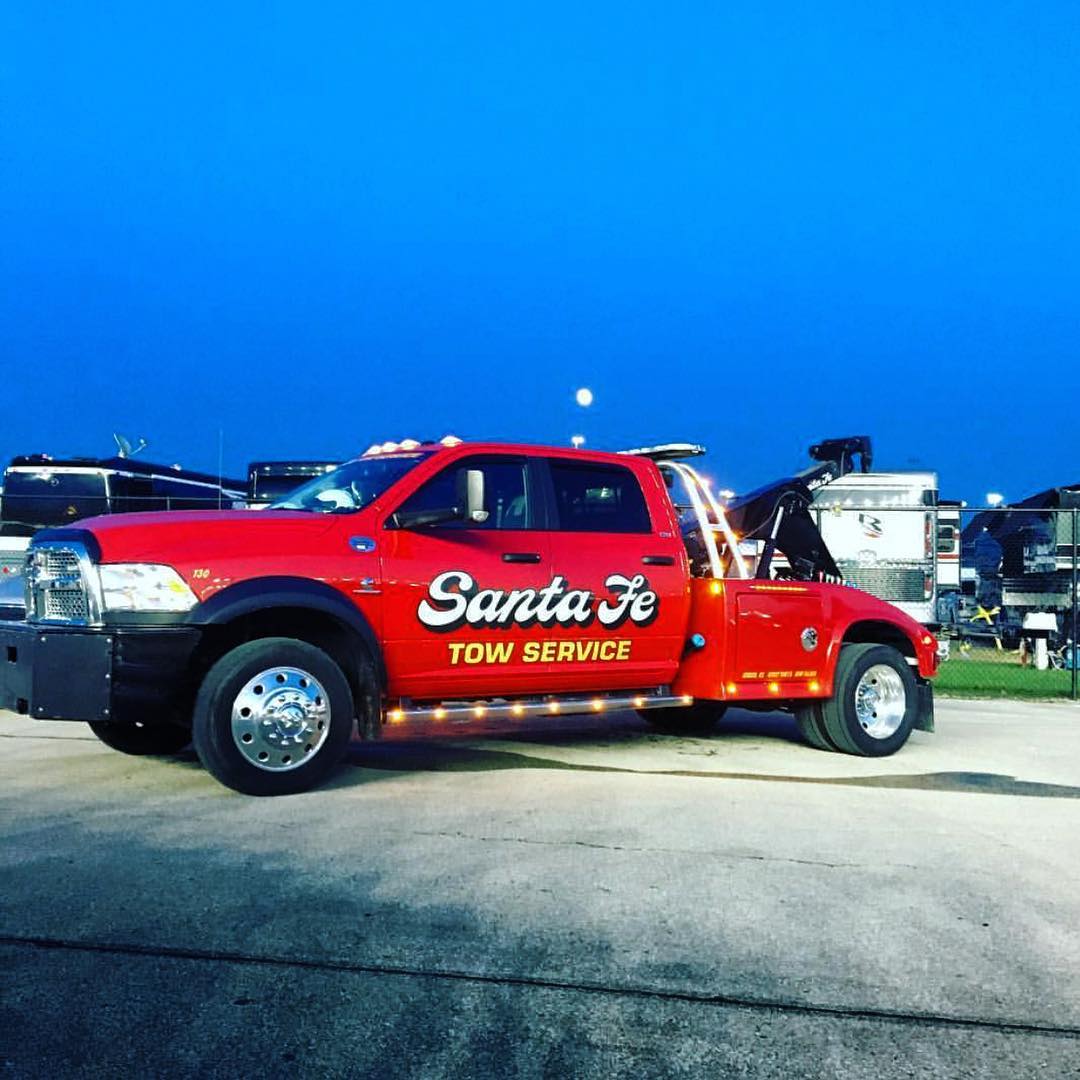 Contact Santa Fe Tow Service for reliable emergency towing near Olathe, KS
Many highways that pass through Olathe are major thoroughfares that lead to and from Kansas City. We see a lot of major semi-truck traffic with a wide range of loads, and when these vehicles break down or get involved in an accident, they still need their cargo to arrive at its destination on time. Santa Fe Tow Service provides heavy equipment hauling and can transfer loads between trucks or onto our own vehicles. Our secure storage facilities help you schedule your next move while our heavy duty towing and recovery ensures your truck arrives safely at our facility. Our services are available to a variety of other locations. If you need a tow truck in Oak Grove, Kansas City, Odessa, Blue Springs, or anywhere in between we are here to help.
"
It was excellent and the drivers were so courteous and professional
"
I had gotten a flat tire and didn't have any gloves in the car and knew my hands would freeze if I tried to change a tire in this weather. This tow service was very quick and the gentleman that helped me didn't talk down to me in any way (which I've come to expect as a woman when it comes to cars..) and it honestly took what could have been a horrible morning and made it not so awful 🥰
"
Whoever the fella was, he was nice. Good work, safe and fast.
"
Fast and Excellent Service. Driver was courteous and helpful. Highly Recommend
Powered by
Whiterail
Disclosure
The reviews displayed may or may not be a complete set. Reviews may be removed if they:
i. Are abusive. An abusive review or comment is one that makes personal attacks, threatens, or harasses others, or uses profanity.
ii. Violate privacy. Reviews that mention specific names of individuals or personal information in a manner that is inappropriate and/or unrelated to the performance of the service rendered are subject to removal.
iii. Are not from a current customer.
iv. Contain material falsehoods.
v. Are deemed inappropriate.
To encourage all feedback, positive or otherwise, an equal incentive for reviews, regardless of rating, may have been provided to the reviewer.
Google reviews provided via APIs https://www.google.com/+/policy/embedded-content.html