Local Tow Trucks: Serving Leawood, Kansas
Breakdowns and highway collisions happen. It's an unfortunate side-effect of having easy, fast, personal transportation available whenever we want it. The good news is that even in Leawood, local towing is just as easy, fast, and personal.
We're the top towing company in Leawood, Kansas because our skilled tow truck drivers are available to respond to all types of towing calls 24-hours a day. If you need help on the road, Santa Fe Tow Service is a cut above the rest.
To learn more about our 24/7 Tow Truck Service and to speak to a member of our team, call us at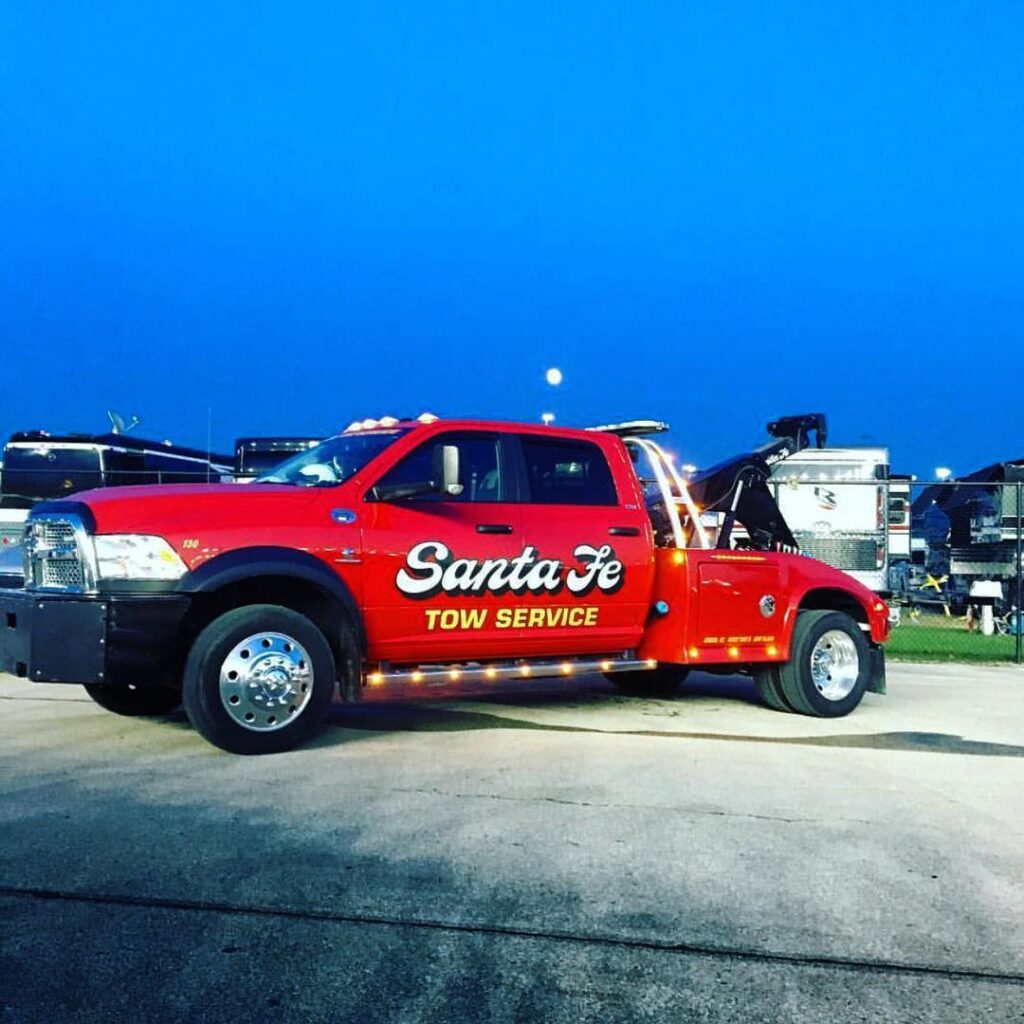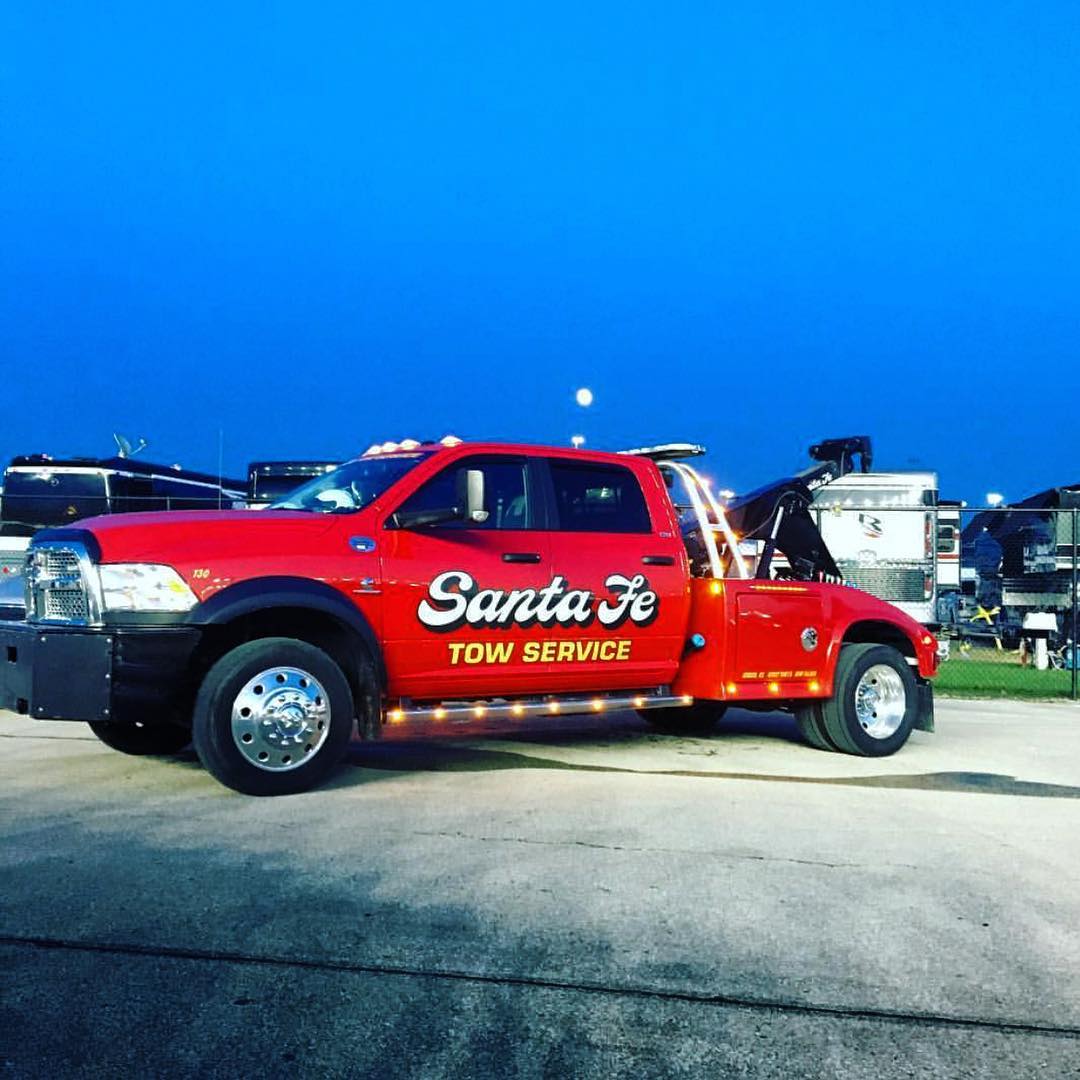 Skilled, Friendly Tow Truck Drivers
When you're stuck on the roadside, you don't want to wait for your call to be answered. That's why Santa Fe Tow works to get the right tow truck driver to you as soon as possible. Our network is wide, so we can help you wherever you are, no matter the issue.
Our drivers are equipped with GPS navigation and tracking that lets our dispatchers know how close the nearest truck is to your location. But we don't just send any driver – we ensure that who we send is equipped to handle the load or tricky maneuvering required.
Whether your vehicle is stalled in the middle of a busy intersection or has been involved in a collision, our skilled drivers will be there to clear the road and get you home safely.
We also work with local law enforcement to answer emergency calls and make the roadways safer overall.
What makes our tow trucks different?
Santa Fe Tow is a family business that has been serving Leawood and the larger Kansas City area for over 60 years.
From a small body shop to a full-scale towing and recovery service – we have built a strong reputation for excellence in the area. We've done that by not just doing our jobs and going home. To many of our tow truck operators, this is a career. And one that we're dedicated to and passionate about.
When you call Santa Fe Tow Service, you're getting a glimpse of our family's history as well as a glimpse of what a great tow truck company can be. Towing, in many ways, is about rescuing drivers from potentially dangerous situations. It's about keeping the roads safe and making sure important cargo deliveries make it to their destinations on time.
Our years of experience have shown us that we can tackle any situation. Our trucks include wheel lifts, boom lifts, flatbeds, and landolls. Our trucks can haul everything from motorcycles and passenger cars to buses and farming machinery.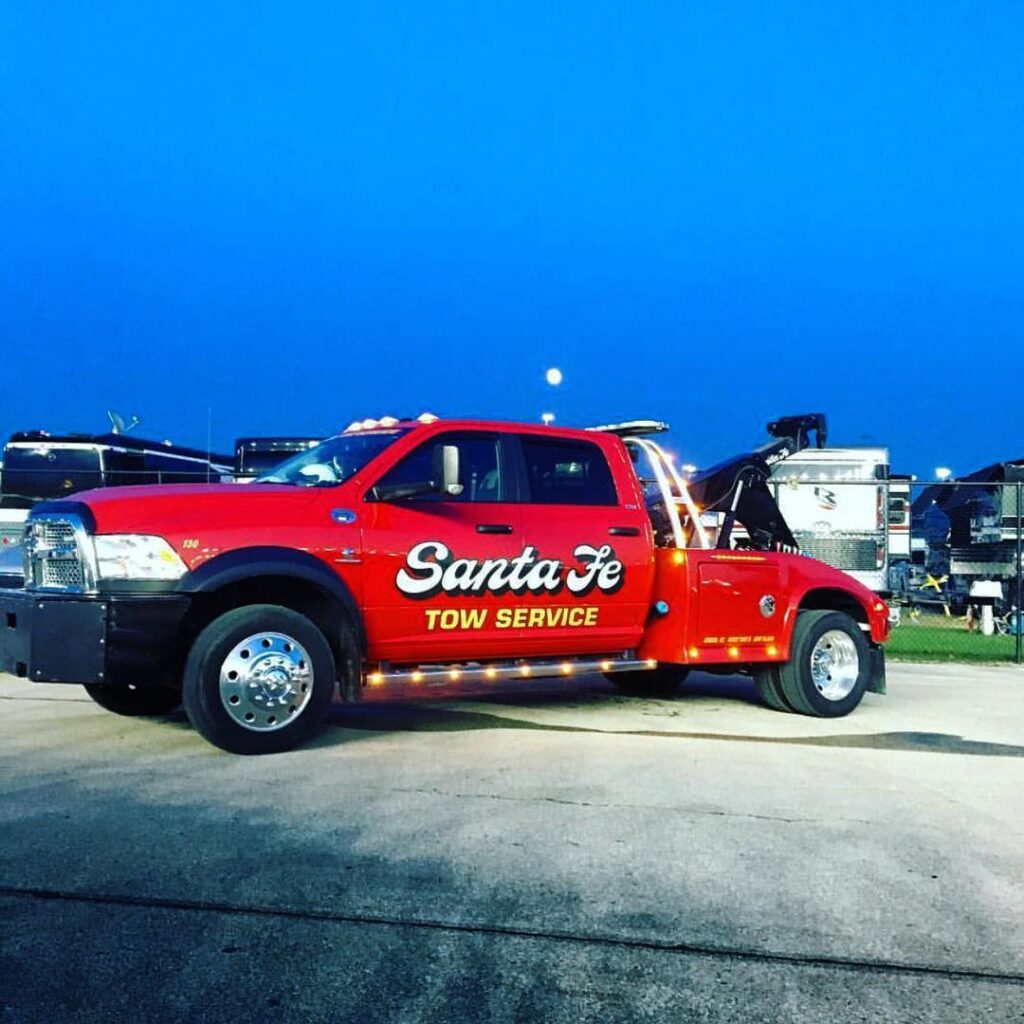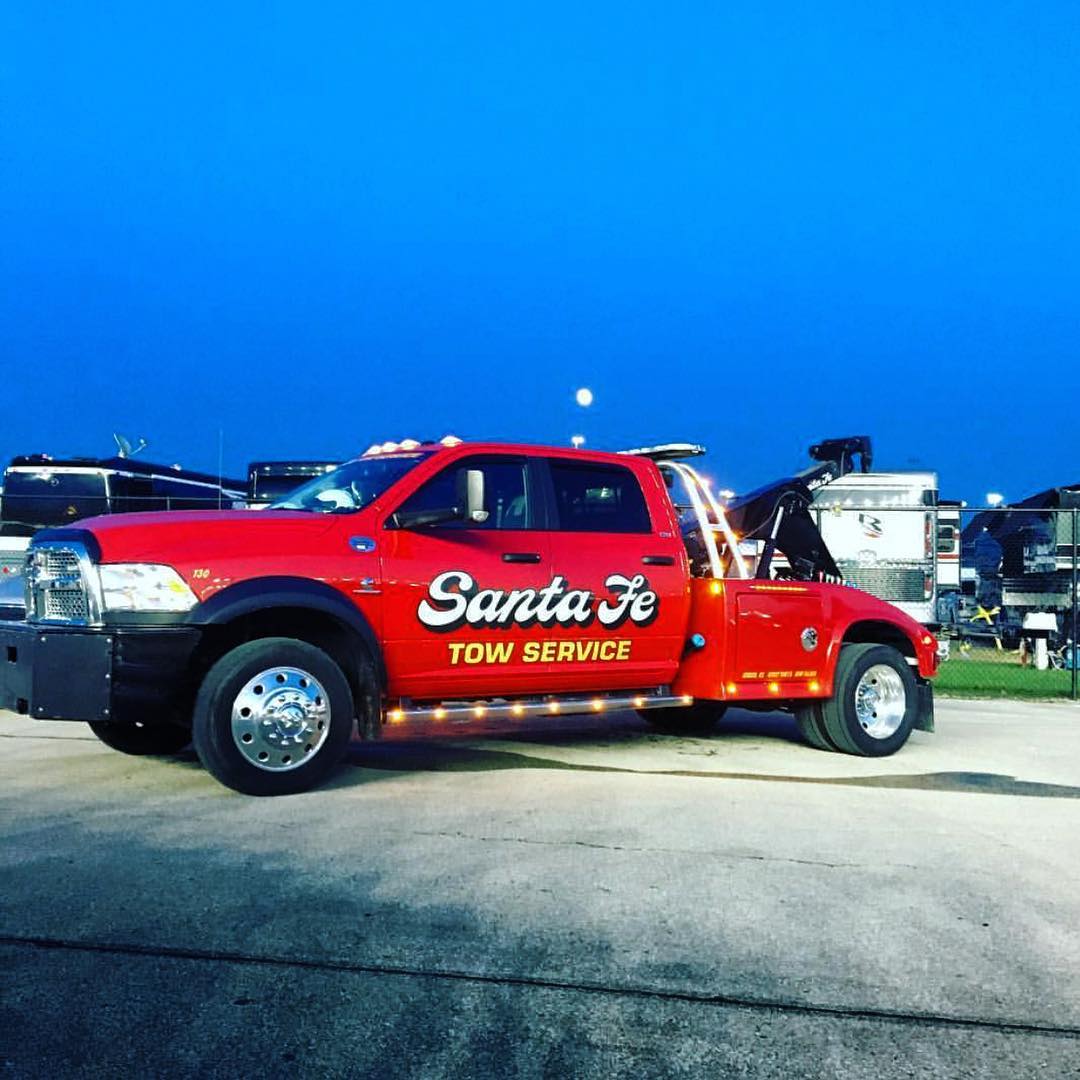 Our tow truck fleet includes: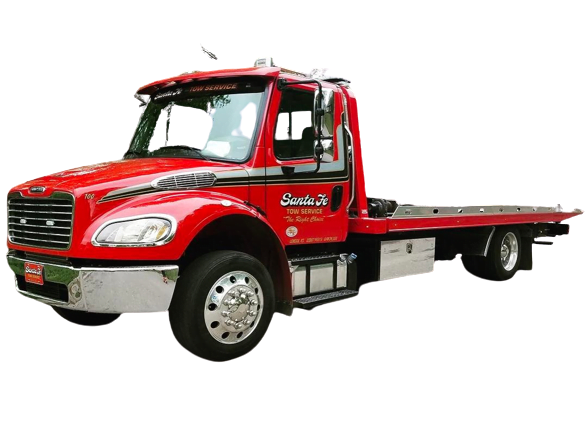 Easily maneuverable light-duty trucks
Light duty trucks are ideal for tight spaces such as underground garages. These smaller trucks excel at towing pickup trucks, SUVs, sports cars, coupes, and sedans. Our light duty tow trucks have wheel lifts to help protect the frame and body of your car during transport.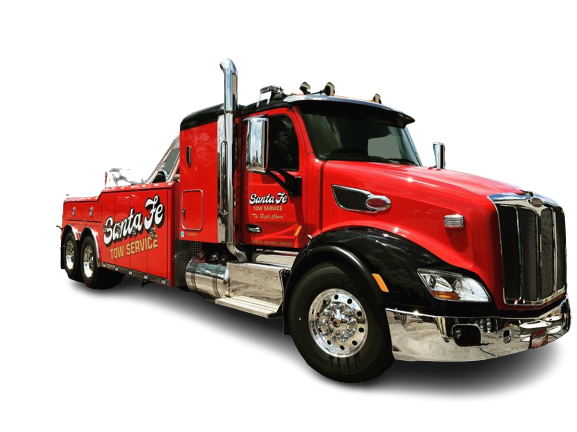 Medium-duty tow trucks for medium-heavy loads
We deploy these trucks for campers, large trucks, tractor-trailers, and vans. Medium-duty wreckers are intended for safe recovery and transport. These trucks include large flatbeds. This prevents us from adding miles to your odometer during transport.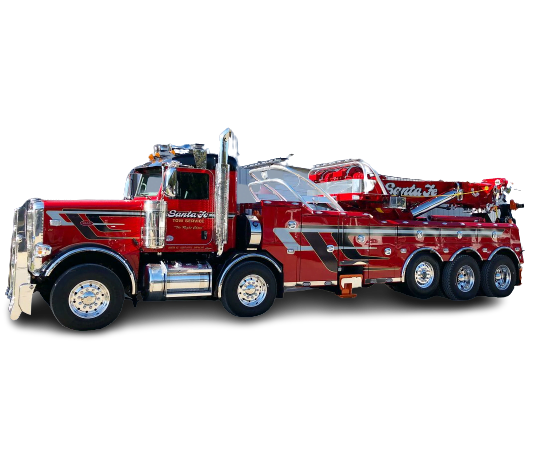 Heavy tow trucks
These trucks can haul the largest vehicles on the road including semi-trucks and tractors.
Contact us today for tow truck service in and near Leawood, Kansas
Our dedicated team has you covered in Leawood and beyond. Wherever and whenever you need assistance, our drivers respond immediately. Call us today for a remarkable tow truck service in Leawood, Kansas. We also have available tow trucks in Olathe, Kansas City, Lenexa, Overland Park, and everywhere in between!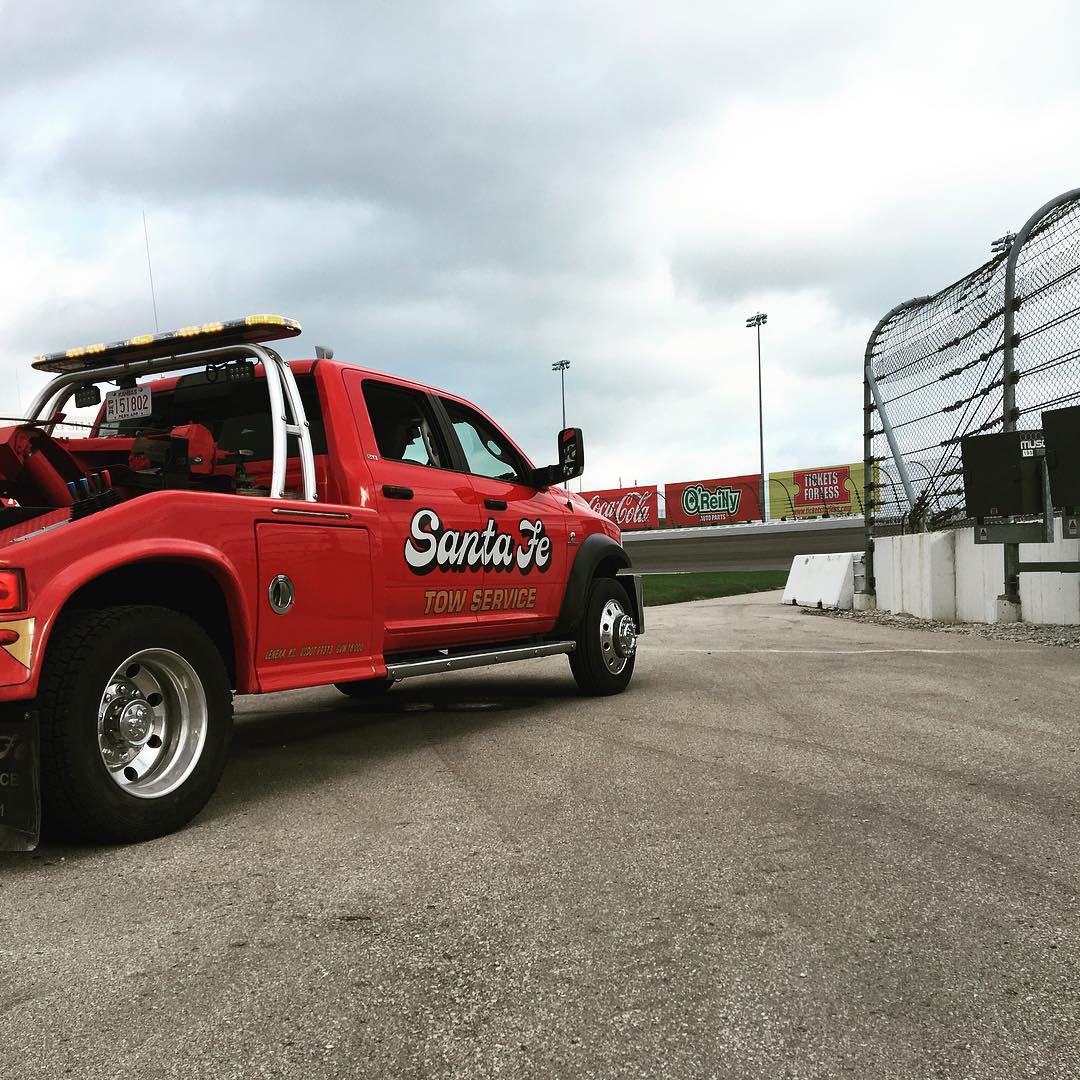 "
Amazing service. Good quality workers
"
The gentleman was very nice and explained everything to me very well. I'm very happy with my service. He also arrived quickly.
"
The driver showed up extremely quickly and had my semi truck hooked up and ready to go in less than an hour, he was polite and courteous. His knowledge and experience made it a painless and easy experience.
"
Always exceptional. Quick and friendly.
"
I always use Santa Fe tow for all my towing needs. The drivers are always extremely courteous and helpful and it's easy to book a tow with them. Communication and customer service is always top-notch. Whenever I need a tow company Santa Fe is always my first choice well really my only choice because they always show up.
Powered by
Whiterail
Disclosure
The reviews displayed may or may not be a complete set. Reviews may be removed if they:
i. Are abusive. An abusive review or comment is one that makes personal attacks, threatens, or harasses others, or uses profanity.
ii. Violate privacy. Reviews that mention specific names of individuals or personal information in a manner that is inappropriate and/or unrelated to the performance of the service rendered are subject to removal.
iii. Are not from a current customer.
iv. Contain material falsehoods.
v. Are deemed inappropriate.
To encourage all feedback, positive or otherwise, an equal incentive for reviews, regardless of rating, may have been provided to the reviewer.
Google reviews provided via APIs https://www.google.com/+/policy/embedded-content.html