We've always got a tow truck ready in Belton, MO
When it comes to towing service, only a few things matter when choosing a company. How fast can it get to me? Will the be able to perform safe recovery and the vehicle transportation that you need? Will their level of service be what I need? Not all towing companies can answer these questions as confidently as Santa Fe Tow Service, Inc. Because with us, the job is simple — get you on the road quickly.
To do that, we maintain a fleet on the ground near Belton, MO at all times. We're fully-equipped with every kind of truck that could be necessary. True to our word, we always provide 24 hour-a-day, last minute service. Our fleet is staffed with tow truck operators who know the area and are trained to carry out any kind of towing perfectly.
We work hard not to add complications to your tow. We always offer transparent pricing right from the start, rain-or-shine roadside assistance, and a clear line of communication throughout the process. We know you don't have to settle for unsatisfactory service and with Santa Fe Tow Service, Inc., we know you won't. To get your tow on the road, give us a call today of send us a message.
To learn more about our 24/7 Tow Truck Service and to speak to a member of our team, call us at
Our team knows Belton, MO. At all hours of the day, we've always got a truck ready to help
No matter your situation, Santa Fe Tow Service, Inc. can come get you out of a bind.
The Levels of Towing Services We Offer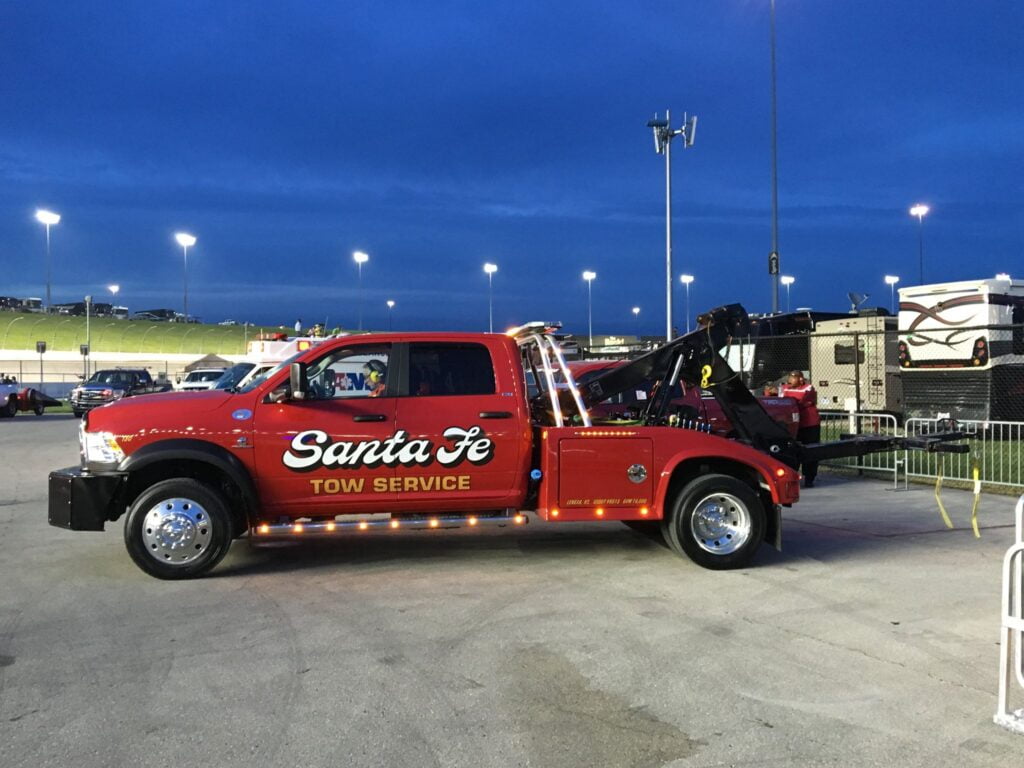 Give us a call today for complete towing assistance
We know that vehicle trouble can happen anywhere. We know they're never convenient. That's why we always aim to provide rapid response and clear communication to get you moving again. Call our dispatch or contact us today. We also provide heavy-duty towing in Kansas City, KS, Joplin, Blue Springs, Jackson County, Olathe, and more!
Get in touch for 24/7 towing service!
Jan 30, 2023,
Marshall W.
"
Really quick. Super friendly
"
Amazingly smooth service… everything from scheduling to pickup to hauling to drop off to payment! Amazingly great! Thank you for a great experience!
"
The driver was on time as expected, and very helpful with the situation.
"
Zach came in the middle of the night and saved me. True pleasure to work him and staff… First class operation and I would recommend Sante Fe for all my towing needs… REAL Professionalism
"
Fast and friendly, definitely recommend!
Powered by
Whiterail
Disclosure
The reviews displayed may or may not be a complete set. Reviews may be removed if they:
i. Are abusive. An abusive review or comment is one that makes personal attacks, threatens, or harasses others, or uses profanity.
ii. Violate privacy. Reviews that mention specific names of individuals or personal information in a manner that is inappropriate and/or unrelated to the performance of the service rendered are subject to removal.
iii. Are not from a current customer.
iv. Contain material falsehoods.
v. Are deemed inappropriate.
To encourage all feedback, positive or otherwise, an equal incentive for reviews, regardless of rating, may have been provided to the reviewer.
Google reviews provided via APIs https://www.google.com/+/policy/embedded-content.html