Do you have what it takes to drive a tow truck?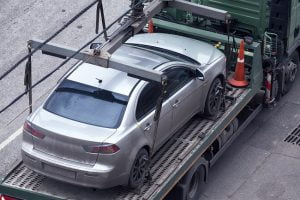 Driving a tow truck isn't an easy profession. Towing service requires dedication, skill, and occasionally long and late hours. You never know what you'll be in store for. A recovery of an abandoned boat on the side of the road one day, supplying gas to a vehicle that's run dry in a mall parking lot the next. A tow truck driver goes all over town. You get to the know the area, meet people from all over, and help your community. It's rewarding, but it takes work. Here's what you need to become a tow truck driver.
Which commercial driver's license do you need?
These come in three different class endorsements. This determines which type of tow truck you'll be allowed to operate. Just like the truck classes themselves, a driver can be licensed for class A, B, or C vehicles. The Missouri Department of Revenue has a handy guide to acquiring your Commercial license that spells out whether or not you need one.
Your knowledge and skill test
Studying for and passing your knowledge test.
This is broken down into several key areas. Different CDL knowledge tests are required based on what type of license you want. Certain tank or trailer types also require an independent knowledge test. This helps keep you and everyone around you safe on the road. The tests are as follows:
General knowledge test: Every applicant is required to pass this.
Passenger transport test: Only required by applicants who want to drive a bus.
Air brake test: Required for any driver of a vehicle utilizing air brakes or air over hydraulic brakes.
Combination vehicle test: Required to drive combination vehicles like those with multiple trailers.
Hazardous materials test: Required prior to transportation of hazardous material.
Tank vehicle test: Required to haul gaseous or liquid materials.
Doube/Triples test: Necessary for drivers pulling double or triple trailers.
Studying for and passing your skill test.
The skill test is only available for those who pass the knowledge test. There are three skills that every driver will have to show in order to pass. If you've taken a local truck driver's course you should be well prepared. If you think you may need work in certain areas, the following can help you prepare.
Vehicle Inspection: This portion of the exam is designed to test your ability to inspect your vehicle. You'll be asked by your examiner what you are doing and why. The best way to prepare is to be fully aware of pre-driving, post-hookup, and post-driving checks. These vary depending on the vehicle and load, so an intimate knowledge of the vehicle type you'll be testing on is critical.
Basic Vehicle Control: The control portion of your test required you to perform basic maneuvers. These include driving forward, in reverse, and turning in a set radius. Tests cordon off the area with cones, paint, or other markers. Experience handling delicate maneuvers with your vehicle is crucial.
On-Road Driving: Your examiner will perform a ride along. You'll want to understand applicable road laws your truck class has to follow. Accuracy, when turning, signaling, changing lanes, exiting the freeway and entering the freeway, is crucial. You may be asked to navigate smaller streets as well.
Additional considerations
Certain CDL types require you to submit documentation of a "certified" medical status. Make sure you have all the documentation you need or you will be denied your CDL. Failing to recertify when necessary can also cause you to lose your CDL. You may know how to operate a commercial towing vehicle now, but maybe you want to know how to tow a trailer?