Engine Troubles that Might Make You Need a Tow in Kansas City, MO
Tell us if this sounds familiar. You're driving along, the whole family with you, when you start hearing a strange sound. Is it knocking? A sputtering? Before you know it the"check engine" light comes on. And right after that, your engine simply dies. Now you're in trouble. What should you do if your car dies on the road, and what can you do to prevent it from happening in the first place? At Santa Fe Towing, we've seen it all. Keep reading to find our tips for prevention, fixes and tow trucks in Kansas City, MO.
Common Engine Problems
It's no fun to hear, but there are hundreds of things that can go wrong with your car. Some of them are only minor annoyances, but others can leave you stranded. Here are some of the most common problems that drivers face. Keep in mind that anything listed as a "quick fix" is exactly that. It's designed to help you get to a repair shop or a safe place to stop, not to make your vehicle roadworthy.
Overheating
Have you ever seen that temperature needle climb the gauge? When it gets into the red zone, you're in danger of a breakdown. If you see this, get off the road immediately. You're much safer on the shoulder than you would be if you just died in traffic with motorists barreling down on you.
Causes: Your car might start to overheat because of loose or broken radiator connections. There could also be a leak in the coolant tank. The heating element might be out.
Quick Fixes: Before you try anything, make sure that your engine is completely cool. Opening up your radiator cap while it's hot leads to nasty burns. If you have spare radiator hose you can replace any worn pieces. Keep pre-mixed coolant in the trunk so you can refill it if necessary.
Warning Signs If you see steam coming out from under the hood, you can release the hood from inside the car, but don't touch the hood. If you see smoke, pull over, leave the hood closed, get your family out of the vehicle, and call for a tow truck. If the car catches fire, call 911 first.
Oil Leaks
If the low oil light comes on, and you know that you're not due for a change, you probably have a leak. This is a problem because motor oil lubricates the machinery. It prevents your engine from overheating, and the pistons from expanding and possibly breaking.
Causes: If you didn't have a leak when you left, and it started on the road, then it's probably a crack in the oil pan or some other physical damage. This can happen if your car sits too low and your bottom out on a speed bump or something left in the road.
Quick Fixes: There's not much that you can do to fix an oil leak when you're on the road. The best solution is prevention: regular changes, inspections, and tune-ups.
Warning Signs: The low oil light is the warning sign. If you don't notice that, you might hear the knocks from your pistons. You should definitely feel how rough your car runs when it's low on oil.
Alternator Problems
Your alternator delivers power from the battery to the rest of your car. When it goes, your car shuts down. The spark plugs need power to fire the gasoline, and without those sparks, you're going nowhere.
Causes: Fluid leaks can cause poor performance. When the belts become too tight that might make the alternator wear out faster.
Quick Fixes: The alternator isn't hard to replace. You simply need to take off the belt, unbolt it from the car and pull it out. Then you put on the new one. That said, if you don't have a spare alternator in your trunk, you're not going to be able to replace it on the road.
Warning Signs: There's a warning light on your dash that usually says either "GEN" or "ALT". If your car clicks several times before starting, that's the sound of a worn alternator. Bad alternators also cause irregular sparking, which leads to your care "stuttering".
When it's best to call for towing service in Kansas City, MO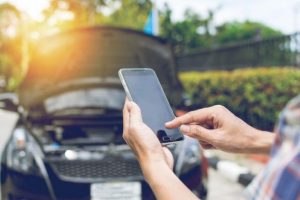 Sometimes you shouldn't even try to fix the car. There are some instances when it's much safer to wait inside for a tow truck. Here are some of the situations where it's best to get a tow immediately.
Nighttime: If it's dark out, don't bother with the repairs. You're not going to see what you're doing, and you're at a greater risk of getting hit by a passing motorist.
Ice: If the weather is inhospitable, it's dangerous to be out of your car. For instance, if it's icy out, other cars can easily lose control and hit you. You're better off surrounded by your car's safety system, rather than out in the open.
Lightning: If there's lightning out, you don't want to be standing in the water, touching a big piece of metal. Stay inside the car, where the rubber tires provide protective insulation.
The best towing service in Kansas City, MO
Emergency towing is a serious matter. There are many companies that you can call when you have a problem, but Santa Fe Tow Service is the best one. Why? We've been around since the 1970s, and are one of the absolute largest towing companies in the nation. We have vehicles on the road 24 hours a day, with a fast and responsive dispatch that gets you help whenever you need it. Our trucks include medium and large apparatus. We're trained in regular tows, as well as extricating cars from crashes, or ditches.
Our rates are very fair, and we work with AAA. Make sure to perform preventive maintenance as often as necessary, but if it comes to a breakdown, don't leave your safety to chance. Call in Santa Fe Tow Service and get home quickly and comfortably.