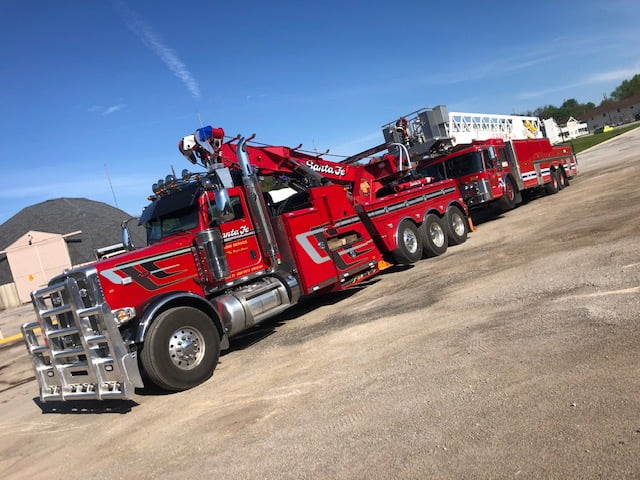 Call the team at Santa Fe Tow Service for all of your heavy equipment towing needs in and around Banzet, OK! For over 30 years, we have been trusted by individuals, businesses, and contractors in and around Banzet, and we are extremely proud of the excellent reputation that we have built through the years!
Our experienced heavy hauling drivers will get your heavy equipment towing job done right, every single time. We promise you efficient service and customer satisfaction, every step of the way. WreckMaster certified and certified by the Towing and Recovery Association, we are proud to employ the best heavy equipment towing professionals in the industry.
Worried about insurance? Santa Fe Tow Service covers your vehicle and construction equipment with our comprehensive insurance. Our heavy equipment towing company is fully licensed and insured, and all of our drivers are certified by the Towing and Recovery Association and WreckMaster. Rest easy knowing that you are covered by our expert team!
Our 24-hour heavy equipment towing service in Banzet, OK includes the following:
Construction Vehicle Towing Banzet, OK
Earth Moving Equipment Banzet, OK
Excavators Towing Banzet, OK
Bulldozers Towing Banzet, OK
Skidsteers Towing Banzet, OK
Scissor Lifts Towing Banzet, OK
Dump Trucks Towing Banzet, OK
Commercial Trailer Towing Banzet, OK
Cargo Container Towing Banzet, OK
Building Material Towing Banzet, OK
Building Equipment Towing Banzet, OK
Construction Equipment Towing Banzet, OK
Gazebos Towing Banzet, OK
Hydraulic Equipment Towing Banzet, OK
Prefabricated Homes Towing Banzet, OK
HVAC Unit Towing Banzet, OK