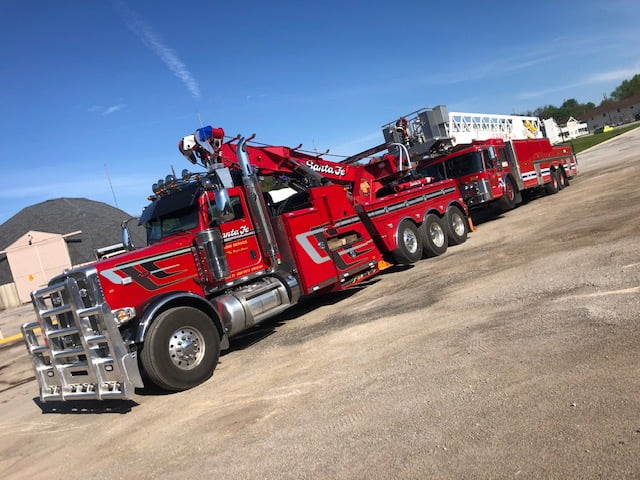 Need heavy equipment towing in Cummings, KS? Call Santa Fe Tow Service at (816) 524-9688 today! Our experienced and trained crew is available for you 24/7, 365 days of the year, rain or shine! Santa Fe are the experts for emergency tow or roadside assistance in Cummings.
If you need help moving your heavy equipment between job sites, we are the ones to call! Our skilled and professional team can assist you with all of your heavy equipment towing needs. Expect a stress-free and smooth experience every step of the way when you choose to work with our team. For over 30 years, Santa Fe has provided heavy equipment towing solutions for the Cummings community.
Trust that the Santa Fe team will move your heavy equipment with precision and ease. Call us now at (816) 524-9688 for all of your Cummings heavy equipment towing needs!
Our 24-hour heavy equipment towing service in Cummings, KS includes the following:
Construction Vehicle Towing Cummings, KS
Earth Moving Equipment Cummings, KS
Excavators Towing Cummings, KS
Bulldozers Towing Cummings, KS
Skidsteers Towing Cummings, KS
Scissor Lifts Towing Cummings, KS
Dump Trucks Towing Cummings, KS
Commercial Trailer Towing Cummings, KS
Cargo Container Towing Cummings, KS
Building Material Towing Cummings, KS
Building Equipment Towing Cummings, KS
Construction Equipment Towing Cummings, KS
Gazebos Towing Cummings, KS
Hydraulic Equipment Towing Cummings, KS
Prefabricated Homes Towing Cummings, KS
HVAC Unit Towing Cummings, KS