Here's How You Get A Good Tow Truck Driver
Tow truck drivers help get your vehicle to your desired place when you're unable to do so. Though we like to think we provide pretty good service, we know lots of fly-by-night towing companies don't always treat clients with the professionalism that they could.
In this guide, we will explain how to get along with your tow truck driver along with some friendly suggestions that will save you from a lot of trouble.
Want A Good Towing Experience? Here's What To Look For
When you want towing service and you are choosing a reputable company, here's what you can expect.
Certified Operators
No matter what but a good towing company will serve you with certified operators who are properly trained and have enough experience in the past. They know what guideline to follow while towing your vehicle and what safety measures to consider. Having someone who is certified, skilled and experienced will take great care of your car from beginning to end. For peace of mind and to ensure your vehicle is towed by good hands, we highly recommend to opt for a company who provides certified drivers
Roadside Assistance
Towing isn't the primary service provided by a reputable company. A good company will also provide you with reliable roadside assistance. For example, you called a tow truck operator for towing your car, but you also have to deal with other problems like a flat tire on the side of the road. When you hire a good company they will provide full-services. Whether it be a flat tire or even a dead car battery, you won't have to worry.
Past Experience
Hiring an unestablished tow company could be your worst mistake. You have to choose a reputable organization of tow truck service providers who have enough past experience. They will know how to handle different tow jobs, operators having good road knowledge and tow trucks being in perfect conditions to easily tow the heaviest vehicles. If you need heavy hauling service but you hired a company who has only dealt in smaller vehicles, you may not get a quality experience working with them. They may even put you in more of a bind than when you started.
Reputation
Not to mention but calling a tow driver from any company, you must check their reputation and also read reviews about the driver who will tow your vehicle (ours are pretty good!). Go through their website, read what other customers say about their services and then hire them for the services required. Other than just reading reviews about the company, you should also call them and discuss your problem. A reputable company will always deal with your issues with care and treat you with kindness.
Wide Area & 24/7 Service
Problems can happen anywhere and anytime. They don't come with a warning sign. Being stuck in the worse possible location could be your biggest nightmare. However, vehicles are made to travel long distances. When you hire a tow truck driver from a reputable company, you can expect them to provide services in a wide area. A good company will offer towing services at least 100-150 miles around their location.
Also, they should provide 24/7 services. Whenever there is an emergency, you can expect that whichever reputable towing company you are calling will pick up the phone and get you out of trouble as soon as possible.
Price
While you get what you pay for but a good heavy duty towing company will have all their charges fair and open from the beginning. Some unscrupulous towing companies will advertise low prices for their services but will charge more after they arrive on the scene. Make sure when you hire one, all the charges are known in advance.

Do You Tip A Tow Truck Driver? If "YES" How Much?
When we go to a restaurant and the waiter serves us food, we usually tip him a certain amount. But the question is, "do you tip a tow truck driver?" We can't speak for everyone, but our drivers do not typically expect tips.
Towing is already expensive and it's usually something you'd prefer to not be dealing with. We're not surprised that most people do not think about tipping their driver, and we don't expect them to. However, if you feel they go above and beyond the call of duty, by all means, give them a tip.
So, it's up to you. Our team will always do their best regardless of incentive. Depending on the service you need, you can decide whether or not to tiop. If it is just a tire change or jumpstart work, there is no need to tip. However, for towing your vehicle and you think that the driver was exceptional, a $5 or $10 would be well appreciated by him.
Why Do Tow Trucks Take So Long?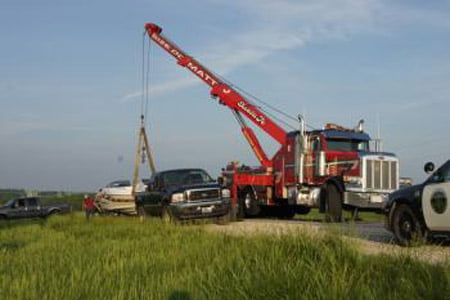 One of the biggest complaints by car owners is that tow trucks take too long. In the defense of towing companies, that's just because there are a lot of tows that are happening at any given time. With the exception of a jumpstart or tire-change, most jobs are a round trip and often require extended time per scene. A roadside recovery can take hours.
That said, we're proud of the fact that we've got the fastest fleet in the area, including light, medium, and heavy duty tow trucks. What makes that possible though, is our size. We've got a lot of trucks on the ground at any given time, and one is never too far away.
For these reasons, you should carefully decide which towing company to trust for your roadside assistance and towing your vehicle. With a massive fleet and a team of friendly, courteous drivers, we know we're the number one choice in the area.
Santa Fe Tow Service Inc. provides 24/7 365 days, normal, commercial, and heavy duty towing and also deals in equipment hauling. We provide you with direct towing services and are also the top-rated tow truck services provides in Kansas City. We operate in different areas of the country. Contact us today for more details.