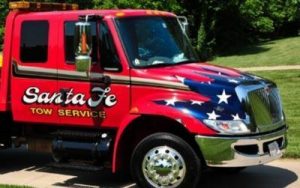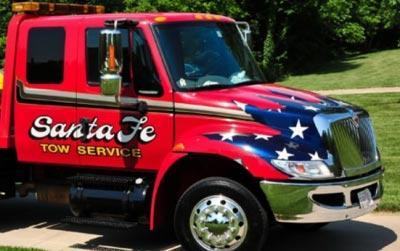 Get 24/7 Towing Services in Kansas City MO
Kansas City, MO is one of the best cities in the world. With gorgeous lakes, parks, and plenty of activities there's a reason so many people need our services. They're always moving. Moving vehicles mean accidents and vehicle troubles. Kansas City needs a tow truck company they can depend on. That's why our dispatch center is always open. At Santa Fe Tow Service Inc. you're always just a phone call away from a qualified tow truck operator with the right vehicle for your needs. Get help now and enjoy these benefits.
What can you expect when you call us for tow service?
We arrive quickly and on time. Our extensive network covers the entirety of Kansas City, MO. Wherever you are, we're there too. From the National World War 1 Museum and Memorial to the Kansas City International Airport, wherever you have vehicle troubles, we have a tow truck operator nearby and ready to assist.
Our dispatch center is a 24/7 operation. You never have to worry about an unanswered call when you need a tow. We are always available for 24 hour towing. That means even Kansas City night owls stuck on Interstate-435 at 4 in the morning don't have to worry. We are awake and available to help, even when everyone else is sleeping.
You'll get the truck you need. Our operators are trained to ask specific questions. We'll identify your problem, vehicle, and which service is the best fit. Because our fleet is equipped with GPS trackers that relay information back to dispatch, we know where every vehicle is. This allows us to send the closest unit to help.
Our tow truck drivers are highly qualified. Each of our drivers is required to have their Wreckmaster and TRAA certifications. We also engage in additional training and require ongoing training. This keeps our drivers at the very top of their field. Knowledgeable drivers equate to safer service and mastery of their truck equipment.
---


---
What towing equipment do we have at the ready?
Our fleet is comprehensive. It's the reason we can provide so many services. Whether you need roadside assistance, recovery, a tow or long-haul, we do it. Just some of the trucks in our fleet include landoll trailers for unassisted loading at ground level and dock height. We also have trailers, flatbeds, winched trucks, wheel lifts and boom lifts. If it can be done, we have the equipment and the experience to do it.
Just some of the services we offer include:
Interstate hauling
Load transfers/shifts
Semi-truck towing
Tractor trailer towing
Machinery hauling
Heavy truck towing
Tractor trailer pickup
Tractor trailer storage
Emergency recovery
Specialized Towing in Kansas City, MO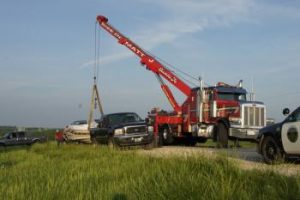 Watercraft and recreational vehicle towing
It's easy to forget if you don't own one, but rec vehicles cannot get where they need to go without assistance. Our RV towing service is ideal for visitors looking for a day on the water at Longview Lake. We can bring your jet ski, power, or fishing boat right to the Marina. Many Kansas residents also need camper, motorhome, and personal vehicle towing. We've got you covered in Kansas and beyond.
Heavy equipment and machinery towing
Kansas City, MO is a busy city. It's always on the move and acts as a major thoroughfare throughout the state and adjoining states. We perform commercial towing with regularity, traveling across major interstates like interstate 35 and 49. The loads vary, but our heavy duty towing vehicles are equipped for short and long-distance heavy equipment hauling. This includes machinery, farming vehicles, construction vehicles, and major parts.
Emergency towing and roadside assistance
You never know when you'll need emergency towing. That's what makes the 24/7 cycle of our business so important. When you need help you don't want to wait. A tow isn't always necessary though. That's why we provide roadside assistance on top of our towing services. We perform repairs like tire and battery replacements as well as fluid delivery. Larger vehicles also get stuck more often than others. That's where our tow trucks come into play. If you're camping at Tiffany Springs Park there's no need to worry if trouble strikes. We're with you.
Our dispatchers are standing by. Get the help you need right now.
When we say 24 hour help, we mean it. Wherever you are in Kansas City, MO, our qualified tow truck drivers are close at hand.
"
My driver was very polite and did a great job
"
Fantastically. Your drivers responded to my request quickly. They were very friendly and got down to business quickly. I should have called Santa Fe first. Unfortunately I waited more than 2 hours for another tow company that never showed. Definitely 5 ⭐️ service. Thank you for getting my vehicle & me on the road again.
"
Very fast. Alex was awesome- friendly, courteous and cafeful. Excellent service. Would highly recommend and/or use again if needed.
"
Great service! I had an accident and needed my car towed. The drivers were very courteous and they answered all my questions and were genuinely concerned with my well being. I would highly recommend Santa Fe towing.
"
Had a terrifying experience with firewood and the highway. Had a fantastic experience with Robert B. the tow driver. He was super kind and even tried changing my tire to see if that's all we needed. Ended up needing a tow but he went above and beyond to check my car out. Really appreciate it!
Powered by
Whiterail
Disclosure
The reviews displayed may or may not be a complete set. Reviews may be removed if they:
i. Are abusive. An abusive review or comment is one that makes personal attacks, threatens, or harasses others, or uses profanity.
ii. Violate privacy. Reviews that mention specific names of individuals or personal information in a manner that is inappropriate and/or unrelated to the performance of the service rendered are subject to removal.
iii. Are not from a current customer.
iv. Contain material falsehoods.
v. Are deemed inappropriate.
To encourage all feedback, positive or otherwise, an equal incentive for reviews, regardless of rating, may have been provided to the reviewer.