Your Towing Service Provider in Overland Park, KS
Overland Park is a fantastic city to call home. With a bustling economy and easy access to larger areas, residents have a lot of options at their disposal. That means driving to get places. No matter how well you take care of a vehicle, accidents and vehicle failures can happen. Smart drivers keep the number of a trusted towing service like Santa Fe Tow Service Inc. on hand. When you don't have the time or bars to look a company up, it can be a real lifesaver.
What makes Santa Fe Tow the best local tow truck company?
We have the biggest tow truck network in Overland Park. No matter where you are, we're there too. That means we get to a break-down on the south side of W 194th Terrace just as quickly as fender bend on the north side of W. 52nd St. Our services aren't limited to the city either. We tow in-state and cross country.
Our towing services are available for residential and commercial applications. Our fleet is well equipped. From small jobs like ditch recoveries to major ones like overturned transportation trucks, we do it all. So whether you are in a work vehicle or a commuter, you are guaranteed we've got the right tow truck available to help.
Connect with our dispatch center 24 hours a day. Emergencies don't wait. That's why we're open day and night, 7 days a week. If you have a breakdown after a night jog in North Park or your car won't start after a sports game goes into overtime at Blue Valley Southwest High School, you're covered around the clock.
Our trucks are equipped to handle any challenge. Our fleet is more than 80 trucks strong. Skilled tow truck operators use tools that include landoll trailers, boom lifts, hitches, and wheel lifts. Recovery vehicles are assigned to light, medium, heavy, and even super-duty recovery and towing. Whatever you drive, we drive a truck that can recover it and get it moving.


Just some of the services we offer include:
Machinery hauling
Emergency recovery
Interstate hauling
Tractor trailer storage
Semi-truck towing
Tractor trailer towing
Load transfers/shifts
Heavy truck towing
Tractor trailer pickup
Specialized Towing in Overland Park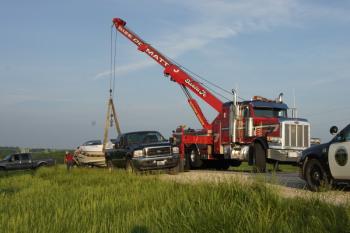 Recreational and Boat Towing
Dirt bikes, campers, trailers, ATV's, boats; towing is required for each of them. We can safely transport your rec vehicle wherever you need it to go. That makes us a great source for recreational vehicle buyers and sellers alike. Accidents are common when non-tow trucks tackle these heavy loads. Tires frequently go flat or loads unbalance and lead to driving off the road. We can transfer your existing load no matter how heavy. We regularly provide RV towing service. Don't get stuck, call now.
Equipment and Machinery Towing
The Switzer Bypass connects U.S. Route 69 to Interstate 435. That means shipments are always traveling through Overland Park. We make it easy with heavy equipment hauling. That includes large loads and help for truckers like heavy duty towing and recovery. We keep industry moving.
Roadside Assistance and Emergency Towing
You don't know when an emergency situation will occur. Running out of gas, a dead battery, a blown tire—these may not require a tow. That's where our roadside assistance vehicles come into play. We deliver vital engine fluids like coolant and oil. We bring gasoline or diesel and can replace or repair a tire. Vehicles of any size are no problem, so if you get stuck four-wheeling and need a winch out, we do that too. We provide our services to a variety of locations. If you need towing services in Olathe, Lenexa, or Kansas City we're there for you!
Our dispatchers are standing by. Get the help you need right now.
When we say 24 hour help, we mean it. Wherever you are in Overland Park, KS, our qualified tow truck drivers are close at hand.
"
My driver was very polite and did a great job
"
Fantastically. Your drivers responded to my request quickly. They were very friendly and got down to business quickly. I should have called Santa Fe first. Unfortunately I waited more than 2 hours for another tow company that never showed. Definitely 5 ⭐️ service. Thank you for getting my vehicle & me on the road again.
"
Very fast. Alex was awesome- friendly, courteous and cafeful. Excellent service. Would highly recommend and/or use again if needed.
"
Great service! I had an accident and needed my car towed. The drivers were very courteous and they answered all my questions and were genuinely concerned with my well being. I would highly recommend Santa Fe towing.
"
Had a terrifying experience with firewood and the highway. Had a fantastic experience with Robert B. the tow driver. He was super kind and even tried changing my tire to see if that's all we needed. Ended up needing a tow but he went above and beyond to check my car out. Really appreciate it!
Powered by
Whiterail
Disclosure
The reviews displayed may or may not be a complete set. Reviews may be removed if they:
i. Are abusive. An abusive review or comment is one that makes personal attacks, threatens, or harasses others, or uses profanity.
ii. Violate privacy. Reviews that mention specific names of individuals or personal information in a manner that is inappropriate and/or unrelated to the performance of the service rendered are subject to removal.
iii. Are not from a current customer.
iv. Contain material falsehoods.
v. Are deemed inappropriate.
To encourage all feedback, positive or otherwise, an equal incentive for reviews, regardless of rating, may have been provided to the reviewer.