Summer Road Trip? Make Sure You're Safe
Like so many other Americans, many Missourans are itching to get out of the house and on the road for some fresh air amidst the current COVID-19 pandemic and national unrest. If you're planning to take a break from quarantine by taking the family on a road trip, make sure your car is in good shape. Vehicle maintenance is paramount to road safety. To avoid a tow, follow this checklist and make sure you and your vehicle are ready for your adventure!
Summer Road Trip Car Maintenance Checklist
To avoid an unnecessary breakdown and tow, make sure you check the following before hitting the road:
1. Check Your Tires
Ensure that your tires have sufficient tire pressure. However, keep in mind that it's just as essential to ensure that your tires aren't overfilled. For every ten degrees that the temperature rises (in Fahrenheit), your tire pressure rises by one PSI (pressure per square inch). Improperly inflated tires can lead to blowouts, flats, and other issues you don't want to have on the road.
In addition to the tire pressure, make sure you inspect the tread on your tires. Low tread can spell disaster for wet road conditions. If your tires' tread is too low, make sure to replace them before heading out on your trip. You need all the traction you can get during those summer thunderstorms!
2. Check Under the Hood
You can avoid an unnecessary breakdown by ensuring that your vehicle's fluids are topped off, and everything else under the hood is correctly working. Check the following:
Oil and Oil Filter. Ensure that your vehicle's oil is at the proper level and that the oil filter is in good condition. Low oil pressure can cause significant issues with your vehicle's engine. Contaminated oil can also cause engine damage and breakdowns.
Windshield Wipers and Wiper Fluid. Summer rainstorms here in Missouri often come without much warning. If you're planning on being on the road for a while, it's a great idea to replace your windshield wipers and ensure that you have a clear field of vision while driving. Top off your wiper fluid as well.
Coolant. Most of us haven't been using our vehicles very much over the last few months. Ensure that your vehicle's coolant is topped off to avoid overheating on the road and a possible breakdown!
Air Filter. Your car's air filter is its first line of defense against engine contaminants. Ensure that you replace your air filter before heading out on your trip. Most manufacturers recommend that you change your air filter every 12,000 miles.
Belts and Hoses. Check belts and hoses under the hood for holes or other evidence of wear. Replace anything that needs replacement before hitting the road.
3. Check Your Air Conditioner
While a broken air conditioner won't leave you on the side of the road, it'll undoubtedly make your trip uncomfortable in Missouri summer heat. Test your air conditioner before hitting the road and schedule a repair if needed.
4. Pack an Emergency Kit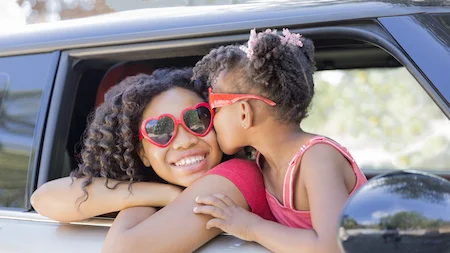 If you don't already have a well-equipped emergency kit in your vehicle, make sure to pack one before your trip this summer. Such a kit may include:
Jumper cables or a jumpstart battery.
Reflective roadside triangles and road flares.
A tool kit.
Gloves and face coverings.
A first-aid kit.
One gallon of water for every family member.
A flashlight and extra batteries.
Blanket or space blanket.
Paper road maps (in case of GPS failure).
5. Schedule a Brake Inspection
Your vehicle's brakes are essential for your safety and the safety of other motorists on the road. Ensure that your brakes are in good working order by checking the pads and rotors. If your brakes make strange sounds while being used, you may have worn the brake pads down. Schedule a brake inspection and the necessary repairs before leaving on your trip.
6. Check Your Lights
Make sure that all of your vehicle's lights are in working order. Check your headlights, foglights, brights, turn signals, and brake lights. Your lights are essential to road safety and are the primary way motorists can communicate with each other. Don't drive without all of your lights; it's unsafe!
---
What to Do if You Break Down on the Highway
Sometimes, even if you've wholly prepared your vehicle for your trip, unexpected breakdowns happen. Here's what to do in case of a breakdown on the highway:
Steer clear. At the first sign of car trouble, make sure that you steer your vehicle out of the travel lanes as soon as possible. Find a shoulder or, if possible, get your car to a gas station.
Exit the car. Get out of your vehicle from the passenger side and stand as far away from the road as possible.
Call attention to yourself and the car. Turn on your hazard lights. Put up reflective roadside triangles or road flares to ensure that other drivers notice that you are on the side of the road.
Contact a towing company. Contact emergency services or a local tow company like us here at Santa Fe Tow Service to get you and your vehicle.
In case you cannot contact emergency services, get back in your vehicle with your seatbelt on. Turn your hazard lights on as well.
---
How Can Santa Fe Tow Service Help You?
If you need an emergency tow truck in Kansas City, MO or the surrounding areas, call the professionals at Santa Fe Tow Service today for 24/7 roadside assistance. We are following all CDC and state-recommended guidelines to help curb the spread of COVID-19.