Call us for Roadside Assistance Anywhere in Jackson County, Missouri!
Sometimes drivers require towing service even if they haven't been involved in an accident. Turning a car off could mean not being able to get it started again, whether it's a dead battery, an alternator that finally gave up the ghost, or some mystery deep in the folds of the engine. Whatever the reason, Santa Fe Tow Service Inc. is here to help drivers in Jackson County and the surrounding areas get where they need to go quickly and safely.
We are reputed in the area for providing swift, reliable, and highly skilled service to all types of drivers – from families headed to work and school in the morning, to commercial semi truck drivers transporting expensive cargo across the country. With helpful drivers who make you feel comfortable during a potentially upsetting situation, we answer your call promptly and work smart to keep you, and the traffic around you, running smoothly.
There are other roadside assistance services in Jackson County. What's so special about Santa Fe?
While building this company has been a lot of hard work for the owner, he says that it's also been a labor of love. And in that time, Santa Fe has earned the respect of those who rely on its services. We proudly provide personal, skilled service to each and every call we receive. And in a world increasingly dominated by rapid, impersonal exchanges, that makes all the difference.
What emergency roadside services do you offer?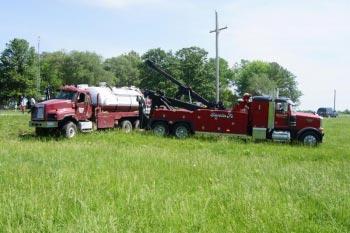 While we do our best to keep equipment on hand for minor mechanical issues, some repairs need the specialized attention of a licensed auto mechanic. Our dispatchers listen carefully so we can send the right truck to help. We'll do our best to get you back on the road safely with:
Jump starts
Tire delivery
Assistance with lockouts
Recovery from ditches or unpaved terrain
Fluid delivery including fuel, brake, oil, and radiator
Towing to a more convenient location
Keep our number handy. Santa Fe Tow Service is available for you 24-hours a day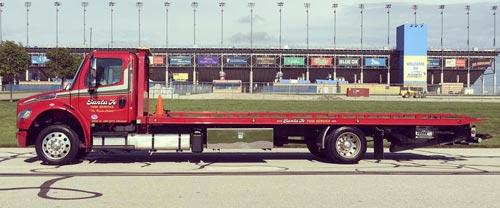 Don't abandon your car and attempt to walk to the nearest service station if the roads are empty. If you have access to a phone, we have access to you. Don't let a breakdown throw a wrench in your day. Taking pride in helping Jackson County residents doesn't have a closing time. Talk to us about transportation solutions if we are not able to get your car, truck, van, motorcycle, or SUV running again.
"
My driver was very polite and did a great job
"
Fantastically. Your drivers responded to my request quickly. They were very friendly and got down to business quickly. I should have called Santa Fe first. Unfortunately I waited more than 2 hours for another tow company that never showed. Definitely 5 ⭐️ service. Thank you for getting my vehicle & me on the road again.
"
Very fast. Alex was awesome- friendly, courteous and cafeful. Excellent service. Would highly recommend and/or use again if needed.
"
Great service! I had an accident and needed my car towed. The drivers were very courteous and they answered all my questions and were genuinely concerned with my well being. I would highly recommend Santa Fe towing.
"
Had a terrifying experience with firewood and the highway. Had a fantastic experience with Robert B. the tow driver. He was super kind and even tried changing my tire to see if that's all we needed. Ended up needing a tow but he went above and beyond to check my car out. Really appreciate it!
Powered by
Whiterail
Disclosure
The reviews displayed may or may not be a complete set. Reviews may be removed if they:
i. Are abusive. An abusive review or comment is one that makes personal attacks, threatens, or harasses others, or uses profanity.
ii. Violate privacy. Reviews that mention specific names of individuals or personal information in a manner that is inappropriate and/or unrelated to the performance of the service rendered are subject to removal.
iii. Are not from a current customer.
iv. Contain material falsehoods.
v. Are deemed inappropriate.
To encourage all feedback, positive or otherwise, an equal incentive for reviews, regardless of rating, may have been provided to the reviewer.