Roadside Assistance for When the Unexpected Happens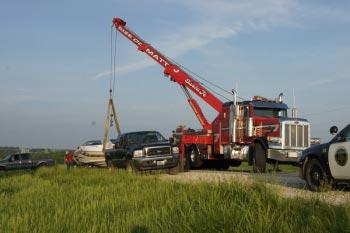 A flat tire, dead battery, or failed radiator can all sneak up on us when we're least expecting them. And whether you're a new driver or a seasoned auto mechanic, sometimes we simply lack the resources to pull ourselves out of a sticky situation.
Fortunately, Santa Fe Towing Service Inc., offers non-membership roadside assistance and towing service for drivers in Lenexa and the surrounding areas when they need a hand, day or night.
We provide convenient 24/7 emergency roadside assistance to drivers in and near Lenexa.
Contact us for fluid delivery and minor repairs. Our dispatch center is outfitted with a modern GPS system and can easily send the right truck and operator to your location.
Roadside Recovery Services We Offer
Flat tire repair – Whether a tire's PSI has just dipped below the recommended level, or a highway obstruction caused a startling blowout, we can get you rolling smoothly again with a change or a tow to a nearby tire shop.
Fluid delivery – As diligent as we are about oil changes and fuel top-offs, it's still easy to forget about other critical automotive fluids such as brake fluid, water, coolant, or even windshield wiper fluid! Our drivers are happy to deliver whatever you need to help you get back to driving safely and confidently.
Battery charge – It's hard to know when a battery is going to leave you stranded unless you check the voltage periodically with a multimeter. And a standard car or truck battery should read around 12 volts to ensure sufficient power. But if it decides to quit before you're ready to quit, call us for a jumpstart or tow to a local parts store. We'll get you and your vehicle there safely.
Lockout service – We see a lot of lockouts, key breaks, and lost fobs, so we're ready to help you get access or tow you to a more convenient location.
Ditch extraction – Our roadside assistance vehicles are equipped with powerful winches. We can recover your car, RV, van, or truck if it's stuck in a ditch, soft sand, mud, or a creek.
---


---
Tip: Your vehicle's recommended PSI should be listed inside the driver's side door. Pick up a pressure gauge and keep it in the glove box so you can make sure all tires have even pressure.
Emergency Roadside Assistance for Disabled Vehicles
If you don't have roadside assistance coverage through your insurance, that's okay! Not only are Santa Fe tow truck operators available to help every driver on the road, but they are also available 24/7. We know that unexpected hassles happen on the road, and sometimes, even if you do have roadside assistance services, your insurance hotline will put you on hold for upwards of an hour.
When you don't have that kind of time, we're here to help. Our large dispatch team anticipates calls day and night, so don't worry about peak times or being put on hold for hours. We've been in the business for long enough to have our system dialed so we can offer the best towing and roadside assistance to you when you need it most. We also provide emergency towing in Olathe, Kansas City, Overland Park, Gardner, and anywhere in between!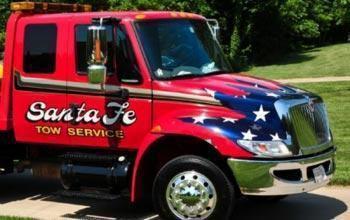 Call Santa Fe Tow Service for prompt, reliable towing and basic vehicle repair services.
Our team of tow truck operators and dispatchers are Kansas locals. Which is actually a perk of choosing us as your tow service. We're familiar with the streets and highways as well as local events, regional history, and popular attractions for visitors. We're already your neighbor, let us be your go-to partner for local towing services.
"
My driver was very polite and did a great job
"
Fantastically. Your drivers responded to my request quickly. They were very friendly and got down to business quickly. I should have called Santa Fe first. Unfortunately I waited more than 2 hours for another tow company that never showed. Definitely 5 ⭐️ service. Thank you for getting my vehicle & me on the road again.
"
Very fast. Alex was awesome- friendly, courteous and cafeful. Excellent service. Would highly recommend and/or use again if needed.
"
Great service! I had an accident and needed my car towed. The drivers were very courteous and they answered all my questions and were genuinely concerned with my well being. I would highly recommend Santa Fe towing.
"
Had a terrifying experience with firewood and the highway. Had a fantastic experience with Robert B. the tow driver. He was super kind and even tried changing my tire to see if that's all we needed. Ended up needing a tow but he went above and beyond to check my car out. Really appreciate it!
Powered by
Whiterail
Disclosure
The reviews displayed may or may not be a complete set. Reviews may be removed if they:
i. Are abusive. An abusive review or comment is one that makes personal attacks, threatens, or harasses others, or uses profanity.
ii. Violate privacy. Reviews that mention specific names of individuals or personal information in a manner that is inappropriate and/or unrelated to the performance of the service rendered are subject to removal.
iii. Are not from a current customer.
iv. Contain material falsehoods.
v. Are deemed inappropriate.
To encourage all feedback, positive or otherwise, an equal incentive for reviews, regardless of rating, may have been provided to the reviewer.