[vc_row][vc_column][vc_column_text]
Get an Unfair Advantage with Our 24-hour Roadside Assistance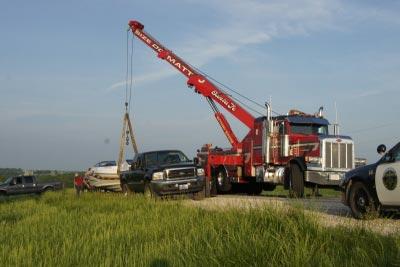 A number of things can go wrong while driving. Flat tires, check engine lights, running out of gas, low radiator fluid, or weird sounds coming from the engine can all leave you needing a towing service if you aren't carrying the right supplies. When the issue is minor enough, the roadside assistance professionals at Santa Fe Tow Service Inc. will get you back on the road quickly and safely.
If your vehicle has a major issue, we can tow it to a more convenient location. Our fleet covers all of Overland Park and the surrounding areas, so don't feel defeated! The only thing that's unfair about your car breaking down is the unfair advantage you have when you call us.[/vc_column_text][/vc_column][/vc_row][vc_row][vc_column][call_to_action title="We're happy to help with minor repairs and fluid replacements when you need to get somewhere." icon="icon-tools"]Our dispatchers are available 24 hours a day, so keep our number handy in case of a breakdown.[/call_to_action][/vc_column][/vc_row][vc_row][vc_column][vc_column_text]
We offer more than towing if your vehicle breaks down
We have a strong relationship with the Johnson County police and fire departments. If you've been involved in an accident, our emergency roadside services will connect you with local authorities if anyone has been injured or if the situation is dangerous. For less severe incidents:
Our dispatch is ready to help all-day, every-day. Give us a call. No membership required! Let us know if you're in an unsafe situation; we will be sure to prioritize your call. From Overland Park Arboretum and Botanical Gardens to North Overland Park Hills, we cover the entire area.
Our drivers use GPS technology to navigate to your exact location. Not sure where you are? Just let us know your general area, nearby landmarks, mile-markers, or cross-streets if possible. The more information you provide, the faster we will be able to get to you. And stay with your car if it's safe to do so.
We provide fluid delivery if your car runs out of fuel or other critical fluids. Let us know what your car is thirsty for! If you aren't sure, we can perform a basic diagnosis and refill water, radiator fluid, oil, transmission fluid, brake fluid, or power steering fluid.
Get a jump if the battery dies. Our service providers will boost or make minor mechanical adjustments to the battery in order to restore the vehicle to working order. If the vehicle cannot be started, we are happy to tow it to a nearby parts store or repair shop.

Let us help repair or replace a tire. We will replace the flat tire with a spare or, if irreparable, tow the vehicle to a tire shop.
Need help getting the rubber side down? Our heavy-duty tow trucks are equipped with boom lifts; we can recover vehicles up to 65 tons. And our light-duty trucks have winches for handling smaller vehicles. If the vehicle will not start or drive under its own power, we will tow you to your preferred local repair facility.
Lockout services? We offer those, too! We can dispatch a locksmith who will attempt to retrieve the ignition key or unlock the car door. As always, we are happy to tow your vehicle to wherever your extra set of keys are!
[/vc_column_text][/vc_column][/vc_row][vc_row][vc_column][vc_separator color="custom" accent_color="#aa1d38″][/vc_column][/vc_row][vc_row][vc_column][vc_column_text]
No Membership Required for Our Emergency Road Service in Overland Park!
We operate 24-hours a day, 7 days a week, providing battery service, flat tire changes, towing, lockout service, refueling, and winching for all drivers in the Overland Park area. We also provide RV towing in Kansans City, MO, Kansas City, KS, Joplin, and more!

[/vc_column_text][/vc_column][/vc_row][vc_row][vc_column width="1/2″][vc_column_text][testimonial_view id="2″][/vc_column_text][/vc_column][vc_column width="1/2″][/vc_column][/vc_row][vc_row][vc_column][vc_separator][/vc_column][/vc_row][vc_row][vc_column][vc_gmaps link="#E-8_JTNDaWZyYW1lJTIwc3JjJTNEJTIyaHR0cHMlM0ElMkYlMkZ3d3cuZ29vZ2xlLmNvbSUyRm1hcHMlMkZlbWJlZCUzRnBiJTNEJTIxMW0xOCUyMTFtMTIlMjExbTMlMjExZDE5ODcwNy40ODA4NzQyMzk5JTIxMmQtOTQuODI0NDQ0NjgzMzY4NjQlMjEzZDM4LjkwNTU4ODMwNjAzMDUlMjEybTMlMjExZjAlMjEyZjAlMjEzZjAlMjEzbTIlMjExaTEwMjQlMjEyaTc2OCUyMTRmMTMuMSUyMTNtMyUyMTFtMiUyMTFzMHg4N2MwOTU1MWE3MjYzOGQzJTI1M0EweDI0Y2U0ZmViMzg0NGY5YzglMjEyc092ZXJsYW5kJTJCUGFyayUyNTJDJTJCS1MlMjE1ZTAlMjEzbTIlMjExc2VuJTIxMnN1cyUyMTR2MTQ5NzQ1Mzc2NzgzMSUyMiUyMGRhdGEtc3JjJTNEJTIyaHR0cHMlM0ElMkYlMkZ3d3cuZ29vZ2xlLmNvbSUyRm1hcHMlMkZlbWJlZCUzRnBiJTNEJTIxMW0xOCUyMTFtMTIlMjExbTMlMjExZDE5ODcwNy40ODA4NzQyMzk5JTIxMmQtOTQuODI0NDQ0NjgzMzY4NjQlMjEzZDM4LjkwNTU4ODMwNjAzMDUlMjEybTMlMjExZjAlMjEyZjAlMjEzZjAlMjEzbTIlMjExaTEwMjQlMjEyaTc2OCUyMTRmMTMuMSUyMTNtMyUyMTFtMiUyMTFzMHg4N2MwOTU1MWE3MjYzOGQzJTI1M0EweDI0Y2U0ZmViMzg0NGY5YzglMjEyc092ZXJsYW5kJTJCUGFyayUyNTJDJTJCS1MlMjE1ZTAlMjEzbTIlMjExc2VuJTIxMnN1cyUyMTR2MTQ5NzQ1Mzc2NzgzMSUyMiUyMHdpZHRoJTNEJTIyNjAwJTIyJTIwaGVpZ2h0JTNEJTIyNDUwJTIyJTIwZnJhbWVib3JkZXIlM0QlMjIwJTIyJTIwc3R5bGUlM0QlMjJib3JkZXIlM0EwJTIyJTIwYWxsb3dmdWxsc2NyZWVuJTNEJTIyJTIyJTNFJTNDJTJGaWZyYW1lJTNF"][/vc_column][/vc_row][vc_row][vc_column][vc_column_text]Service Type: Towing Service | Service Area: Overland Park, KS
Overland Park Resources: City of Overland Park, KS | Overland Park, KS Wikipedia | Things to do in Overland Park, KS[/vc_column_text][/vc_column][/vc_row]