Considering Roadside Assistance Coverage? Here's What to Know
No one wants to be stranded on the side of the road, waiting for a tow truck or emergency roadside services. However, if or when you find yourself in that situation, you may wonder if your roadside assistance coverage will be adequate to cover the cost of your emergency. In the meantime, if you find yourself in a bind, you can call Santa Fe Tow Service for emergency roadside service and towing any time. We have dispatchers on call 24/7!
What Does a Roadside Assistance Plan Cover?
Roadside assistance coverage varies depending on the company you purchase it from. However, roadside assistance plans typically cover the following:
towing
tire changes
fuel delivery
locksmith services
jumpstarts
winching
Most roadside assistance coverage is available for either annual or monthly billing but some roadside assistance coverage is available for free from car manufacturers or credit card companies. Additionally, instead of paying each month or annually for roadside assistance coverage, you have the option of paying per incident. That way, instead of paying for a service you may or may not use, you can pay when you need help. That's where tow companies like Guy's Towing come in– we have dispatchers on call 24/7 for roadside emergency service.
Which Roadside Assistance Coverage Should I Get?
You have plenty of options when it comes to roadside assistance plans. Your auto insurance company, car manufacturer, cell phone provider, or credit card company may offer roadside assistance plans. You can also get roadside assistance through a membership in AAA.
How Much Money Does Roadside Assistance Coverage Cost?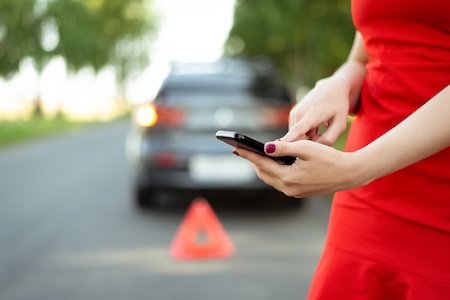 How Many Service Claims Can I Have Each Year on my Roadside Assistance Plan?
Again, this depends on the company you purchase your roadside assistance coverage from. However, most plans limit the number of covered claims per year at four service calls. Some policies allow for unlimited service calls, but some companies may not offer roadside assistance coverage to you in the future if you have too many claims.
Do Roadside Assistance Plans Cover the Driver or the Car?
Typically, roadside assistance coverage provided by automobile manufacturers and insurance companies provide service based on the vehicle. However, programs like AAA cover the member, meaning you can call for help if you are in a friend's car and it breaks down.
Does Roadside Assistance Coverage Extend to Other Drivers?
Not usually. However, membership organizations may allow you to add household members for additional fees. Some cell phone companies provide service based on whoever is in possession of the enrolled device. For example, if your child has your cell phone and needs roadside assistance, the incident will be covered by your plan even if you're not with them.
Do Roadside Assistance Service Claims Affect Car Insurance Rates?
Maybe. If your roadside assistance coverage is through your auto insurance company, it's possible that claims could affect your rates. However, this is only likely to be the case with excessive claims. As long as you use the plan as it is intended, for occasional emergencies, you probably won't see any increased insurance rates.
If you get roadside assistance coverage from a different company than your auto insurance company, your car insurance rates won't be affected by service claims.
Do I Need a Roadside Assistance Plan?
Whether or not you need a roadside assistance plan comes down to your personal choice. You may not benefit much from a roadside assistance coverage plan if you only drive short distances or you have coverage through the car manufacturer or your credit card company. If you only rarely use roadside assistance, it may be worth it to just pay out-of-pocket for emergencies.
A roadside coverage plan can give you and your family members peace of mind and save you money in the long run. Consider purchasing a roadside assistance plan if any of the following applies to you:
You have an upcoming road trip.
You want the benefits that a membership in an organization like AAA provides.
You have a long commute.
You have an older car.
You aren't familiar with car mechanics or service garages.
---
How Can Santa Fe Tow Service Help You?
If you're in a bind, Santa Fe Tow Service can help. Our emergency tow technicians are on call 24 hours a day, 7 days a week, 365 days a year. We provide emergency roadside assistance including fuel delivery, towing services, flat tire repair or tire changes, jumpstarts, and more. Whenever you need us, we will be there. Call today for more information or to get roadside service in Kansas City, Missouri!