Improve Your Customers' Experience: Hire a Tow Service
Are you having issues with vehicles in your parking lot or on your business's property? Hiring a local tow service can help with cars parked in fire lanes, vehicles illegally using handicap spaces, and abandoned cars. Or perhaps you own a property management company, and you need help enforcing a complex's parking rules. There are multiple benefits to hiring a tow service to help manage parking on your private property.
---
The Benefits of Hiring a Tow Service For Your Business
If you notice multiple vehicles violating your parking rules or using the parking spots in front of your business, it's time to call a local tow company to help.
1. More Parking Space for Customers
If abandoned vehicles or illegally parked vehicles take up parking space in front of your business, that's a problem. If your customers can't find a place to park, chances are they won't look for another spot indefinitely. In these cases, you lose business because someone is taking advantage of your parking lot. When you hire a professional tow service like Santa Fe Towing in Kansas City, MO, you free up that space for actual customers. Providing a convenient service goes a long way toward customer conversion, and easily-accessible parking is crucial.
2. Clear Parking Space for Emergency Vehicles
Don't feel bad for calling a tow service if a vehicle is illegally parked in a fire lane on your business's property. Firetrucks and first responders need this space to be clear as emergencies can happen at any time. Additionally, if a car is blocking a route to or from your business, you can call a tow service to remove the vehicle. It's critical that both customers and emergency service providers can access your business at any time.
3. Enforce Parking Rules in Private Lots
If you own or manage a property management company, you know how big of a headache parking can be, especially in multi-family complexes. To ensure parking space for your residents, a tow service provider can help patrol your parking lot and remove unauthorized vehicles. That way, you can focus on other tasks and keep your time free.
---
The Effects of Illegal Parking
Illegal parking isn't just a nuisance; it is the cause of all sorts of problems for urban areas such as Kansas City.
1. Traffic Congestion
Illegally parked vehicles on both residential and main roadways cause traffic congestion. If you have a problem with frequent illegal parking near your business or residence, it can severely impact travel time. While you may not be able to personally do much about illegally parked cars on a public street, you can call a tow truck for any vehicles illegally parked on your property.
2. Loss of Business
We pretty much already covered this one above, but unlawfully parked cars in front of businesses directly impact the number of customers able to conveniently and quickly access your company. Ensuring that your customers have access to your brick-and-mortar location by calling a tow truck to remove any unauthorized vehicles is a smart business decision.
3. Car Accidents
Illegally parked cars may force motorists to take alternate or dangerous routes, increasing the risk of car accidents. Legal and proper parking helps ensure a safe roadway for everyone. For example, in 2018, a St. George, Utah driver sustained minor injuries after a car accident caused by an illegally parked vehicle. As the driver attempted to leave the parking lot of a car wash, she accidentally pulled out in front of another car. An illegally parked vehicle on the street obstructed her vision.
---
Hilarious Parking Stories
While illegally and poorly parked vehicles are a nuisance, we want to end this article on a lighter note. Here are some of the funniest responses parking officials across the United States received in response to a parking ticket.
A Clever Exit in Asheville, NC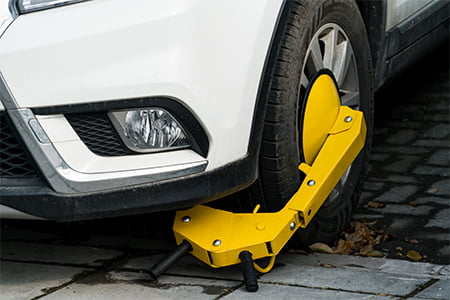 Harry Brown, a Parking Services Manager in Asheville, North Carolina, described an incident in which a vehicle disappeared after being booted. Brown wrote, "We booted a car on a Friday afternoon for having three citations that were more than 90 days old. When we checked on the boot the next Monday morning, the only thing we found was our boot on the tire and wheel and about 18 inches of the axel. The rest of the vehicle was gone." That's certainly one way to avoid paying a parking fine.
Well, That Backfired
Gary Means, the executive director of the Lexington & Fayette County Parking Authority, had a funny story for the International Parking Institute (IPI). He wrote, "An elderly man called in because he received a ticket for parking at a yellow curb in front of his house. He said he shouldn't have gotten it. The customer service representative started explaining about not being allowed to park at a yellow curb. The man interrupted, "No, you don't understand. My neighbor and I painted the curb ourselves so the students couldn't park there." Whoops!
Didn't Think That One Through
In 2012, Green Bay Public Works Supervisor Mary Stutleen gave her favorite excuse she'd ever received for a parking ticket. She wrote, "Someone came in with a parking ticket and said that they were illiterate and couldn't read the no parking sign. We asked how they were able to get a driver's license. The parking violator then promptly paid the ticket and left without saying anything." Well, at least they accepted the ticket in the end!
Have Illegally Parked Vehicles On Your Property? Call Santa Fe Towing in Kansas City, MO
If you're having issues with illegally parked cars at your business or other private property, call Santa Fe Tow Service today to address the issue. A family-owned business, Santa Fe Tow Service, has roots here in Kansas City. We are proud to provide personal and skilled service to each customer that calls into our business. In addition to providing private tow services, Santa Fe Tow Service provides towing services to the Kansas Highway Patrol, the Missouri Highway Patrol, and multiple law enforcement agencies throughout Missouri and Kansas. Call today!