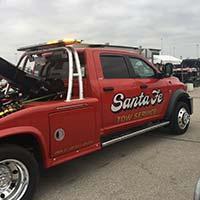 We've always got a tow truck ready in Belton, MO
When it comes to towing service, only a few things matter when choosing a company. How fast can it get to me? Will the be able to perform safe recovery and the vehicle transportation that you need? Will their level of service be what I need? Not all towing companies can answer these questions as confidently as Santa Fe Tow Service, Inc. Because with us, the job is simple — get you on the road quickly.
To do that, we maintain a fleet on the ground near Belton, MO at all times. We're fully-equipped with every kind of truck that could be necessary. True to our word, we always provide 24 hour-a-day, last minute service. Our fleet is staffed with tow truck operators who know the area and are trained to carry out any kind of towing perfectly.
We work hard not to add complications to your tow. We always offer transparent pricing right from the start, rain-or-shine roadside assistance, and a clear line of communication throughout the process. We know you don't have to settle for unsatisfactory service and with Santa Fe Tow Service, Inc., we know you won't. To get your tow on the road, give us a call today of send us a message.
Our team knows Belton, MO. At all hours of the day, we've always got a truck ready to help.
No matter your situation, Santa Fe Tow Service, Inc. can come get you out of a bind.
---

---
The Levels of Towing Services We Offer
Our fleet comes complete with every type of tow truck for the job you need. From flatbeds perfect for transportation, to roadside service trucks, to 360° boom recovery vehicles, we've got the machinery for the job. We're equipped for start-to-finish towing of everything from cars, trucks, semi-tractors, motorcycles, RV's, and more. You name it. If you've got a vehicle or machinery that needs a tow, we've got the right truck for the job. Meet our fleet below:
Light-Duty tow service
These trucks are perfect for vehicle recovery from parking garages or tight spaces. Our light duty trucks can be used to tow pickups and commuters cars ranging from sedans to SUVs.
These compact trucks are best for getting vehicles out of tight spots where there is no margin for error. Parking garages, parking lots, or less-than-ideal roadside tows are a piece of cake for these trucks. Though they're the smallest of the lot, these trucks can still pull vehicles even when the wheels are locked. Their wheel lifts make sure your vehicle is transported safely without damage to the body or frame.
Medium-Duty service
For slightly larger loads, this segment includes your standard-size wreckers and flatbed. Medium-sized tow trucks are equipped to take care of the bulk of the work we do. Mid-sizing towing includes hauling vehicles such as campers, vans, and even heavy-duty trucks or other larger vehicles. For straightforward transportation where you don't want to risk your ride, flatbed towing is the safest, most reliable option. That's because vehicles are moved without the wheelbase contacting the ground. That makes them perfect for A-to-B vehicle transport.
Heavy-Duty tow service
For the largest towing and recovery operations, our heavy-duty tow trucks are what you need. Trucks of the "heavy-duty" variety are able to move 18-wheelers, heavy-machinery, buses, or anything else. Our 360-degree boom lift is capable of recovery vehicles up to 75 tons.
Our heavy-duty techs bring top-tier quality service to every job they do. They work as quickly as possible to get you moving again but don't quit until the job is done. From jumpstarts or a can of gas to pulling vehicles out of the water, we're ready to take on any towing challenge. By having a fully-equipped fleet, there isn't much we can't do.
Give us a call today for complete towing assistance.
We know that vehicle trouble can happen anywhere. We know they're never convenient. That's why we always aim to provide rapid response and clear communication to get you moving again. Call our dispatch or contact us today. We also provide heavy-duty towing in Kansas City, KS, Joplin, Blue Springs, Jackson County, Olathe, and more!
"
Excellent on everything.
"
I have never seen such professionals when it comes to a tow service. We had a 7,000 lb skidsteer stuck in a mud hole. Huge thanks to Rodger and driver Holland #116 for their help! They did not give up until they pulled us out! Awesome service with great experience!
"
Great service from all. Office staff very nice & helpful.
"
Driver arrived a little early was courteous took care of my automobile did an awesome job will definitely use you in the future
Powered by
Whiterail
Disclosure
The reviews displayed may or may not be a complete set. Reviews may be removed if they:
i. Are abusive. An abusive review or comment is one that makes personal attacks, threatens, or harasses others, or uses profanity.
ii. Violate privacy. Reviews that mention specific names of individuals or personal information in a manner that is inappropriate and/or unrelated to the performance of the service rendered are subject to removal.
iii. Are not from a current customer.
iv. Contain material falsehoods.
v. Are deemed inappropriate.
To encourage all feedback, positive or otherwise, an equal incentive for reviews, regardless of rating, may have been provided to the reviewer.