It just takes one call to get the right Tow Truck in Blue Springs!
You never know when a roadside problem will occur. Car breakdowns and accidents can happen anytime. The best thing you can do is prepare. We recommend putting the number of a trusted towing service like Santa Fe Tow Service Inc. on your phone. That alleviates the stress of an emergency and you already know you'll get the best 24/7 service from the city's leading local towing company.
We deliver 24 hour towing in Blue Springs from the Burr Oak Woods Nature Center to the Lakeside at Chapman Farms.
Our fleet is the biggest in Blue Springs. We have vehicles equipped with winches, lifts, trailers, and more. We can tow heavy vehicles like heavy-duty pickups, passenger vans, and even Mack trucks!

You want speedy service when you need it most. Each of our trucks is GPS equipped. They are in constant communication with dispatch who knows where and what each truck is equipped with. This allows us to send the nearest tow truck that can help. Whether you're stuck at Woods Chapel Park or Adams Dairy Landing, we're on the way.
What towing services are available?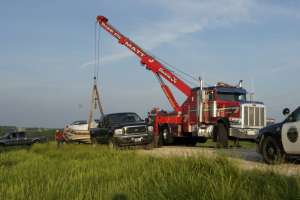 Our fleet contains every type of vehicle necessary. From light and large hauling to distance and heavy load recovery, we do it all. Sending out the right truck for the job is key, and ours are separated by weight class. Depending on your situation you'll receive help from one of these trucks.
Light-duty tow trucks fit where others can't.
One of the major benefits of a light-duty truck is its size. We regularly dispatch these units to parking garages and tight-fitting lots. Even vehicles that cannot physically move can be recovered by our skilled winch operators. They know how to safely recover and tow sports cars, SUVs, passenger vehicles, and smaller pickup trucks. We use wheel lifts to protect your vehicle's body and frame during transportation.
Medium-duty tow trucks meet you in the middle.
The line between a medium and heavy load is smaller than you might think. Our medium class trucks are capable of transporting large loads like vans, tractor-trailers, RVs, campers, and more. They perform long haul jobs, and our flatbeds are incredibly secure. They are our go-to tow trucks in Blue Springs for motorcycle and classic car transportation.
Heavy tow trucks tackle the biggest loads.
Not every company has the ability to overturn semis' with their containers still attached. We do. Our heavy-duty trucks are capable of recovering and transporting the biggest loads. 2 of our vehicles are equipped with 65-ton boom lifts. These can easily lift harvesters, tractors, and dump trucks.
Customers know us for our high-quality service. It starts with dispatch and is carried forward by our truck operators. They have the skill and knowledge to recover any vehicle. A tow isn't always necessary. Because of this, we offer roadside assistance as well. This is perfect for non-emergency situations like a dead battery, low fluid, or blown tire. When you call us you get the best of both worlds—road service when you need it, and the option to tow when it isn't enough.
Contact us today for tow truck service in Blue Springs
We have your back. When you need help, we are just a phone call away. Get the right truck, 24/7, every time. Just call or contact us today. We also offer commercial towing in Kansas City, MO, Joplin, Odessa, Jackson County, and more!
"
Excellent on everything.
"
I have never seen such professionals when it comes to a tow service. We had a 7,000 lb skidsteer stuck in a mud hole. Huge thanks to Rodger and driver Holland #116 for their help! They did not give up until they pulled us out! Awesome service with great experience!
"
Great service from all. Office staff very nice & helpful.
"
Driver arrived a little early was courteous took care of my automobile did an awesome job will definitely use you in the future
Powered by
Whiterail
Disclosure
The reviews displayed may or may not be a complete set. Reviews may be removed if they:
i. Are abusive. An abusive review or comment is one that makes personal attacks, threatens, or harasses others, or uses profanity.
ii. Violate privacy. Reviews that mention specific names of individuals or personal information in a manner that is inappropriate and/or unrelated to the performance of the service rendered are subject to removal.
iii. Are not from a current customer.
iv. Contain material falsehoods.
v. Are deemed inappropriate.
To encourage all feedback, positive or otherwise, an equal incentive for reviews, regardless of rating, may have been provided to the reviewer.