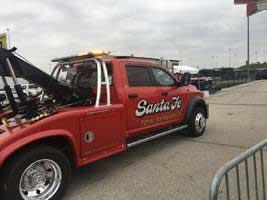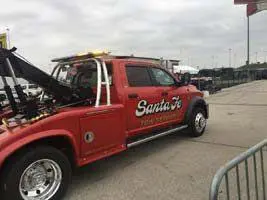 Get the Right Tow Truck in Kansas City, KS!
Towing companies aren't equal. Newer businesses operate at a smaller scale. That means fewer trucks, less experience, and growing pains. When you need a towing service you don't want inexperienced providers at any level. If dispatch or the operator aren't bringing their best to every job, you pay the price. At Santa Fe Towing Inc. we've been in operation for over 30 years. With one of the largest tow truck fleets in Kansas City, KS we have the experience, tow trucks, and 24-hour dispatch center that keep you covered night and day.
Our service area covers the entirety of Kansas, City KS. Wherever you are, we're there too.
From eastern Kansas on Interstate 73 to Memorial Hall at the heart of the city, our tow trucks are always available to help.
---


---
What towing services do we offer?
We have a broad range of truck types outfitted with the latest equipment. We can tow anything you are driving or transporting. That includes RVs, semi-tractors, cars, motorcycles, trucks, and much more. If you need a tow, we can do it. Our fleet includes: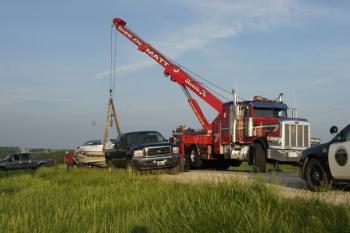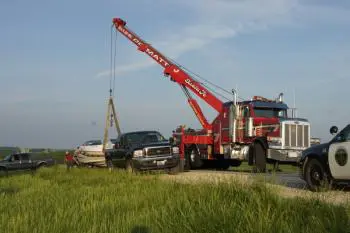 Light-Duty Tow Trucks: Our light duty fleet is equipped to handle small SUV's and pickups as well as two and four door passenger cars. These trucks are capable of fitting into tight spaces. We equip our light duty tow trucks with wheel lifts. These won't harm your vehicle frame or body. Small winches allow us to recover vehicles in difficult to reach spaces when transmissions are locked.
Medium-Duty Tow Trucks: Our medium duty fleet includes flatbeds and medium wreckers. These are made to tow larger vehicles like heavy-duty trucks, vans, campers, and other medium-sized vehicles. We use flatbeds for secure hauling of classic cars, motorcycles, race cars, and other vehicles.
Heavy-Duty Tow Trucks: When you need a major recovery or heavy duty tow, these trucks get the job done. Our tow trucks in Kansas City, KS have supported the local fire department, and our wreckers have aided in container and semi-truck recovery. This category includes two 75-ton boom lift equipped wreckers capable of recovering and transporting semi's with their containers still attached.
You can expect the highest quality services from our tow truck operators. They are knowledgeable, skilled, and will safely recover and tow your vehicle and cargo. We even offer roadside assistance services. If you run out of gas, coolant, need a jump, or another roadside service we can do it. This combination is ideal because if what you thought would do the trick doesn't, we're already right there to provide a tow.
Contact us today for tow truck service near you.
From Pierson Skate Park to the Marina Boathouse at Wyandotte County Lake, you never know when a vehicle problem will strike. Our tow trucks cover it all. Get the right tow truck in Kansas City, KS, sent to you when you need it most. Call us now. We also provide our towing services in Overland Park, Lenexa, Olathe, and more!
"
My driver was very polite and did a great job
"
Fantastically. Your drivers responded to my request quickly. They were very friendly and got down to business quickly. I should have called Santa Fe first. Unfortunately I waited more than 2 hours for another tow company that never showed. Definitely 5 ⭐️ service. Thank you for getting my vehicle & me on the road again.
"
Very fast. Alex was awesome- friendly, courteous and cafeful. Excellent service. Would highly recommend and/or use again if needed.
"
Great service! I had an accident and needed my car towed. The drivers were very courteous and they answered all my questions and were genuinely concerned with my well being. I would highly recommend Santa Fe towing.
"
Had a terrifying experience with firewood and the highway. Had a fantastic experience with Robert B. the tow driver. He was super kind and even tried changing my tire to see if that's all we needed. Ended up needing a tow but he went above and beyond to check my car out. Really appreciate it!
Powered by
Whiterail
Disclosure
The reviews displayed may or may not be a complete set. Reviews may be removed if they:
i. Are abusive. An abusive review or comment is one that makes personal attacks, threatens, or harasses others, or uses profanity.
ii. Violate privacy. Reviews that mention specific names of individuals or personal information in a manner that is inappropriate and/or unrelated to the performance of the service rendered are subject to removal.
iii. Are not from a current customer.
iv. Contain material falsehoods.
v. Are deemed inappropriate.
To encourage all feedback, positive or otherwise, an equal incentive for reviews, regardless of rating, may have been provided to the reviewer.