We've always got a tow truck ready near Lee's Summit, MO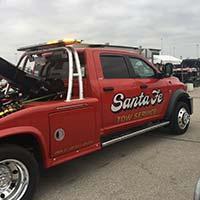 There are only a few things that matter when you need a towing service. How fast can it arrive? Can they provide safe recovery and transportation of your vehicle? And will their service go above and beyond? Answers to these questions depend on which towing company you choose. With Santa Fe Tow Service, Inc., we do our best to make towing as convenient as possible.
Our fleet services Lee's Summit, Mo, and has is complete with every kind of truck for any kind of job. We provide true 24 hour-a-day service. Every one of our tow truck operators is extensively trained and are full masters of their vehicles and their equipment. We always offer upfront pricing, start-to-finish roadside assistance, and full communication every step of the way. We don't want you to settle for subpar service and with us, you won't. Give us a call today to get a local towing service that's quality-guaranteed.
We operate throughout Lee's Summit, MO. We've always got trucks on the ground.
No matter where you are, Santa Fe Tow Service is always right around the corner to help you out.
---

---
Towing Services We Offer
Our extensive fleet comes with every type of tow truck for any size job. From landoll flatbeds and service trucks, to 360° boom recovery vehicles, there's no job we can't handle. Even on short notice, we are equipped for towing and hauling of everything from cars, trucks, semi-tractors, motorcycles, RV's, and more. If you've got a vehicle that needs a tow, we've got the truck for the trip. Here is what our fleet includes:
Light-Duty tow trucks
Perfect for parking garages and other tight spaces, or towing most smaller commuter cars.
This fleet segment is used mainly for towing pickups, passenger cars, and small SUV's. They are especially useful for fitting into small areas and performing recovery operations where precision is vital. These trucks come equipped with winches strong enough to pull vehicles even when the wheels are locked. A secure wheel lift ensures safe transport of your vehicle body and frame.
Medium-Duty trucks
For more strenuous loads, these part of our fleet includes medium wreckers and flatbeds. These middle-ground tow trucks perform the majority of recoveries. Trucks of this size have the capacity to move vehicles such as campers, vans, and even heavy-duty trucks or other larger vehicles. Flatbeds are a safe option for transporting vehicles. By moving vehicles without the wheelbase touching the ground, they are perfect for getting race cars, motorcycles, classic cars, and other sensitive vehicles from point A to point B.
Heavy-Duty tow trucks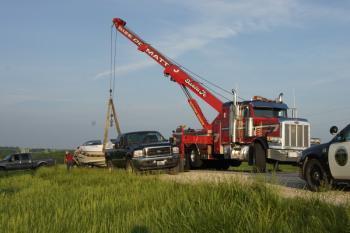 For major recovery and towing operations, these are the trucks you need. Trucks of the "heavy-duty" category include rigs built to transport semi-trucks with attached trailers, heavy equipment, and other large vehicles. And thanks to our skilled operators at the hull of our 75-ton, 360-degree rotating boom lift, they're also built to recover the same.
Our tow operators always bring the highest quality service to every job they do. Their skills and knowledge enable them to recover your vehicle quickly and safely. We want you and your vehicle back on the road in no time. We provide every level of roadside assistance. Whether it's just a quick jump, running out of gas, fixing a flat, or any other emergency, we're always nearby and ready to help. With every size vehicle needed, there are few jobs we can't take care of. If your problem requires more than just roadside assistance, recovery, or transportation, we can always tow you to a mechanic, home, or elsewhere.
Contact us today for quick tow truck service.
Vehicle trouble can happen anywhere. When you call us you get the immediate response and reassurance you need. Let's get you back on the road. Call our dispatch or send us a message today. We also provide commercial towing in Joplin, Blue Springs, and Odessa!
"
Excellent on everything.
"
I have never seen such professionals when it comes to a tow service. We had a 7,000 lb skidsteer stuck in a mud hole. Huge thanks to Rodger and driver Holland #116 for their help! They did not give up until they pulled us out! Awesome service with great experience!
"
Great service from all. Office staff very nice & helpful.
"
Driver arrived a little early was courteous took care of my automobile did an awesome job will definitely use you in the future
Powered by
Whiterail
Disclosure
The reviews displayed may or may not be a complete set. Reviews may be removed if they:
i. Are abusive. An abusive review or comment is one that makes personal attacks, threatens, or harasses others, or uses profanity.
ii. Violate privacy. Reviews that mention specific names of individuals or personal information in a manner that is inappropriate and/or unrelated to the performance of the service rendered are subject to removal.
iii. Are not from a current customer.
iv. Contain material falsehoods.
v. Are deemed inappropriate.
To encourage all feedback, positive or otherwise, an equal incentive for reviews, regardless of rating, may have been provided to the reviewer.