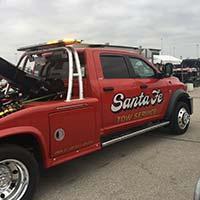 Need a tow in Odessa, MO? We've got a tow truck ready to help.
If you need a quick towing service, you've probably got a few questions on your mind. How fast can your tow company get to me? Will their towing be done safely and won't risk my vehicle? Can I expect good service? We know that not all towing companies have the answers you want to these questions. But as an experienced towing company for Odessa, MO, Santa Fe Tow Service, Inc. is pleased to be able to stand behind our word and offer exceptional towing.
We want to make towing as painless as possible. To do that, we keep our fleet ready to go on the ground at all times. Our company is complete with every kind of truck for any job. We always strive to provide true 24 hour-a-day, last-minute service. Our goal is to get you off the road quickly and get you going again. Our drivers know the area and are ready to get you out of any kind of towing problem immediately.
Give us a call today for the exact tow you need, exactly when you need it.
Don't settle for a slow towing service. When you need rapid assistance in Odessa, MO, there's one clear choice. Call our dispatch for immediate assistance today. We also provide roadside assistance in Shawnee Mission, KS, Blue Springs, Jackson County, Joplin, Kansas City, and more!