Get 24 Hour Towing in Kansas City KS when you need it most!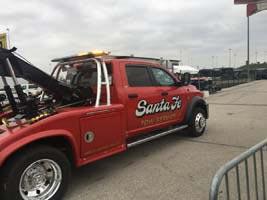 You never know when you'll need a tow. Accidents, breakdowns, and other trip ending incidents don't occur on a schedule. You may never know when a problem will occur on the road, but you can anticipate it, and you can prepare for when one does happen. The best way to prepare is by keeping the number of a trusted 24-hour towing company in Kansas City, KS on your phone. As one of the leading towing services in Kansas City, making that the number for Santa Fe Tow Service Inc. is a decision you'll be glad you made.
Call us now. Our service area covers Kansas City, KS and beyond. Get help right now and get a tow to your destination of choice wherever it is.
We tow interstate and nationally. A breakdown doesn't have to leave you stranded. Our operators are friendly, knowledgeable, and safely load and transport your vehicle home, to a repair shop, or whatever is best for you.
---
When you need emergency towing it's critical that you get the right truck and driver. Fleets contain a wide range of trucks that are specialized for specific jobs. What you drive determines which truck can best help you. When you call us, you'll get the right truck, and it all starts with our dispatch center.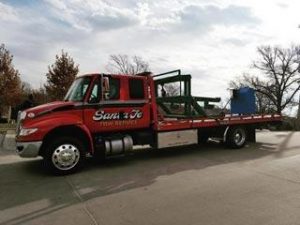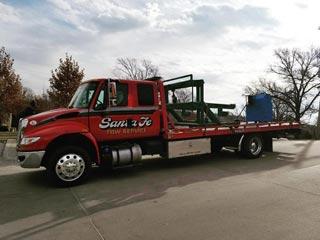 What makes us your first choice for emergency towing?
Dispatchers know our truck capabilities and drivers.
We equip each vehicle with GPS. Get nearby help.
Our drivers are all certified.
A large fleet means there's always a truck near you.
Every one of our tow trucks undergoes strict maintenance.
We outfit each vehicle with essentials like water, gas, and oil.
With our roadside assistance, a tow may not be necessary!
24/hour recovery services mean you're never stuck for long.
Friendly truck operators walk you through the process.
Affordable rates make us ideal in an emergency situation.
Our fleet includes over 80 tow trucks and recovery trucks. Whether you drive a
commercial vehicle
, a bus, a
heavy-duty tractor
, a two-seater, or even a limousine, we can tow your vehicle.
---

---
Contact us now for a 24-hour tow truck in Kansas City, KS
When you have a situation that requires emergency towing, you don't want to wait. You want to know the company you call has a nearby operator with the skills and equipment to help. That's what we do every single day. Get the tow truck you need, right now, 24 hours a day. Call us anytime. We also provide our services when you need a tow truck in Kansas City MO!
Freeze rain
my vehicle died on me on 44e highway during freezing rain with my family and no heat because the engine would not start back up(turned out to be a bad fuel pump) i called the towing company and Mr. Chris D. got my call, he went to get us right away but where the difference comes in with this great person, is that i was traveling with my family(mom, dad, brother, pregnant wife and 2yr old daughter), he gave me a phone # for a taxi company, the taxi guy refused to pick us up, Mr. Chris called back when he was on his way to ask me if i had the taxi cab set up because he only had room for 2 people to go with him, i told him i was on a bind because none of the Joplin MO taxi companies would come pick us up because of the weather, he told me he was gonna make a few calls and he was gonna call me back. Within 10 minutes he called back and said that he arranged something for us, this great human being, went above and way way way beyond MR. Chris D. asked for permission from his employer and he contacted the state trooper that was with us to make sure he could get us a ride, not with him on the tow truck but get us a personal ride with somebody he knew, this great guy needs to get a raise or a bonus or something, this person is an angel on earth where as others that get paid to give people rides for a living aka taxi companies would not, he understood my situation and gave us a blessing hand specially because of my daughter and my pregnant wife, he was professional and a great person with a lot of values, he took a huge weight of my back once he showed up and got us a ride took the vehicle to a shop to get it fixed and took us safely to a hotel, this company is gonna do great because of people like Chris D. I swear if i could give 10 stars out of 5 i would because of this great employee they got
Juan D. Cortes
Loan Officer and Damsel in Distress
My tire blew out on Friday afternoon. Chris arrived to help me and tow my car to my service center. He was extremely professional and he set my mind at ease about towing my beloved BMW named Gracie. Chris clearly saved my day! Thank you so much for easing my mind and taking delicate care of my car! ~~ Jill Underwood ~~
Jill Underwood
THANKS!
My wife and I just wanted to thank your receptionist and driver, Bobby, for the courteous and speedy service they extended to us in our recent automotive crisis – THANK YOU!!!! Your phone number will always be in my wallet
Brian
Thank you for your support
The American Red Cross was able to reach out to those affected by the tornado that struck Joplin, Missouri because of your generosity. Your timely contribution to the MO 5-22-11 Tornado relief operation enabled us to provide emergency care and support to those whose homes were destroyed and lives were uprooted. Thank you for your donation to the Red Cross of the towing service.When the tornado forced residents from their homes and disrupted the lives of everyone in Joplin, the Red Cross immediately responded by opening shelters for their refuge. For weeks we provided hot meals, snacks, clean-up kits, and first aid through more than 750 Red Cross workers to meet the essential needs of those affected by the tornado. Our mental health workers were dispatched to comfort those coping with the stress and chaos brought on by this unpredictable storm. As residents return to their homes or relocate to temporary housing, we will continue to work with our community partners to facilitate their long-term recovery.Thank you once again for supporting our lifesaving mission. Only with contributions like yours can the American Red Cross continue to help those coping with the sudden uncertainty that disaster brings.
Chuck Schneider - American Red Cross National HQ
Thank you
I wanted to say how much we appreciated you and your staff helping us out with this tornado. Without you guys, there is no way we could have handled the sheer volume of cars. Charlie and his staff were amazing. Rob and your dispatcher, Misty in Joplin were always there to help answer questions. Your drivers were always polite and professional. We have always enjoyed working with your drivers in times past, but this time, they really stepped up under some stressful situations. We enjoy working with you guys and I thought you guys did an awesome job.
Ernie Collette - Branch Manager, Insurance Auto Auctions
Exemplary Business
I wanted to drop you a quick note about my experience with your company and operator on 11/1/2011. Your operator came out yesterday evening to upright our Sky Trak lift that had turned over. He represents your company very well. He took care not to cause any further damage to my equipment or abuse yours. In today's world of sub-standard customer service, your employee sets an outstanding example of the correct way to do business.
Rick Benson - RBC Enterprises Limited Inc
Vehicle Accident Dispatch
Today Fire District #2 and Miami County EMS crews were dispatched to a serious single vehicle accident. While en-route we were told we had two patients that were trapped. Upon arrival of the first unit we found a trash truck had left the roadway and was on its top with severe damage. We found two patients trapped and a highly technical extrication was going to be needed to remove the victims of the accident. I determined that we were going to need a large wrecker to respond to assist in the extrication and vehicle stabilization. With the assistance of Johnson County ECC and the Miami County Sheriffs office your company was notified to respond. Upon the arrival of your company they were immediately put to work to assist the fire crews in extricating and stabilizing the truck. To say that your company and employees whom represent your company were helpful in the extrication would be an understatement. Your company and employees proved to be a very important part of our rescue / recovery operation. They were extremely knowledgable and helpful. They worked seamlessly with the on scene crews. We had a total of 36 responders on scene from Life Flight Eagle, Overland Park Fire, Miami County EMS, Johnson County Fire District #2, Miami County Sheriff and Johnson County Sheriff. Your crew fell right into our operations. Your crew was very safe and took all possible safety precautions to assure the safety of themselves and the other responders. Your company and your crew proved to be a valuable asset to our cadre of tools. Please share our appreciation of your employees efforts and ability to fall into an extremely intensive rescue / recovery effort. Fire crews were there for a total of 7.5 hours and your crews were there for about the same amount of time if not longer. We ended up having approximately a 1.5 hour extrication on one patient and were able to get him transported. Unfortunately we were not able to save one occupant of the truck and the recovery proved to be very challenging. Because of your crew, your equipment and your company we were able to speed up the rescue and recovery efforts meanwhile ensuring the safety of the responders.
Roger Larison - Battalion Chief, Fire District #2
I was actually waiting for
I was actually waiting for a lovk smith that was trying to gouge me out of money in a gas station when a Santa fe tow man pulled up. I mistook him for my tow man and asked if he was the person to help me with my lock out of my car. He said he was not, but was so kind to wait around until the other guy got there (who promptly tries to sell me $189 service charge more in fees than I was told over the phone). Thankfully, the Santa Fe Tow guy waited around in case that happened and was so kind and considerate to my frustrating situation! Very helpful and fast recovery! Thank you so much! My driver was 116!
Margaret Ann Lawlor
In a Bind
24hours. They aren't kidding. My wife and I needed a tow at 3am and they were there in a flash. Thanks again.
Chauncey C.