Get 24 Hour Towing in Kansas City KS when you need it most!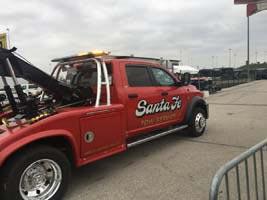 You never know when you'll need a tow. Accidents, breakdowns, and other trip ending incidents don't occur on a schedule. You may never know when a problem will occur on the road, but you can anticipate it, and you can prepare for when one does happen. The best way to prepare is by keeping the number of a trusted 24-hour towing company in Kansas City, KS on your phone. As one of the leading towing services in Kansas City, making that the number for Santa Fe Tow Service Inc. is a decision you'll be glad you made.
Call us now. Our service area covers Kansas City, KS and beyond. Get help right now and get a tow to your destination of choice wherever it is.
We tow interstate and nationally. A breakdown doesn't have to leave you stranded. Our operators are friendly, knowledgeable, and safely load and transport your vehicle home, to a repair shop, or whatever is best for you.
---
When you need emergency towing it's critical that you get the right truck and driver. Fleets contain a wide range of trucks that are specialized for specific jobs. What you drive determines which truck can best help you. When you call us, you'll get the right truck, and it all starts with our dispatch center.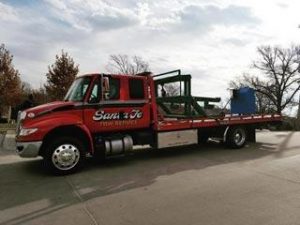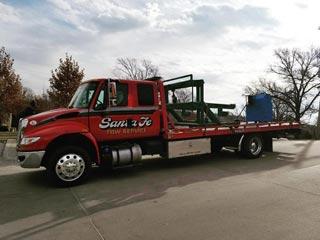 What makes us your first choice for emergency towing?
Dispatchers know our truck capabilities and drivers.
We equip each vehicle with GPS. Get nearby help.
Our drivers are all certified.
A large fleet means there's always a truck near you.
Every one of our tow trucks undergoes strict maintenance.
We outfit each vehicle with essentials like water, gas, and oil.
With our roadside assistance, a tow may not be necessary!
24/hour recovery services mean you're never stuck for long.
Friendly truck operators walk you through the process.
Affordable rates make us ideal in an emergency situation.
Our fleet includes over 80 tow trucks and recovery trucks. Whether you drive a
commercial vehicle
, a bus, a
heavy-duty tractor
, a two-seater, or even a limousine, we can tow your vehicle.
---

---
Contact us now for a 24-hour tow truck in Kansas City, KS
When you have a situation that requires emergency towing, you don't want to wait. You want to know the company you call has a nearby operator with the skills and equipment to help. That's what we do every single day. Get the tow truck you need, right now, 24 hours a day. Call us anytime. We also provide our services when you need a tow truck in Kansas City MO!
"
Excellent on everything.
"
I have never seen such professionals when it comes to a tow service. We had a 7,000 lb skidsteer stuck in a mud hole. Huge thanks to Rodger and driver Holland #116 for their help! They did not give up until they pulled us out! Awesome service with great experience!
"
Great service from all. Office staff very nice & helpful.
"
Driver arrived a little early was courteous took care of my automobile did an awesome job will definitely use you in the future
Powered by
Whiterail
Disclosure
The reviews displayed may or may not be a complete set. Reviews may be removed if they:
i. Are abusive. An abusive review or comment is one that makes personal attacks, threatens, or harasses others, or uses profanity.
ii. Violate privacy. Reviews that mention specific names of individuals or personal information in a manner that is inappropriate and/or unrelated to the performance of the service rendered are subject to removal.
iii. Are not from a current customer.
iv. Contain material falsehoods.
v. Are deemed inappropriate.
To encourage all feedback, positive or otherwise, an equal incentive for reviews, regardless of rating, may have been provided to the reviewer.