Finding A Reliable Tow Service
Nothing can be worse than being stranded by the side of the road due to car troubles. Not only is it very stressful given the financial troubles it could result in, but it's also a dangerous experience for any driver and passengers to be stuck waiting for help. One thing a driver should never have to worry about is calling a towing company for assistance. Unfortunately, this can be quite common, with many unreliable companies out there providing terrible experiences for many.
Finding an honest, reliable towing company is more than possible however, and it should help to give a peace of mind any time you set out on the road knowing there is a high-quality towing service waiting for you in case of emergencies. But what exactly makes a towing company high quality? Well, there are some things to keep an eye out for when looking for a reliable towing company. Let's check out the top five things you should expect from a high-quality towing company:
24/7 Call Outs
Breakdowns rarely happen at a convenient time, especially when there's other motorists involved. You truly can never predict when car problems will arise, and the last thing you need is not being able to get a tow truck because of the time of day. Therefore, almost any quality towing company will over 24/7 services. As an emergency service, you will want a company that can help you out whenever you need it, regardless of the time. Any company you spot that doesn't offer such a service may not necessarily be low quality, but they are certainly less reliable than the best.
They Service a Wide Area
Breakdowns and other car problems not only happen at the least convenient time, but often at the worst possible location too. Vehicles are meant to travel long distances of course, so it makes plenty of sense that a towing company would offer its services to a wide coverage area. Those that do not are giving a clear sign that they are not at the same standard as the high-quality businesses that will travel far and wide to offer towing services. Quality towing companies usually offer a service area of around 100 miles, and the further they go the better!
Certification
Whenever you hire any kind of service, you will want to know they have some level of qualification for the job. Those that belong to the leading professional bodies within their respective industries are a clear sign of quality, as they are held to strict standards and codes of conduct. Towing companies are no different, yet some will not even consider a towing company should come with a certification of quality.
Price
The old saying 'you get what you pay for' rings true in many instances, and towing is certainly no exception. Should a towing company be offering prices that are too good to be true, they most likely are. A trick used by many dishonest towing companies is to advertise cheap prices for their services, only to add on plenty of hidden fees, such as charging for miles traveled at an inflated rate. Always be wary of prices that are a little too low compared to others, as it can be a sign of a less-than-honest company that you would do well to avoid.
Roadside Support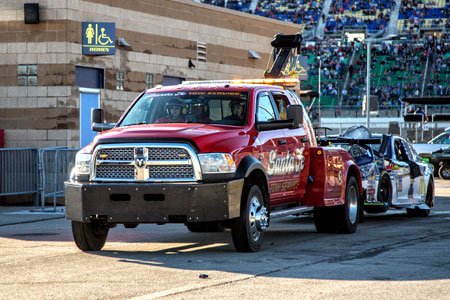 Towing is of course very important for a tow truck company, but that's not to say it's the sole service you will require. Many call outs for towing companies can be dealt with on-site within a quick time frame – providing they offer roadside support! Those that don't offer such a service are just highlighting areas where they lack when compared to quality towing companies out there. Whether its tire changes, fuel deliveries, or a replacement battery, there's many reasons you will want a towing company to provide roadside assistance. From a pull start, to a tow across town — or across the nation — you can count on Santa Fe Tow Service to get you back on the road promptly and professionally.
All our trucks come with an experienced operator who can perform any task that you may need, no matter the vehicle size. If you have a unit stranded on the road, one of our heavy-duty trucks can tow it to the destination of your choice in a professional and timely manner. We will travel anywhere in the United States to make your situation is as easy and stress free as possible. Recognized as one of Kansas City's finest, our fleet of signature, red under lift trucks are the most modern and technically advanced in a four-state area. All our trucks are equipped with large under lifts to secure your vehicle while it is being transported. We also have wheel lifts if needed in order to ensure a completely safe tow.
Choosing the Best Tow Company in Kansas City, MO
As our company has grown, so has our reputation. Our knowledge and skills are recognized by several law enforcement services that rely on our expertise. Santa Fe Tow Service proudly provides service to the Kansas Highway Patrol, the Kansas Turnpike Authority, the Missouri Highway Patrol, the Joplin Police Department as well as all local enforcement agencies in the Johnson County, Kansas area. While building this company has been a lot of hard work, it's also been a labor of love. And it's been a journey that has earned our company the respect of those who rely on its services.
A lot has changed in the world in the last thirty years. We live in a world often dominated by large, impersonal corporations. Counter to that environment, Santa Fe Tow Service remains a family business with local roots in the Kansas and Missouri areas. We proudly provide personal, skilled service to every call we receive.