[vc_row][vc_column][vc_column_text]
Have you visited one of the best gardens in Kansas City MO?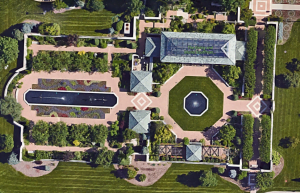 Gardens are great. It's easy to forget how beautiful a carefully curated and constructed garden can be. When you live in the city or rent and aren't allowed to grow your own, gardens become a refuge. Every city has them, but they aren't usually a tourist destination. We want to change that. As a towing service company, we go everywhere. Spending so much time in a vehicle gives us a great excuse to get out into nature. When we can't make it to a park, these gardens are the next best thing. When they're in full bloom? They are the first best thing. Learn more about our favorite Kansas City MO gardens.
Discover something new at the Ewing and Muriel Kauffman Memorial Garden
Located on Rockhill Road, this expansive garden was constructed around the life of Ewing and Muriel. The 2-acre garden is cared for and tended to by volunteers and staff of the Kaufman Foundation and Powell Gardens. There are a number of stunning details that make this garden so interesting. Just some of the features of the Kauffman Memorial Garden we love include:
Lively statues from local artist Tom Corbin located in the Parterre "Canal" Garden.
Over 7,000 plant species with special sections for native plants from Muriel and Ewing's places of birth.
The garden is inspired by the areas the Kaufmann's traveled to in life and based on a European garden model.
Annual plants are changed out four times or more every year so there's always a new sight to see.
The onsite memorial garden is the final resting place of the Kaufmann's.
See life in bloom at the Loose Park Rose Garden
Roses are a staple in the flower growing community. Many varieties require a lot of care and understanding of botany. There's an interesting history behind the Loose Park Rose Garden. Its full name is the Laura Conyers Smith Municipal Rose Garden. Laura led the group of women who established the garden within Loose Park in 1931. It was recently restored in 2014 to reflect the original designs and plans for the garden. Repairs were made to pedestals, stolen plaques were re-made, and more. Just some of what makes it so special include:
Over 3,000 different rose plants spanning roughly 150 varieties.
1.5 acres of space tended to by a team from the Volunteer Garden Groomers.
The restoration was thanks to donations from locals and businesses.
Rose Day occurs every year and is the perfect time to view the flowers in full bloom.
Grow your own garden with the Urban Grown Tour
This is less of a single garden and more of a series of gardens. The Urban Grown Tour highlights various gardens throughout the city. The tour takes you across a wide range of locations and your tour guide offers advice and tips on what to grow, how to grow it, and how to build your very own urban garden. Tour guides are frequently local farmers, and you'll definitely come away knowing more than you started. Highlights include:
Viewing of over 30 different local urban farms right in your own backyard.
The knowledge you need to get started, backed by Cultivate Kansas City.
A great way to meet fellow urban farming enthusiasts and make friends.
Now that you've enjoyed the great outdoors, relax on a local tour or journey the past at one of Kansas City, MO's excellent museums.[/vc_column_text][/vc_column][/vc_row][vc_row][vc_column][vc_gmaps link="#E-8_JTNDaWZyYW1lJTIwc3JjJTNEJTIyaHR0cHMlM0ElMkYlMkZ3d3cuZ29vZ2xlLmNvbSUyRm1hcHMlMkZlbWJlZCUzRnBiJTNEJTIxMW0yOCUyMTFtMTIlMjExbTMlMjExZDk5MjI1LjUzODgyNzMyMjMyJTIxMmQtOTQuNTE3NjY1NDI5MTMyMTElMjEzZDM4Ljk5NzEwNDMxMzc3NDE1JTIxMm0zJTIxMWYwJTIxMmYwJTIxM2YwJTIxM20yJTIxMWkxMDI0JTIxMmk3NjglMjE0ZjEzLjElMjE0bTEzJTIxM2U2JTIxNG01JTIxMXMweDg3YzExYmVkY2NkZWQ2Y2YlMjUzQTB4MjJkNjA4NTkzZmZmOGJhNCUyMTJzU2FudGElMkJGZSUyQlRvdyUyQlNlcnZpY2UlMjUyQyUyQkJsdWUlMkJTcHJpbmdzJTI1MkMlMkJNTyUyMTNtMiUyMTFkMzkuMDA4NDExNTk5OTk5OTk1JTIxMmQtOTQuMzAyNjQ5Mzk5OTk5OTklMjE0bTUlMjExczB4ODdjMGVmYjAzMDc2NDM1NyUyNTNBMHg2ZWI2OGVkYTFiNjIxZjZjJTIxMnNMb29zZSUyQlBhcmslMkJSb3NlJTJCR2FyZGVuJTI1MkMlMkJLQ01PJTI1MkMlMkJNTyUyMTNtMiUyMTFkMzkuMDMzNjI3OCUyMTJkLTk0LjU5NTM0Mjg5OTk5OTk5JTIxNWUwJTIxM20yJTIxMXNlbiUyMTJzdXMlMjE0djE1MDUzMjE0MjM0MTIlMjIlMjBkYXRhLXNyYyUzRCUyMmh0dHBzJTNBJTJGJTJGd3d3Lmdvb2dsZS5jb20lMkZtYXBzJTJGZW1iZWQlM0ZwYiUzRCUyMTFtMjglMjExbTEyJTIxMW0zJTIxMWQ5OTIyNS41Mzg4MjczMjIzMiUyMTJkLTk0LjUxNzY2NTQyOTEzMjExJTIxM2QzOC45OTcxMDQzMTM3NzQxNSUyMTJtMyUyMTFmMCUyMTJmMCUyMTNmMCUyMTNtMiUyMTFpMTAyNCUyMTJpNzY4JTIxNGYxMy4xJTIxNG0xMyUyMTNlNiUyMTRtNSUyMTFzMHg4N2MxMWJlZGNjZGVkNmNmJTI1M0EweDIyZDYwODU5M2ZmZjhiYTQlMjEyc1NhbnRhJTJCRmUlMkJUb3clMkJTZXJ2aWNlJTI1MkMlMkJCbHVlJTJCU3ByaW5ncyUyNTJDJTJCTU8lMjEzbTIlMjExZDM5LjAwODQxMTU5OTk5OTk5NSUyMTJkLTk0LjMwMjY0OTM5OTk5OTk5JTIxNG01JTIxMXMweDg3YzBlZmIwMzA3NjQzNTclMjUzQTB4NmViNjhlZGExYjYyMWY2YyUyMTJzTG9vc2UlMkJQYXJrJTJCUm9zZSUyQkdhcmRlbiUyNTJDJTJCS0NNTyUyNTJDJTJCTU8lMjEzbTIlMjExZDM5LjAzMzYyNzglMjEyZC05NC41OTUzNDI4OTk5OTk5OSUyMTVlMCUyMTNtMiUyMTFzZW4lMjEyc3VzJTIxNHYxNTA1MzIxNDIzNDEyJTIyJTIwd2lkdGglM0QlMjI4MDAlMjIlMjBoZWlnaHQlM0QlMjIyMDAlMjIlMjBmcmFtZWJvcmRlciUzRCUyMjAlMjIlMjBzdHlsZSUzRCUyMmJvcmRlciUzQTAlMjIlMjBhbGxvd2Z1bGxzY3JlZW4lM0QlMjIlMjIlM0UlM0MlMkZpZnJhbWUlM0U="][/vc_column][/vc_row]