Do you need heavy duty towing in Joplin? Contact us now.
Heavy duty towing service in Joplin isn't a job for everyone. Some companies don't have the resources to provide their customers with an industry-leading experience. Pairing certified tow truck operators with a knowledgeable dispatch team that can utilize them properly are not easy. We've been at it since 1963. That's how we've created one of the largest heavy duty towing networks in the area. You benefit from decades of experience, highly trained employees, and the best equipment available. Contact Santa Fe Tow Service Inc. and get back on the road.
Every hour you lose is money lost. Our fleet is over 80 vehicles strong and covers the entire city of Joplin.
Our massive fleet includes specialized vehicles for towing and recovery of semi's, equipment, machinery, cargo containers, and more.
Vehicle trouble doesn't mean the end of your delivery.
We know how important the nation's supply line is. You're the most valuable part of it. You can't always determine when a tire will pop, an engine will overheat, or what the weather will do. What can you affect? The tow truck company you call on for help when you need it. We've invested heavily in our supply line so that yours can move at the fastest pace possible. We offer the same excellent service night and day, 24/7. What makes our Joplin towing company your best choice?
---

---
We've got the equipment to manage all of your heavy-duty towing needs.
Our fleet contains vehicles designed for heavy duty and extreme recovery including a 75-ton boom lift equipped truck.
Our tow truck company is ready to work for you. Just some of the heavy-duty operations we provide throughout Joplin, MO includes:
Load transfers/shifts
Interstate hauling
Machinery hauling
Heavy truck towing
Tractor trailer towing and storage
Emergency recovery
Tractor trailer pickup
All of our trucks are equipped with underlifts. When additional measures are required we can quickly deploy wheel lifts as well.
Your vehicle and cargo are safe with us.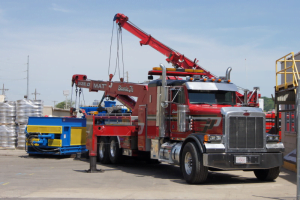 A carefully orchestrated delivery can go out the window after an incident that requires towing. We can help. We work with you to arrange for truck repairs, load shifts, pickups, delivery of your cargo, and more. We have secure facilities in Olthane, Overland Park, and Lenexa. These are system secured, gated, and provide covered storage.
Contact us for heavy duty towing near you!
The last thing you want to risk is your vehicle or its load. We offer full-services that adapt with you. Never worry about load moving or short/long term storage again. We don't tow your truck and abandon you after. You are our customer until the job is complete, and we act accordingly. Get the heavy duty help you need right when you need it. Call or contact us now. We also provide 24-hour towing in Kansas City, Blue Springs, Odessa, and more!
"
Great service! I had an accident and needed my car towed. The drivers were very courteous and they answered all my questions and were genuinely concerned with my well being. I would highly recommend Santa Fe towing.
"
Had a terrifying experience with firewood and the highway. Had a fantastic experience with Robert B. the tow driver. He was super kind and even tried changing my tire to see if that's all we needed. Ended up needing a tow but he went above and beyond to check my car out. Really appreciate it!
Feb 17, 2021,
Rafael-Driver
"
Me dieron un excelente servicio
"
Quick response and very easy to work with. I would definitely refer them to someone in need of town service, and I plan on using Santa fe in the future.
"
Good rates. Nice driver. Not too long of a wait. Thanks alot!
Powered by
Whiterail
Disclosure
The reviews displayed may or may not be a complete set. Reviews may be removed if they:
i. Are abusive. An abusive review or comment is one that makes personal attacks, threatens, or harasses others, or uses profanity.
ii. Violate privacy. Reviews that mention specific names of individuals or personal information in a manner that is inappropriate and/or unrelated to the performance of the service rendered are subject to removal.
iii. Are not from a current customer.
iv. Contain material falsehoods.
v. Are deemed inappropriate.
To encourage all feedback, positive or otherwise, an equal incentive for reviews, regardless of rating, may have been provided to the reviewer.