Your Tow Truck in Joplin is Just a Phone Call Away.
Breakdowns and accidents never happen when it's convenient. You'll rarely pull into an auto shop or home only to find your vehicle won't start. Preparation is key. What's the best way to make sure you're prepared? Put the number of a reliable, experienced, local towing service into your phone. That way you'll have experts on call even in a bad coverage area. We're an area leader because our certified tow truck drivers are on call 24/7. When you need towing, choose Santa Fe Tow Service Inc.
We provide 24 hour towing in Joplin from Schifferdecker Park to Missouri Southern State University.
With one of the largest fleets in Joplin, we can tow anything. We have vehicles equipped with lifts, trailers, winches, and more. We can tow long vehicles like buses in addition to cars, trucks, and heavy vehicles.
---

---
You want the fastest tow possible. That's why we get the right truck to you from the very beginning. Every one of our vehicles is GPS equipped. This information goes directly to our dispatch team who knows where every truck is, who's on a job, and what each truck is capable of. We send the nearest tow truck equipped to help. Whether your car stalled at the Rangeline Golf Center or you got in a fender bender pulling our of Inspiration Point, we are ready to help.
What towing services do we provide?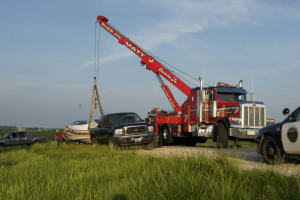 We have a wide range of towing and recovery vehicles that can tackle any situation. These include service trucks, boom lifts, and even landolls. We tow everything from motorcycles and passenger cars to RVs and farming machinery. Our tow trucks truly do it all. Our fleet includes:
Light-duty tow trucks are highly maneuverable.
That makes them perfect for tight spaces like parking garages. These vehicles excel at light-duty jobs and can recover and tow smaller pickups and SUVs, sports cars, and passenger cars. We equip most vehicles with wheel lifts. This helps protect the frame and body of your car during transportation.
Medium-duty tow trucks handle much heavier loads.
We send these out for bigger vehicles including campers, RVs, large trucks, vans, and tractor-trailers. Medium wreckers are used for recovery and transportation. We also have a sizable flatbed truck unit. These keep miles from adding up on sensitive vehicles like classic cars, race cars, and motorcycles.
Heavy tow trucks handle even the heaviest jobs.
We send these out when other tow trucks just won't cut it. Our heavy tow trucks in Joplin can easily transport heavy equipment, vehicles, and even semi-trucks that still have their trailers attached. The skill of our operators makes it all possible.
Our tow truck operators are known for the quality service they provide. Their knowledge and skills allow for safe recovery and transportation of your ride. We also offer roadside assistance. If you blow a tire, run out of fuel, have a dead battery, or another emergency, we are close by and ready to help. This is the best combination. If assistance doesn't solve the problem we can always tow you home, to a mechanic, or somewhere else you choose.
Contact us today for tow truck service near you.
We've got you covered throughout Joplin. Where you need help, whenever you need help, we respond right away and our rates are always competitive. A tow truck in Joplin is closer than you think. Just call or contact us today. We also offer commercial towing in Blue Springs, Jackson County, Kansas City, and more!
"
Had a predicament with a company car & a personal vehicle both in MO. Thank you thank you for your help & working with me on getting it handled!
"
Excellent on everything.
"
I have never seen such professionals when it comes to a tow service. We had a 7,000 lb skidsteer stuck in a mud hole. Huge thanks to Rodger and driver Holland #116 for their help! They did not give up until they pulled us out! Awesome service with great experience!
"
Great service from all. Office staff very nice & helpful.
Powered by
Whiterail
Disclosure
The reviews displayed may or may not be a complete set. Reviews may be removed if they:
i. Are abusive. An abusive review or comment is one that makes personal attacks, threatens, or harasses others, or uses profanity.
ii. Violate privacy. Reviews that mention specific names of individuals or personal information in a manner that is inappropriate and/or unrelated to the performance of the service rendered are subject to removal.
iii. Are not from a current customer.
iv. Contain material falsehoods.
v. Are deemed inappropriate.
To encourage all feedback, positive or otherwise, an equal incentive for reviews, regardless of rating, may have been provided to the reviewer.
Facebook reviews provided via APIs https://developers.facebook.com/