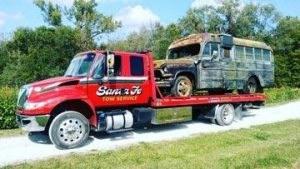 You never know when you'll get in an accident or breakdown. Preparation can help reduce stress, especially if you're out of your network service area. That's why it's best to keep the number of an experienced local tow provider on your phone. With over 30 years of service in Joplin, Santa Fe Tow Service Inc. is your 24/7 towing service. In addition to recovery and towing we also provide roadside assistance. No matter what situation your vehicle ends up in, we're close at hand. Call us now.

Getting the right vehicle to you is critical. You don't have any time to waste in an emergency towing situation. That's why we fully train our dispatchers in our truck types and capabilities. They know classes, lift types, and can determine the right truck for your needs. Every truck is GPS equipped. Dispatch has this information at their fingertips. Whether you need a tow on a major thoroughfare like E Zora St and N St Louis Ave. or a quiet side street near Silver Creek and E. 50th, we get the closest truck to your location.
Why choose Santa Fe for your emergency towing?
We are insured and licensed.
Every one of our truck drivers is TRAA certified.
We always have a tow truck in your area.
Our fleet is carefully maintained and prepped.
Truck operators carry coolant, gas, fuel, water, and more.
We provide roadside service. You may not require a tow!
Don't get stuck. Choose our 24/hr recovery service.
We accept credit and cash. Our rates are competitive.
What can you expect from our 24-hour tow truck operators?
Compassionate Service from a truck operator that answers every question.
No hidden fees or tacked on extras. Our pricing is upfront.
Speedy tow service in Joplin wherever you are located.
Safe load, transport, and unloading of your vehicle.
Towing for heavy-duty, light, and medium vehicles.
Technology equipped trucks include wheel-lifts.
Trucks capable of hauling heavy equipment
Contact us for 24-hour recovery and towing services.
Help is on the way no matter where you need it—no string, no stress, and an equipped tow truck operated by an industry veteran. That's been our mission for more than 30 years. While our services and fleet have grown exponentially, our dedication to providing the best customer experience has remained constant. Get a dependable tow, right now, anytime. Call us today. We also provide RV towing services for those who need it.
Oct 4, 2021,
Kristin M. H.
"
I needed to relocate a 40' container on my property. From first call to them at 2:20 pm would 3:00 pm tomorrow work for you? At 2:45 pm the next day, the bright red truck arrived at my gate. Driver #103 knew his equipment and wasted no time completing the move. Couldn't ask for better service from all involved. 5 stars, thank you.
"
My driver was very polite and did a great job
"
Fantastically. Your drivers responded to my request quickly. They were very friendly and got down to business quickly. I should have called Santa Fe first. Unfortunately I waited more than 2 hours for another tow company that never showed. Definitely 5 ⭐️ service. Thank you for getting my vehicle & me on the road again.
Powered by
Whiterail
Disclosure
The reviews displayed may or may not be a complete set. Reviews may be removed if they:
i. Are abusive. An abusive review or comment is one that makes personal attacks, threatens, or harasses others, or uses profanity.
ii. Violate privacy. Reviews that mention specific names of individuals or personal information in a manner that is inappropriate and/or unrelated to the performance of the service rendered are subject to removal.
iii. Are not from a current customer.
iv. Contain material falsehoods.
v. Are deemed inappropriate.
To encourage all feedback, positive or otherwise, an equal incentive for reviews, regardless of rating, may have been provided to the reviewer.