A tow truck is a purpose-built vehicle meant to help other vehicles out of sticky situations. For many drivers who have been stranded in unfamiliar locations, they can attest to how it felt to see and receive assistance from a tow truck and its driver.
What people don't understand though, is that there are different types of tow trucks out there. These tow trucks are purpose-built to meet specific needs. Surprisingly, one of those needs is to be a general-purpose tow truck, but we'll get to that. When you need a tow truck near me, here are some of the different types of tow trucks we might use to do the job.
What are The Different Types of Tow Trucks and What Are They Used For?
Hook and Chain Trucks
Where there was some type of vehicle, be it chariots, be it horse-drawn carriages or even trains, accidents did happen. For chariots and horse-drawn carriages, repairs had to be made on the side of the road. Then came the automobile and Henry Ford's efforts to make them a mass product.
Vehicles powered by internal combustion engines fell into the hands of people who could afford to buy and maintain them. As usual, accidents did happen. The thought of using another vehicle to tow a vehicle out of trouble wasn't a thing until a garage worker in Chattanooga was inspired to help a friend in need.
Indeed, the tow truck was born. By attaching a chain to some leverage at the bed of a truck, towing was now possible. These work by attaching a chain to the undercarriage of a vehicle, and then leverage is applied to lift the driving wheel of the vehicle off the ground. This allows the non-driven wheels to roll freely while the vehicle is being towed.
For a very long time, this was the most prevalent method of towing in the United States. This fell out of favor because of the damage that could potentially be caused to vehicles during towing. They are mostly used nowadays to tow scrapped vehicles as the damage caused will not affect anyone.
These tow trucks are especially terrible for vehicles with all-wheel drive systems as they end up damaging the system, which can cost thousands of dollars to repair.
Wheel Lift Tow Trucks
Mankind wouldn't be where we are today if we didn't have people who found different ways to do things. These different ways are most often an improvement on the way things are done. This is exactly what the wheel lift tow truck is, an improvement over the hook and chain.
These work by using a yoke. The yoke is placed under the car, under the wheels actually, and then the yoke is hydraulically hoisted. This will then lift the wheels of the vehicle off the ground.
This operation can be conducted from the safety of the cabin as it is a very fast procedure. It is a favorite of car repossession services.
Flatbed Trucks
Out with the old, and in with the new. As the name suggests, these trucks have a flat carriage for which non-standard items can be placed on to be transported. These flatbeds can be rigid, meaning they stay in place, or articulated, meaning the bed itself can be moved, mostly by hydraulically lowering the entire flatbed to allow for vehicles to be rolled onto them.
With rigid flatbeds, cranes can be added to the chassis of the tow trucks to assist in lifting the vehicle from the ground to be placed on the bed of the truck. These type of tow trucks are used generally during recovery of vehicles that fell in ditches or other areas that make pulling the vehicle up a ramp difficult. This crane also makes these trucks valuable in urban areas where space is limited.
The tow truck industry uses articulated trucks to rescue vehicles that cannot be driven to a repair garage. These are preferred by both towing companies and vehicle owners. The use of a flatbed means there is no damage whatsoever to the vehicle. This also means that a vehicle can be transported for long distances on the bed of the truck, and much faster, in comparison to towing a vehicle with two wheels on the ground.
Flatbed trucks offer companies great utility. Aside from being used to rescue vehicles at the side of the road, they can also be used to transport farm equipment such as combine harvesters, tractors and so much more. They can also be used to transport items that cannot fit inside contained truck beds.
Boom Trucks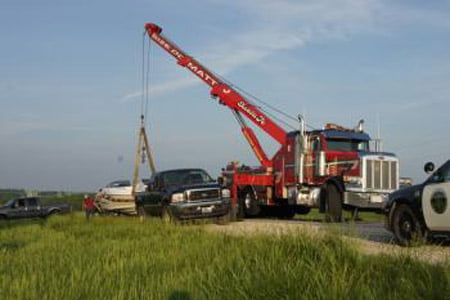 This truck was another attempt at moving away from the hook and chain method. Whereas the flatbed and the wheel-lift became more popular with towing of small cars, these were left for more heavy-duty towing.
Boom trucks utilize a hydraulic boom that is placed on the truck bed. This boom can swivel in any direction, which allows the operator to attach a chain to vehicles, whether they are parked in the street or enjoying some time in a ditch. They will then lift the driven wheels of a car off the ground, similar to a hook and chain method.
These are also used for heavy-duty purposes such as the recovery of heavy commercial vehicles. It is common to see this type of tow truck towing around a semi-trailer truck.
Integrated Trucks
These are a combination of the boom and wheel lift tow trucks. They are highly favored by city towing services as they are fast in operation. They are mostly used to tow illegally parked vehicles.
The type of tow trucks to be used will depend on the circumstances you're in. There are also industry-specific tow trucks that can be a version of the ones mentioned above, but they are built for specific purposes. For example, the army has tow trucks that are specifically meant to tow tanks and other heavy war machinery.
Now whenever you're in need of a tow truck in Odessa, you have an idea of what type of tow truck is best for your vehicle and situation.