Trust AAA for reliable roadside assistance in Independence
There's nothing quite as anxiety-inducing as getting caught on the side of the road. Whether it's running out of gas, blowing a tire or having a mechanical breakdown, it's very stressful when you need a tow. Whom do you call when you need a tow truck in Independence MO? Of course, we recommend ourselves, Santa Fe Towing, but we also have another recommendation for you. It's to your advantage to sign up for AAA insurance for roadside assistance. Find out what you never knew about this service. What you find out might just convince you to sign up today.
Roadside assistance when you need it most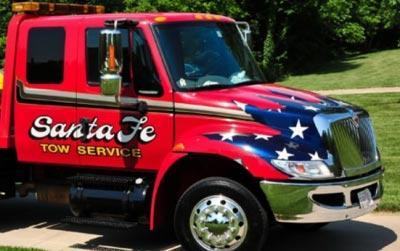 Say you're driving along and your car blows a tire. You don't have a spare on hand. How do you get a tow? If you know the number of a local towing company, and you trust that company, you might call them. But what if you're on a road trip in an unfamiliar area? You could use your phone to search for a tow truck company, but can you trust that shop?
If you have AAA, all you need to do is call them. AAA maintains a database of trustworthy, reliable towers throughout the country. If you're in Independence, they'll hook you up with Santa Fe Towing. If you're in Washington, Maine, California or even Alaska and Hawaii, they've got contacts there, too. AAA has decades of experience in finding and working with the most reputable outfits everywhere. These shops have someone available at all hours so you can get the help you need, whenever you need it. Note that there are different plan levels, and some offer wider coverage areas than others.
What does AAA do?
You know that you can get a tow if you need it. But AAA is also available for other services as well. These include:
Lockouts: It's a hassle to lock your keys in your car. Call AAA and they'll send a qualified locksmith to get you back on the road.
Jumpstarts: Your car might be roadworthy, except that the battery is dead. A rescuer from a AAA-recommended shop can come by with a portable power supply. All they need to do is clamp it onto the battery terminals, wait a fe seconds and then have you start the car. After that, you're good to go.
RV Towing: Depending on your plan level, you can even get your RV towed away at no extra cost.
How it works
AAA charges you a small fee per year for their coverage. At its most basic level, this plan gives you up to four free tows per year. Yes, free. However, the basic plan only covers a specific distance from your home. If you are going on a long road trip, just call ahead and increase your plan level to get the additional coverage that you need. AAA can offer this inexpensive deal to you because most people don't need to get towed even once a year. Tow truck companies work at discounted rates with AAA because of the business referrals that they get.
Benefits beyond towing
You might not know this, but AAA gets you discounts on more than just towing and roadside assistance. Taking advantage of AAA's connections to customers, many unrelated businesses offer discounts on goods and services. Are you going on vacation? You can rent a car and get a hotel room for less if you present your AAA card. Do you enjoy dining out? Bring along that AAA card.
The discounts apply to more than just travel and entertainment. You can save on your gym membership, groceries, appliances, home decor, pet supplies and much, much more. If you plan it right you can pay for the cost of your membership many times over. Discounts can be as high as hundreds of dollars for big-ticket items, and up to half off or more from various services. It's impossible to keep a complete list of all discounts and their current rate here, so make sure to check AAA's website for the latest.
AAA even rewards you to shop with your existing debit card. You can link your debit card to your AAA account, and shop online through the site's web portal. This gives you points that you can redeem, essentially acting as a cashback rewards service. This point program is compatible with a range of different cards. You can use it on all sorts of products and services.
Santa Fe Towing and AAA for roadside assistance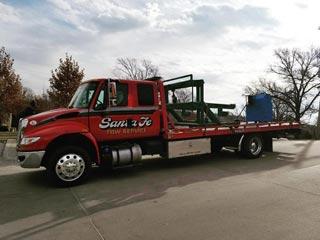 AAA recommends Santa Fe Towing for roadside assistance when you're in Independence, MO, as well as throughout Missouri, Kansas, and Oklahoma. They've trusted us for years, and you can, too. Do you need towing? We can be there 24/7. What about recovering your vehicle from a crash or getting in an accident? We're equipped for that, too. We're happy to come to you and help you out with a jumpstart if your battery is dead.
The Santa Fe difference
In business for decades, we're the most influential and trustworthy tow service in the region. We're very well equipped for performing a variety of different rescue and towing operations. All of our drivers are trained to operate safely. We make sure that they treat you with the highest level of courtesy and respect, both for yourself and your car. You can feel confident calling us any time of the night, whether you have AAA or not.
Our rates are reasonable, and we work with you to make the process as easy as possible. We have positive relationships with a wide range of mechanic shops in our expansive service area and can recommend a shop for you if your car needs fixing. We're in it for the long haul and take you any distance within our service area.
AAA membership for roadside assistance and life
As you can see, a AAA membership is one of the wisest investments that you can make. It's available in different levels to suit your personal budget and the level of service that you need. Having a AAA card can make it easier for you to travel and to enjoy all sorts of fun events and shows. You've trusted us with your car for years, and we trust AAA. The relationship is mutual, and it works out to your benefit.
You can upgrade your account coverage during the year in case you need to travel or if you somehow use up your yearly allotment of free tows. There's no need to live with uncertainty anymore. Give AAA a call today and start protecting your family. Then remember to call us for any time you need a tow. Just like AAA, we're here to get you home safe whenever an emergency comes up.