Commercial towing in Kansas City, KS when every second counts.
There's a major difference between heavy towing and light-duty towing. Recovery and transportation of commercial vehicles and equipment require so much more. Our truck operators have to understand the mathematics behind weight distribution, how to secure multi-ton loads, and how to precisely move them using a wide range of equipment. The safety of your vehicle and cargo is paramount. That's why our operators undergo some of the most rigorous training in the industry. When you want a commercial towing service in Kansas City, KS that doesn't risk your livelihood, contact Santa Fe Tow Service Inc. today.
How do our tow truck operators get to you so quickly?
Our dispatch center uses advanced software paired with state-of-the-art GPS units in every single one of our vehicles. We can easily identify which vehicles are in your area and determine what truck is best equipped for your situation. Our fleet covers the entirety of Kansas City, KS.
How is our tow truck company equipped to handle your commercial needs?
We always have the right equipment for the job and we operate it with skill. Our fleet is extensive. We have landolls that can support 2 20-foot containers back to back. Our 75-ton boom lifts can recover the heaviest cargo. Truck operators use equipment daily and must meet ongoing educational requirements. We guarantee the quality of our service and the integrity of the work we do. Don't settle for anything else.
Our network allows us to coordinate cross-country commercial hauling and moving. Even if your truck isn't moving, your cargo has to be. We can coordinate any measures you need to take. That includes transferring loads, vehicle repairs, or long-distance hauling. Our company has a reliable network that extends from Kansas City, KS across the United States. We will get your cargo where it needs to go.
We safely and securely store your commercial cargo. In the event you need extended time for coordinating repairs or movements with your parent company, we keep your equipment safe. Our company has 4 heavily secured lots with covered areas for cargo that needs extra protection from the elements. We'll work with you in the meantime, coordinating with your company for cargo pickups, additional towing, or working directly with you to meet your needs.
---


---
Semi Truck Towing and Recovery the Right Way
Semi truck towing in Kansas City, KS is a 24-hour job. As a through-line state, shipments are passing across our freeways every hour of the day. When something goes wrong you want an experienced towing company that can safely recover and tow your most valuable asset—your tow truck.
Air Cushion Recovery can right your truck and cargo at the same time.
We use a state of the art recovery system that quickly, gently, and safely rights your semi-truck without removing your cargo first. That puts you back on the road faster and reduces any further damage to your vehicle and load. Our tow truck operators can then secure your truck and cargo for transportation to a repair shop, storage facility, or even your final destination. With full service towing that includes intermodal load shifts, we'll make sure you don't lose any more time than you absolutely have to.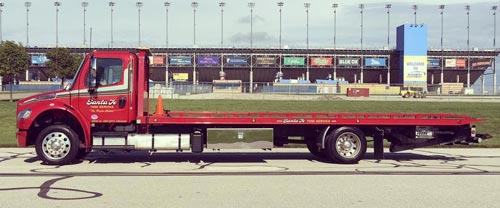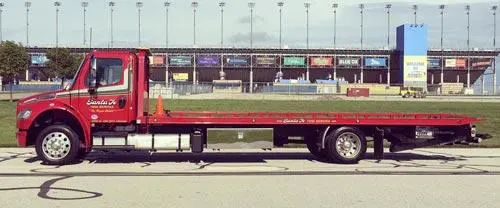 Contact us for commercial and semi-truck towing in Kansas City, KS today!
Because our dispatch center never closes, we're always close at hand. Get the help you need right when you need it. Call or contact us today. We also have available tow trucks in Leawood, Olathe, Overland Park, Kansas City, Blue Springs, Odessa, and everywhere in between!
"
My driver was very polite and did a great job
"
Fantastically. Your drivers responded to my request quickly. They were very friendly and got down to business quickly. I should have called Santa Fe first. Unfortunately I waited more than 2 hours for another tow company that never showed. Definitely 5 ⭐️ service. Thank you for getting my vehicle & me on the road again.
"
Very fast. Alex was awesome- friendly, courteous and cafeful. Excellent service. Would highly recommend and/or use again if needed.
"
Great service! I had an accident and needed my car towed. The drivers were very courteous and they answered all my questions and were genuinely concerned with my well being. I would highly recommend Santa Fe towing.
"
Had a terrifying experience with firewood and the highway. Had a fantastic experience with Robert B. the tow driver. He was super kind and even tried changing my tire to see if that's all we needed. Ended up needing a tow but he went above and beyond to check my car out. Really appreciate it!
Powered by
Whiterail
Disclosure
The reviews displayed may or may not be a complete set. Reviews may be removed if they:
i. Are abusive. An abusive review or comment is one that makes personal attacks, threatens, or harasses others, or uses profanity.
ii. Violate privacy. Reviews that mention specific names of individuals or personal information in a manner that is inappropriate and/or unrelated to the performance of the service rendered are subject to removal.
iii. Are not from a current customer.
iv. Contain material falsehoods.
v. Are deemed inappropriate.
To encourage all feedback, positive or otherwise, an equal incentive for reviews, regardless of rating, may have been provided to the reviewer.