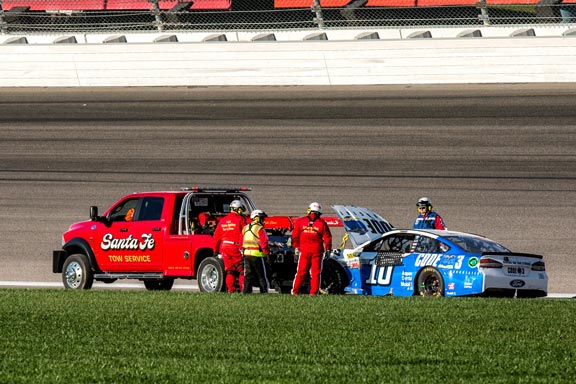 Here's Everything You Need To Know To Get A Good Tow
If you're in Independence, MO choosing a towing service isn't too much of an issue, because we're in town. But for everyone else, it's not so easy.
Choosing a tow truck service, especially when you are in an emergency, can be a pretty daunting task. That's why today, we're sharing our tips for picking the best tow truck company for the job.
Tips for Choosing The Right Tow Truck Service
To be honest, no one is prepared for getting a tow truck because you never know when an emergency is going to strike. The biggest mistake most people do is lose their cool, get on their phone and blindly choose whatever company appears first.
But what if they turn out to be the wrong tow company for you? What if the truck driver overcharges you or even creates more problems? Or maybe the tow company you picked says that the driver will be there in 10 minutes but shows up an hour later?
Though it is common to make such mistakes in case of emergency, having proper knowledge on how to choose the best tow truck company can save you from all the trouble and make your life easier.
Here are some valuable tips to consider whenever choosing a towing service for your vehicle.
Experienced Professionals
A good tow truck company will have a professional attitude. They will treat you with kindness and take your situation seriously. A great way to know whether or not the company is professional is how well they explain their services on the phone to you. Reputable towing companies will openly explain all the cost issues that you're likely to incur and give you a realistic time frame.
Moreover, when you choose professionals you won't have to worry about other things like towing your vehicle properly, or that you'll get a ill-mannered tow truck driver who won't be able to get to you.
No Hidden Charges
You get what you pay for but nobody likes to overpay or be slammed with hidden charges later on. Whichever company you choose, make sure that they openly tell you the entire cost of the service. This includes:
Price Per Mile: Depending on your situation, you may want to get your car towed to your home or to the mechanic is it requires some major repairs. Whatever the case, you'll have to pay price per mile and you should choose wisely what to do. If your car needs repairs, take it straight to the shop instead of taking it home first, even if it's cheaper at the time. This will save you time and money. The price per mile varies from company to company and also depends on time and day. For example, if you want a towing service on a holiday or during midnight, you may have to pay extra. Some companies also charge extra if your car is in a ditch or stuck somewhere in the mountains
Hook-up Fees: This is where some new towing companies trick the car owners. Hook-up fees are the costs of attaching the vehicle to the tow truck. However, some companies will offer you a very cheap hook-up fees to quickly get you in business and make you think that it is the only price you have to pay for towing. What they don't tell is the price per mile and other hidden charges like towing on weekends or on holidays etc.
When it comes to paying the cost of towing, you may also want to consider mode of payments. Sometimes you don't have hard cash in your pocket and have to rely on your credit card. It is better to ask the company ahead of time about modes of payments to make sure you are all prepared to get your vehicle towed.
Driver Must Be Experienced

Don't hesitate to request your towing company to send an experienced driver for the service. Though professional tow truck companies train their drivers on a regular basis and how to deal with emergency situations but if you are hiring a service for the first time, make sure that their drivers know how to handle stressful situations.
When the driver reaches your location, you can ask for his certification and randomly ask questions about his past work experience. This will give you an idea that your tow truck driver is a professional and can deal with the situation easily.
Read Customer Reviews
A good heavy towing company will have their customer reviews published on their website. Before you give them a call, spare some minutes to read what other customers are saying about their service. Customer satisfaction is a plus point for trusting a tow truck company.
Offers Different Types of Tow Trucks
A professional towing service should be able to provide different types of tow trucks depending on your vehicle type. Here are four main types and their uses:
Wheel Lift Tow Truck: These trucks use metal yoke instead of chains which prevents any damage to your vehicle. This yoke is hooked right under the rear or front wheels and then a hydraulic lift suspends your vehicle to lift it from the ground. They are inexpensive but not very safe and well protected
Flatbed Tow Trucks: These are the commonly used trucks all around the world. They have an empty bed with a flat top. This bed can be moved upwards and downwards using the hydraulics and can be used to tow a variety of different vehicles
Hook & Chain Tow Trucks: These are mostly used to tow cargo and aren't very common. They hook your vehicle on the bed and then the chain is wrapped around your vehicle which can also damage or scratch its body. They are only used for junk and wrecked vehicles
Integrated Tow Truck: These are used for heavy-duty towing jobs like rigs and even buses. They have extra axles to increase the strength of towing and boast a heavy-duty operation
Service Area & Availability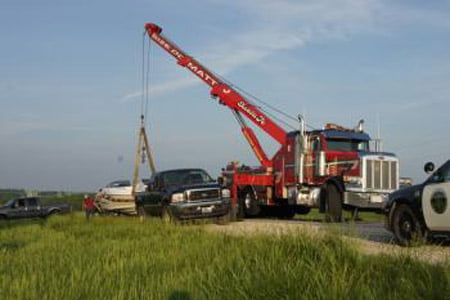 Most of the towing companies don't operate in wide areas. Before you give them a call make sure that it offers services in a wide area. The farthest the better and more convenient.
Moreover, a professional tow truck company must be responsible and be available within 20-30 minutes after they hang up your call. Depending on your location it can take more or less time for the driver to reach.
Whenever you are in an emergency, make sure to consider these tips before you call a towing company.
Santa Fe Towing Service Inc. is available 24/7 365 days and has 30 years of experience in providing emergency towing services. We guarantee excellent customer service and can handle all types of emergency situations.