Your Towing Service Provider in Lenexa, KS
Lenexa is a great little city with easy access to larger metropolitan areas. Many residents commute to work on a daily basis. That means they also work their cars hard. This can lead to breakdowns and the more often you're driving, the more likely you are to get in an accident. The best thing to do is to remain prepared. Drivers in the know keep the number for Santa Fe Tow Service Inc. in their phones. Wherever they are in Lenexa, whatever the time, we're on call and ready to provide towing service.
Why should you make Santa Fe Tow your tow company?
We have the areas widest network of tow trucks. Our service network is massive. Not only do we cover the entirety of Lenexa from West 89th Street all the way to Melrose Drive, we can get your vehicle where you need it. Our towing service is available between states. Never get left without every available option. We make it happen.
Our towing services cover commercial and residential applications. Whether you're driving a passenger vehicle like a truck or sedan or a Mack truck with a full load, we've got your back. Our fleet can tackle any job, and that includes load transfers. We can safely recover even large loads like overturned vehicles.
You get guaranteed 24/hour service from our dispatch center. We are always available. If you're seeing a baseball game and at Freedom Fields when your car won't start, we are there. If you've just got off a long day at work at the College Meadows Business Park and your tires are flat, we're available. Night or day, every day, get the help you need when you need it.
We have the equipment required to do it all. From landoll trailers to wheel lifts, hitches, and boom lifts, we do it all. Our fleet contains over 80 different trucks. Within that, we have light, medium, heavy, and super-duty towing and recovery vehicles. It doesn't matter what you drive. We have a vehicle that can recover it and get it where it needs to go.

Just some of the services we offer include:
Machinery hauling
Interstate hauling
Semi-truck towing
Tractor trailer storage
Tractor trailer towing
Heavy truck towing
Load transfers/shifts
Tractor trailer pickup
Emergency recovery
Specialized Towing in Lexena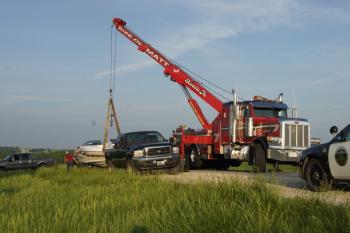 Boats and Recreational Vehicle Towing
Boats, trailers, campers, dirt bikes, ATV's; they all need to be towed. With our services, you can safely transport yours from one destination to another. That makes buying and selling easy. If you're towing these yourself and are involved in an accident, or cannot start your vehicle when it's time to leave Shawnee Mission Park we have you covered as well. Get rec and RV towing services with a single call.
Heavy Machinery and Equipment Towing
Lenexa is bisected by Interstate 435 and the Chicago-Kansas City Expressway. That means there are lots of shipments going back and forth. Our heavy equipment hauling in Lenexa makes it easy. We can take overloads when long-haul truckers encounter trouble and provide heavy duty towing and recovery for their vehicles as well.
Emergency Towing and Roadside Assistance
You never know when you'll be facing a towing emergency. A tire can pop, a battery can die, or you might run out of gas. A tow may not be required at all! Our roadside assistance vehicles are ready to assist. We bring you gasoline, diesel, engine oil, coolant, and repair or replace a tire. Our tow trucks can handle vehicles of any size, so if you get stuck on the side of the road after a photo-op at Lenexa Dam, we'll come to the rescue. In addition to our towing services in Lenexa, we also provide 24-hour towing in Kansas City, Joplin, Blue Springs, Jackson County, and more!
Our dispatchers are standing by. Get the help you need right now.
When we say 24-hour help, we mean it! Wherever you are in Lenexa, KS, our qualified tow truck drivers are close at hand.
"
Excellent on everything.
"
I have never seen such professionals when it comes to a tow service. We had a 7,000 lb skidsteer stuck in a mud hole. Huge thanks to Rodger and driver Holland #116 for their help! They did not give up until they pulled us out! Awesome service with great experience!
"
Great service from all. Office staff very nice & helpful.
"
Driver arrived a little early was courteous took care of my automobile did an awesome job will definitely use you in the future
Powered by
Whiterail
Disclosure
The reviews displayed may or may not be a complete set. Reviews may be removed if they:
i. Are abusive. An abusive review or comment is one that makes personal attacks, threatens, or harasses others, or uses profanity.
ii. Violate privacy. Reviews that mention specific names of individuals or personal information in a manner that is inappropriate and/or unrelated to the performance of the service rendered are subject to removal.
iii. Are not from a current customer.
iv. Contain material falsehoods.
v. Are deemed inappropriate.
To encourage all feedback, positive or otherwise, an equal incentive for reviews, regardless of rating, may have been provided to the reviewer.