Here's a Variety of Roadside Assistance Services You Can Expect from a Great Tow Truck Service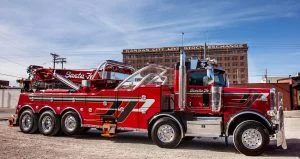 The times have gone when motorists were capable of some minor repairs themselves but now that automobiles have become more advanced and complicated, it has become difficult to repair vehicles on your own. Our tow truck drivers and roadside assistance technicians will be there at a moment's notice to make any number of repairs.
Such professionals often provide all sorts of roadside assistance whenever a motorist is in need. Roadside assistance covers problems varying from jump-starting a breakdown vehicle, towing a vehicle, changing flat tire, transporting a vehicle, providing small amount of fuel in an emergency, and others.
Well, who takes care of all these things in your town? Over the time, many towing services have emerged in big and small cities that take care of all sorts of roadside assistance with just a call. You just need to keep their contact numbers handy in case you get stuck in any situation that isn't much favorable for a motorist and his vehicle.
At our Santa Fe tow service, all types of roadside assistance are available at a distance of just a call. So, the types of roadside assistance do us offer at the time of roadside emergency are listed here:
---
1. Light, Medium and Heavy duty tow services
No matter what an emergency is that you are facing on the road, we try to provide best of roadside assistance on the spot. If you suddenly ran out of the fuel or got a flat tire in the middle of the busy road, towing services can move anything from low profile small vehicles to all wheel drive SUVs. Our rollback trucks are capable of moving any kind of vehicle at any time in any emergency.
In case your truck got stuck on the road or rolled down the road due to overload, need not worry. Our heavy duty tow truck is always on wheel to assist any happening on the road. Tow truck in Santa Fe tow service is operated by an experienced operator who can perform any task successfully. Our technically advanced and modern tow trucks serve the best possible way to tow your heavy duty vehicle. Besides, our trucks are equipped with large underlifts to secure your vehicle while it is being transported.
2. Transportation
Well, if you met with any unfortunate happening on the road and your vehicle needs to be transported from road to anywhere in the country, we will handle virtually any transporting need that you might have.
With a fleet of heavy duty trailers and trucks with advanced and modern technology at hand, any kind of broken vehicle can be accommodated with damaging your vehicle any further. Landoll service can accommodate a variety of equipment and situations.
With the changeable dock height of the trailers, any sort of equipment or vehicles can be driven on and off without any assistance. Plus, all of our semi trucks and trailers are equipped with air ride suspensions for a smooth ride.
Our heavy equipment transportation service is also equipped with trailers for specific jobs, such as relocating a 40′ container or two 20′ containers with ease. Whatever your needs, we have the equipment to do the job.
3. Road Recovery Services
God forbid any unfortunate happening on the road with you but certain things are inevitable and it is an intelligent thing to be prepared. Keeping an emergency contact number of experts is advisable.
With expert and trained staff along with most appropriate recovery vehicles at Santa Fe Tow Service, any vehicle can be easily recovered without further damaging it.
Our Air Cushion Recovery systems can safely upright a large, overturned vehicle. We can even upright a loaded tractor-trailer without the expense and time it takes to offload your cargo, allowing you to get your shipment to its destination on time.
Our expert drivers and operators are always on toe and run to the situation as soon as they receive a call from the point of incident. Our drivers are experienced and have been in business for quite a long time now and thus know how to deal with such incidents on road.
In any emergency, give Santa Fe Tow service a call to get instant help and recovery as least possible time.
4. 24 hour service delivery
It is always best that you get these services 24/7 because emergency is not planned and could appear anytime. So, we work 24 hours, 365 days a year to provide best possible services for the motorists in need and emergency stuck on highways long past the main cities. Even if you get stuck somewhere outside the city, Santa Fe Tow service is just a call away, you just need to find a signal in your mobile and call the tow service provider in order to get out of the situation.
---
More than three decades of experience

We are not someone new to the business. We have grown over a period of 30 years to become one of the leading tow services in the country without a doubt. Our experienced drivers are professionally trained and have been in the business for many years now. Our certified drivers are expert in towing and recovery services. The drivers are skilled and take care of all the safety measures that are required while conducting their duties in any part of the country.
Our drivers are uniformed, trained, and will deliver the highest possible level of professional service. Your vehicle and cargo will get where you need them to go. We guarantee it.
So, it isn't anything that our staff cannot do and perform. With advanced technologies and highly equipped tow trucks, the work is made easy and extremely customer friendly. We take care of all your complaints if you have any with our services and staff members.