Your Source for Towing Services in Joplin, MO
Joplin is a fantastic community to live in. There's a wide assortment of activities, and that means people are always on the go. Unfortunately, driving a car to get around comes with the risk of accidents and breakdowns. Joplin deserves a dependable tow truck company with a legacy of great service. Santa Fe Tow Service Inc. has been providing that service for over 30 years. We are always available, in Joplin and in other areas. We also provide towing service in Kansas City, Blue Springs, and Odessa. Our qualified drivers are courteous, careful with your vehicle, and upfront. Call now to enjoy these benefits.
What should you expect when you contact us for tow service?
We arrive right away and on time. Our fleet operates throughout Joplin. We always have a tow truck near you. From Murphy Boulevard Park to the beautiful wetlands at the Wildcat Glades Conservation & Audubon Center. If you're having vehicle issues, help is on the way.
Our dispatchers are on the line 24/7. You should never get an endlessly ringing phone or answering machine when you call for a tow. We are always available to provide 24 hour towing. If you breakdown on Interstate 44 at 5 in the morning we are ready to answer your call. Accidents don't sleep and neither does our dedication to Joplin.
You'll get the right tow truck for your situation. Our dispatchers are specifically trained to identify key points. We'll find out what you drive, what your problem is, and what service is the best choice. Because every truck in our fleet is GPS equipped, it's easy to send the nearest capable tow truck to your location.
Our tow drivers are certified. Every one of our drivers is required to attain their TRAA and Wreckmaster certifications. As a company, we provide added training. This ensures our drivers are leaders in their field. It's extras like this that help us provide the safest service to our customers.
---

---
What towing equipment do we use?
Our fleet is over 80 vehicles strong. It's the reason we offer complete towing and recovery service. Whether you need roadside assistance on the shores of Turkey Creek, a tow, recovery, or interstate haul, we do it. Our fleet includes winched trucks, boom lifts, wheel lifts, trailers, flatbeds and more. Some of our most widely used trucks are equipped with landoll trailers. These are capable of lifting to dock height or tilting to ground level for easy roll on and offs. If anyone can do it, we can. It just takes the right equipment, truck operators, and infrastructure.
Just some of the services we offer include:
Interstate hauling
Semi-truck towing
Load transfers/shifts
Tractor trailer towing
Heavy truck towing
Machinery hauling
Tractor trailer pickup
Emergency recovery
Tractor trailer storage
Specialized Towing in Joplin, MO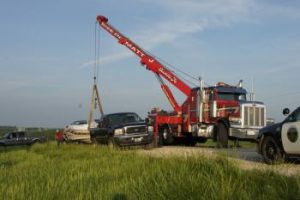 Recreational vehicle and watercraft towing
Your favorite recreational vehicles can't get to the best rec spots on their own. Our RV towing service is perfect when you want a relaxing vacation in your camper at one of Joplin's wonderful campgrounds. Our tow trucks can transport your ATV or motorcycle to the J & D Offroad Park for some serious recreation.
Machinery and heavy equipment towing
Joplin is always busy. Heavy equipment hauling is a necessity for a lot of industries. We provide inter-city and interstate heavy duty towing. Our trucks are fully equipped to haul farming equipment, construction vehicles, machinery, shipping containers, and other major loads. If you have to get it there on time, we can do it. We even provide cargo transfers and storage in the event a customer needs time to arrange for a long-term solution.
Roadside assistance and emergency towing
Emergency towing services are available anytime. That's because problems can strike anytime. We help travelers, locals, and truckers alike. With our commercial towing infrastructure we can make sure precious cargo keeps moving. You don't always need a tow, though. Sometimes your vehicle has stalled out at Missouri Southern State University and you just need a jump or have run out of gasoline on your way to Schifferdecker Park. Our roadside assistance makes it easy to get the help you need. We carry critical fluids and can repair or change flat tires as well.
Our dispatchers are standing by. Get the help you need right now.
When we say 24 hour help, we mean it. Wherever you are in Joplin, MO, our qualified tow truck drivers are close at hand.