[vc_row][vc_column][vc_column_text]

Get Above-Average Towing in and near Kansas City, KS
The Kansas side of Kansas City has a lot to offer. With plenty of shopping, parks, and outdoor recreation, people are always on the move. And that means towing is a necessity.
Kansas is a state of drivers, but their cars and trucks need a little help from time-to-time. With a 24/7 tow truck dispatch center and tow truck operators on the move day and night, we're always around when you need us.
Breakdowns and accidents never wait for a convenient time, so when you find yourself stranded, Santa Fe Tow Service Inc. is nearby to give you a lift.[/vc_column_text][/vc_column][/vc_row][vc_row][vc_column][vc_separator][/vc_column][/vc_row][vc_row][vc_column][vc_column_text]
More than towing: Learn how we keep Kansas moving forward.
Santa Fe Tow has a fleet of trucks that can handle some pretty complex situations. We can recover overturned semis and heavy-duty farming equipment with ease. Our roadside assistance vehicles are always equipped with fluids and cables to get you moving again.
Long hauls aren't a problem – even cross-country. If it involves lifting, towing, or recovering on the highway, we make it happen.
Timely Arrival – We have a tow truck available in your area. Whether you're on your way to work, just nearly completed the long eastward drive across the state, or have been involved in a highway collision, if you're near Kansas City, Kansas, you're in our network.
24/7 Dispatch Center – Operating during regular business hours isn't helpful for the countless drivers who need to get around at night. We fully understand that quality towing is needed around-the-clock. And it's frustrating to get an answering service when you're stuck on the side of the road. Count on us to be around when you need us.
Our fleet is pretty impressive – Just let us know what kind of vehicle you're driving and we'll be sure to send a truck that can handle it. Our dispatchers know the capabilities of each truck in our fleet, so we'll be sure to send the right one. And our GPS technology lets us know exactly where every truck is so we can give you an accurate wait time.
All of our tow truck drivers are TRAA licensed and highly skilled – We don't hire just anyone. When your driver arrives, you can relax knowing they've had plenty of experience and are committed to delivering quality service. We want you to feel confident calling Santa Fe Tow the next time you need towing in Kansas City, KS – and that confidence starts and ends with your experience with our drivers. Each one of our operators is equipped with the tools and technical knowledge necessary to uphold our stellar reputation.
[/vc_column_text][/vc_column][/vc_row][vc_row][vc_column][vc_column_text]
Our towing services
Machinery hauling
Interstate hauling
Tractor trailer towing
Heavy truck towing
Tractor trailer storage
Load transfers/shifts
Tractor trailer pickup
Emergency recovery
[/vc_column_text][/vc_column][/vc_row][vc_row][vc_column][vc_column_text]
Specialty Towing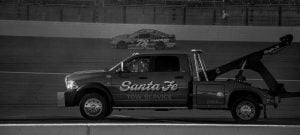 Boats, motorcycles, recreational vehicles, and more
Towing doesn't always have to imply a breakdown or accident. Santa Fe Tow can help you get your ATV, motorcycle, or boat where it needs to go if you don't have the ability to tow it yourself.
Towing for heavy equipment and machinery
Our landoll trailers make heavy equipment hauling possible.
Important shipments need to make it to their destination on time no matter what. So, when the pressure's high, we lower it by being there when you need us. Our heavy-duty towing helps you keep those vital shipments moving when your truck can't.
Roadside assistance and emergency towing
Regardless of our best efforts to maintain our vehicles, a shredded tire, dead battery, or highway collision can happen at any time. We simply can't control all the variables on the road.
Fortunately, in Kansas City, Kansas, you're never really stranded if something like this occurs.
Our team can deliver fluids like gas, coolant, oil, and water if your vehicle is running low. And we can even deliver new batteries or give yours a jump if needed. Santa Fe's roadside assistance vehicles are always ready to answer your call, day or night.
If repair efforts fail, we can always tow you to a repair shop or otherwise safe location. We also provide roadside assistance in Jackson County, Lenexa, Joplin, Olathe, Odessa, Overland Park, and everywhere in between![/vc_column_text][/vc_column][/vc_row][vc_row][vc_column][vc_column_text]
---
Santa Fe Tow has dispatchers ready day and night to take your call and send a tow truck to your location as quickly as possible. If you're in Kansas City, Kansas – Santa Fe Tow Service is nearby.
---
[/vc_column_text][/vc_column][/vc_row][vc_row][vc_column width="1/2″][vc_column_text][testimonial_view id="2″][/vc_column_text][/vc_column][vc_column width="1/2″][/vc_column][/vc_row][vc_row][vc_column][vc_separator][/vc_column][/vc_row][vc_row][vc_column][vc_gmaps link="#E-8_JTNDaWZyYW1lJTIwc3JjJTNEJTIyaHR0cHMlM0ElMkYlMkZ3d3cuZ29vZ2xlLmNvbSUyRm1hcHMlMkZlbWJlZCUzRnBiJTNEJTIxMW0xOCUyMTFtMTIlMjExbTMlMjExZDE5ODA5Ny4wOTk2Nzg1NjU1NyUyMTJkLTk0Ljg4ODUxMDIwNTQ2ODYlMjEzZDM5LjEyMzE1MTEyMTE4NzExNCUyMTJtMyUyMTFmMCUyMTJmMCUyMTNmMCUyMTNtMiUyMTFpMTAyNCUyMTJpNzY4JTIxNGYxMy4xJTIxM20zJTIxMW0yJTIxMXMweDg3YzA4Y2U0MjdjZjM1MTUlMjUzQTB4ZGM3Nzc3N2I3MGMzMWUwNSUyMTJzS2Fuc2FzJTJCQ2l0eSUyNTJDJTJCS1MlMjE1ZTAlMjEzbTIlMjExc2VuJTIxMnN1cyUyMTR2MTQ5NzQ1MzM2MzY2MyUyMiUyMGRhdGEtc3JjJTNEJTIyaHR0cHMlM0ElMkYlMkZ3d3cuZ29vZ2xlLmNvbSUyRm1hcHMlMkZlbWJlZCUzRnBiJTNEJTIxMW0xOCUyMTFtMTIlMjExbTMlMjExZDE5ODA5Ny4wOTk2Nzg1NjU1NyUyMTJkLTk0Ljg4ODUxMDIwNTQ2ODYlMjEzZDM5LjEyMzE1MTEyMTE4NzExNCUyMTJtMyUyMTFmMCUyMTJmMCUyMTNmMCUyMTNtMiUyMTFpMTAyNCUyMTJpNzY4JTIxNGYxMy4xJTIxM20zJTIxMW0yJTIxMXMweDg3YzA4Y2U0MjdjZjM1MTUlMjUzQTB4ZGM3Nzc3N2I3MGMzMWUwNSUyMTJzS2Fuc2FzJTJCQ2l0eSUyNTJDJTJCS1MlMjE1ZTAlMjEzbTIlMjExc2VuJTIxMnN1cyUyMTR2MTQ5NzQ1MzM2MzY2MyUyMiUyMHdpZHRoJTNEJTIyMTAwJTI1JTIyJTIwaGVpZ2h0JTNEJTIyMzUwJTIyJTIwZnJhbWVib3JkZXIlM0QlMjIwJTIyJTIwc3R5bGUlM0QlMjJib3JkZXIlM0EwJTIyJTIwYWxsb3dmdWxsc2NyZWVuJTNEJTIyJTIyJTNFJTNDJTJGaWZyYW1lJTNF"][/vc_column][/vc_row][vc_row][vc_column][vc_column_text]Service Type: Towing Service | Service Area: Kansas City, KS
Kansas City Resources: City of Kansas City, KS | Kansas City, KS Wikipedia | Things to do in Kansas City, KS[/vc_column_text][/vc_column][/vc_row]